How MBA Graduates Add Value at EY
How MBA Graduates Add Value at EY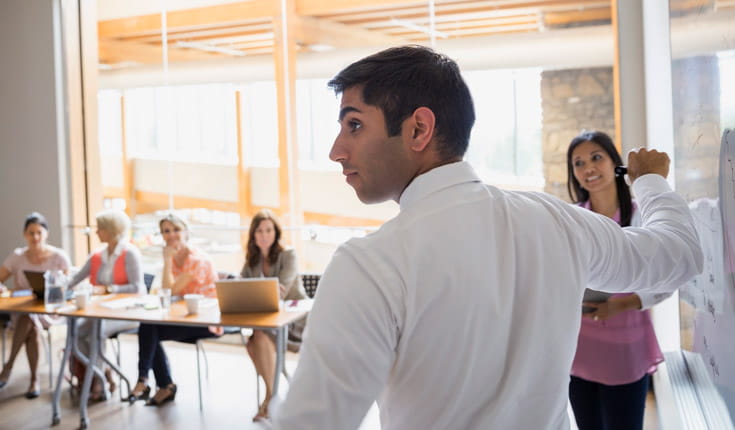 The professional services firm values MBAs for their cross-cultural collaboration skills, technological prowess, and global alumni networks.
EY, the professional services firm, is one of the leading employers of MBA graduates from UK business schools. It values MBAs for their cross-cultural collaboration skills, technological prowess, and global alumni networks. The graduates make a tangible impact on a range of business areas—from consulting to tax and assurance.
Ian Hopkinson is the UK and Ireland head of one such area of business—EY's reward practice, which helps clients with their performance management. In the role, he oversees a 150-strong cross-disciplinary team, several of whom have MBA degrees.
"It's not a prerequisite, I'm more interested in the work experience and what they bring to the table," Hopkinson says. But he notes that there are several advantages that MBA-holders typically possess, which can add value to his team and firm.
First off, MBAs usually have several years' work experience. Add to that, the broad spectrum of business areas they study, via current and real-world case studies and consultancy projects, and they are well-equipped to solve problems across industries—important for a business like EY, which has diverse and international clients.
Globe trotters
Moreover, MBA students work in cross-cultural teams at business school; the cohorts are extremely diverse in terms of nationality, gender, race, and professional background. And students often travel abroad as part of their course, usually for an internship or to conduct research for a class project.
This is a good fit with EY, says Hopkinson, whose employees work in legal, tax, reward, and broader advisory roles. "That's hugely important, there's no doubt about that. Exposure to different challenges, to different types of individuals, cultures, and learning methods is hugely important," he says.
"Those who are successful at EY are incredibly agile, and are also self-starters, which an MBA requires them to be. The qualities that allow us to be successful in attainting an MBA are the same qualities making you successful in the organization. Someone with an MBA has those qualities."
He goes on to say that MBAs show a willingness to learn and adapt, despite the fact that some people have said MBAs are rigid thinkers. "They are willing to learn and are able to," says Hopkinson. "They also don't need direct supervision. They quickly work out what's needed and go about doing that. They don't sit around waiting for you to dish out work."
Digital disruption
A good example of this confidence with ambiguity is how MBA students handle digital disruption, which occupies a growing portion of the business school curriculum. EY has benefited from MBA graduates who can help the firm's clients cope with technological change, according to Hopkinson. He says: "That's true of all of our graduates. They come well-equipped with knowledge of the major set of [technology] tools that we use.
"And they are much more open to the ongoing disruption that tech has unleashed. For us, that's massively important—some types of work won't exist in my business areas in the next several years because of automation. I don't see my workforce being less than what it is now, but they will be doing different types of work."
Many MBA graduates can tailor the business school curriculum to their individual needs, and this has been beneficial for EY. Hopkinson cites the example of Scott Ward, who used his Warwick MBA dissertation to develop a new business line for EY, helping elite athletes transition into new business careers.
"With Scott what he's actually taken out to market was the core of his MBA paper," says Hopkinson. "And the MBA gave him the knowledge, wherewithal, and personal sales ability to pull it off."