Drone Delivery with an MBA at Amazon
Drone Delivery with an MBA at Amazon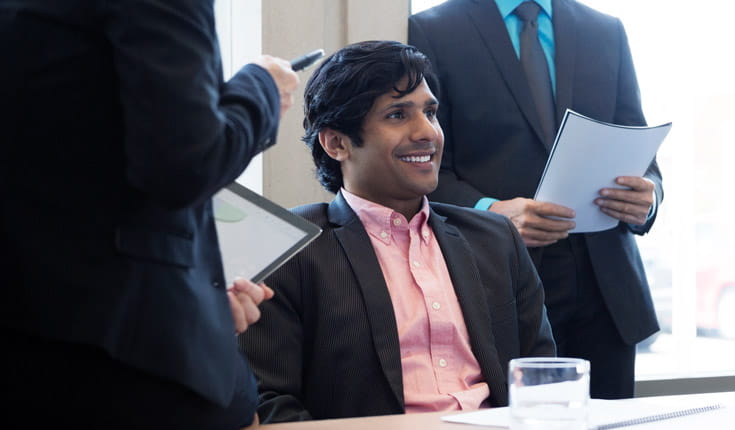 Serhat Pakyuz is using his London Business School education to help tech giant Amazon enter a new, international market.
Few companies value MBAs as much as Amazon, the e-commerce giant that hires around 1,000 of them each year. While technology firms have historically shied away from business school graduates, fearing they are too rigid for the fast-moving technology world, Amazon is disrupting that assumption, just as it is disrupting grocery shopping and health care.
Serhat Pakyuz became an Amazonian last year after finishing the MBA program at London Business School (LBS). Far from struggling to make his mark at the company, the Australian has introduced his employer to a wealth of expertise, a global alumni network, and helped it push into a new, international market: transportation.
The senior program manager for air strategy is helping Amazon's infamous drone delivery system take off. Prime Air promises to safely deliver packages to consumers in 30 minutes or fewer using the unmanned aerial vehicles. The project seems like science fiction but Pakyuz is helping to make it a reality, and is using his MBA every step of the way.
Taking off
"What really adds value is that as an MBA, you are an all-rounder," he says. "You're willing to roll your sleeves up and do a bit of everything, which is what the degree teaches you to do." MBA students, who usually have several years' work experience, study a broad curriculum covering strategy and leadership, and work on real-world business challenges, so they can hit the ground running.
Increasingly, the MBA syllabus covers digital disruption across all industries and this is prized by Amazon, a company making its way into a vast array of markets. Pakyuz feels he has helped the business navigate this tech change. "For example, I had no background in coding, but the MBA teaches you to learn new things and I've put those skills to work on projects at Amazon," he says. "The MBA gives you the capacity and confidence to try new things, and to cope with ambiguity."
A global perspective
For a global business with more than 560,000 employees, Amazon also benefits from MBA graduates' cross-cultural collaboration skills. At LBS, Pakyuz rubbed shoulders with students from many different countries and industries. He also traveled extensively during the MBA: to 26 different countries over the course of about two years, he says, including a week-long trip to Lima, Peru, as part of a class consultancy project with local startups. "The MBA taught me to apply the skills I learned in different, international contexts," Pakyuz adds.
The broad mixture of students at business school becomes a global alumni network, which for LBS is a 42,000-strong community spanning more than 155 countries. Pakyuz says he regularly taps into this network of people, with whom he can communicate and collaborate effectively with: "I leverage the network all the time in my job. For instance, my team may need to write a particular piece of code and I've sought advice from people from LBS various times for that."
There are also people from LBS, and many other business schools, at Amazon locations across Europe, who Pakyuz connects with in his role, which includes regular travel, most recently to Spain. "Just having an MBA helps to collaborate and network with other business school graduates, as it lets people know that you have certain abilities," he says.
For Pakyuz, business school was also his way of catalyzing a career shift. He previously spent several years working in the steel industry in Australia in a variety of roles. "I did the triple jump: changing location, industry, and function," he says. "Without the MBA, I wouldn't have been able to achieve that."