Creative Solutions to Pay for Business School
Creative Solutions to Pay for Business School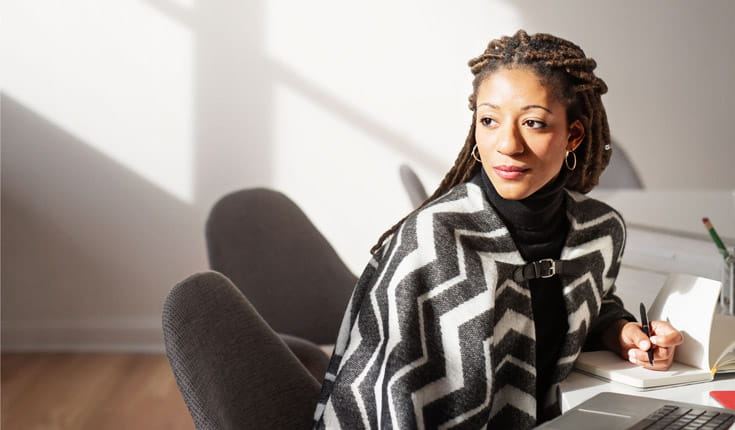 Weigh your options: how to pay for grad school
If you're reading this, either you've earned your acceptance to your business school of choice, or you're contemplating an application in the near future. No matter where you are on the journey, day 1 (celebrate!) is invariably followed by day 2 (yikes… how am I going to pay for this?)
College was costly and, yes, grad school will also be an investment as well. Some of the best things in life require short-term financial sacrifice with eyes on a long-term payoff.
Figuring out the financial solution for your unique situation can be overwhelming, but you can overcome this common feeling by approaching it strategically. Applicants and newly accepted students might benefit from viewing financing with an entrepreneurial perspective: How can I identify opportunities? How can I leverage resources? What else do I need to do to make this happen?
A few tips may help you weigh your options to pay for your graduate education.
Before your first grad school expense, conduct a thorough self-inventory
How's the state of your finances? Do you have the discipline required for the pay-as-you-go approach? Conversely, what's your tolerance for indebtedness?
You can save yourself a lot of grief if you draw up a budget and make plans to meet your upcoming needs within those parameters. At this stage, you may realize that a part-time MBA, or other alternative program structure, makes more sense for you. If you decide to work while going to school, consider three practical approaches to funding grad school while you work.
Lean on your network and existing resources to fund grad school
Use the resources available to you and make an appointment to speak to the counselors at the financial aid office of your institution. Together, you can explore grants, scholarships, and financial aid options. If needed, your financial aid officer can help you pursue them.
Many business schools offer generous scholarships based on merit and endowed scholarship guidelines. Many schools use platforms like Scholly to match their students with targeted, individualized scholarship options based on their program and past experience.
Be aggressive about applying for these opportunities. The time invested in securing any additional scholarship, big or small, is worth it in the end because it reduces the amount of your loan or how much you'll have to pay out of pocket.
For solutions to pay for business school, think outside the box
The Milwaukee Journal Sentinel profiled two young women who, at the ages of 5 and 10, started a root beer business to save for college. The oldest of the pair had moved into the university dorms for her freshman year with US$50,000 to start her educational pursuits.
You may not have parents who helped you launch a business, but that doesn't mean you can't think creatively about the options available to you. If you're currently employed, does your employer offer a tuition reimbursement program? Can you freelance while you go to school? Have you considered a work-study program? Do you have other ways to make a passive income, like managing coin-operated machines or renting special equipment?
Sometimes, relatives may be willing to invest in your future (and the terms are likely more accommodating than a formal loan provider). Reference the 2020 Corporate Recruiters Survey from the Graduate Management Admission Council (GMAC) to make your case—in a post-COVID world, business degrees are still likely to fetch a premium salary when you finish your program.
Consider loans to fund business school
Still can't make the math work? Many entrepreneurs use credit to finance their operations and ensure adequate liquidity. Similarly, graduate students can consider subsidized and unsubsidized Stafford loans, Graduate PLUS loans, and alternative (private) loans.
No matter the terms of your educational loan, exercise an abundance of restraint wherever possible. What seems to be an immediate solution can be burdensome as the loan matures. Poor financial counseling can downplay or minimize the responsibility of loans, so talk to people you trust and do your own research. Strategic thinking will allow you to manageably integrate payments into your post-grad budget.
You made it work? Now work hard! Grad school requires a lot of time and effort but provides a foundation for your enhanced earning power. The 2020 Corporate Recruiters Survey found that the median base starting salary for MBA graduates is still projected to be over US$100,000 in a post-COVID world.
Paying for graduate school may seem overwhelming, but it can be done. Like an entrepreneur, stay focused on the long-term goal and never give up on your dream. Your hard work and creativity will pay off.
Learn more about paying for graduate school when you create your free profile on mba.com.