How Does the Average Candidate Plan to Pay for B-School?
How Does the Average Candidate Plan to Pay for B-School?
How are you going to pay for b-school? Discover all the options.
If you're like most business school candidates, the investment you plan to make in your graduate management education is among the most substantial investments you'll make in your life. A big question probably on your mind right now is how am I going to pay for this?
A useful place to start is to understand the average candidate's financing plans. Last year, we collected survey responses from 9,471 unique mba.com registrants and asked them to estimate the percentage of their education they intend to finance through various sources. For example, if a candidate planned to pay for a quarter of their education with their personal savings and the rest through loans, they would respond 25 percent "personal savings" and 75 percent "loans", for a total of 100 percent.
It turns out, the average candidate financing mix differs quite a bit by age. Among candidates 23 and younger, for example, the largest proportion of their financing is expected to come from parental support (37%), followed by grants, fellowships, and scholarships (22%) and loans (16%). Among candidates 28 and older, on the other hand, they on average expect to finance roughly equal amounts from grants, fellowships, and scholarships (26%) and loans (25%), in addition to drawing from their personal savings (16%) and personal earnings (13%).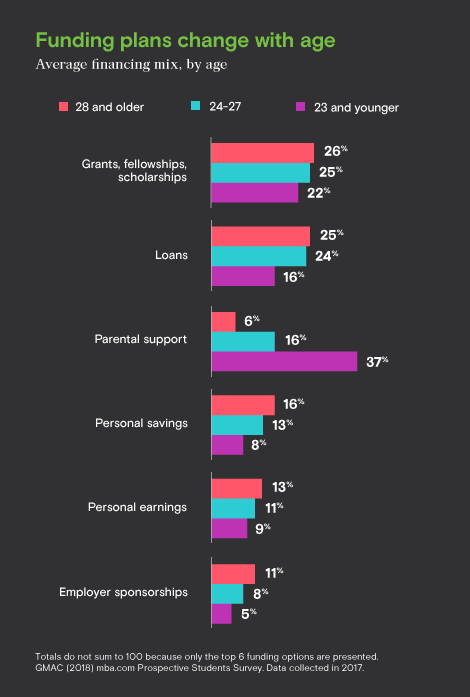 Want to learn more about your financing options for business school? Read this article about the different kinds of scholarships and financial assistance available to you, including merit scholarships, assistantships, fellowships, need-based scholarships, stipends, reduced tuition, and work study.
Though your investment in a business school degree may be sizable, the payoff is much larger. Alumni of full-time two-year MBA programs from the graduating classes of 1986 to 2012 had an average total investment of US$105,000 and an initial boost in base salary of US$30,000. Their estimated time to recoup their investment was an average of 3.5 years. Across all business school program types, business school graduates earn a median cumulative base salary of US$2.5 million over 20 years following their graduation. This is US$500,000 more in cumulative base salary than they would earn if they did not go to graduate business school and consistently receive five percent annual salary increases, and nearly US$1,000,000 more than if they did not go to business school and consistently received three percent annual salary increases.
Will you invest in yourself and apply to graduate business school? The journey begins by exploring what programs you're interested in, and researching what scholarship opportunities are available to you. Get started on the Program Finder today!