So, You've Made the Decision to Go to Grad School. Now What?
So, You've Made the Decision to Go to Grad School. Now What?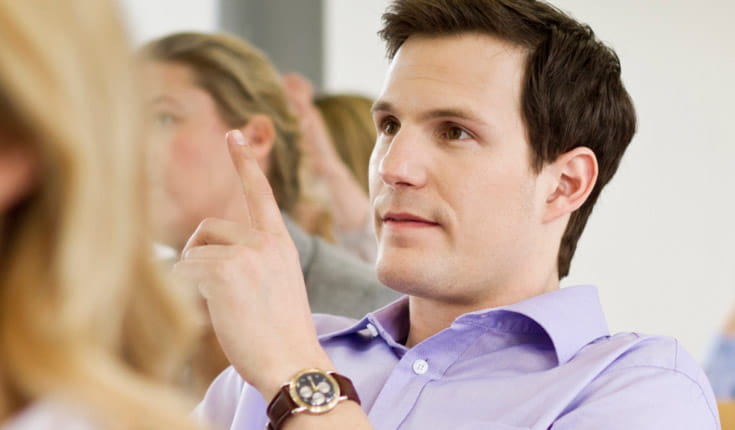 I've made the decision to pursue a graduate business degree. Now what do I need to do?
Whatever your background and career plan, making the decision to go to business school is a big one—but it's only the beginning of your journey to a graduate business degree;
Maybe what's pushing you is the drive to travel the world or maybe just make yourself more internationally mobile like these other Global Strivers.
Sign up to receive advice, tips, and exclusive offers to help you on your journey.
Or maybe you're more of a Balanced Careerist, someone who values stability but is looking to get a promotion at work. You might be one of the 25 percent of business school candidates today who want to be entrepreneurs—whatever your motivation to pursue a business master's now that you've decided to take the plunge it's time to figure out your next move.
Want to know what your motivations say about you? Take our quiz here.
To help you get started, we've outlined all the steps you need for a smooth immersion back into the world of academia:
1. Decide on your type of program
The MBA remains the world's most popular graduate business degree, with 79 percent of graduate business school candidates considering studying for an MBA in 2018. But there are an increasing number of program types out there, including master's degrees in management, finance, data analytics, and entrepreneurship.
Even the MBA comes in many different concentrations and formats, with many schools offering one or two-year full-time programs part-time, online, or flexible options, which let you work and study at the same time. The trick is to choose the program that best fits your lifestyle and career goals.
Read more: Find out which graduate degree programs may be right for you.
2. Explore your funding options
Completing a graduate business degree can produce a major return on investment. The Graduate Management Admission Council's™ (GMAC™) Alumni Perspectives Survey, found that graduate business graduates earn $1 million more in their lifetime than people who don't attend b-school. That's an investment worth making.
And while studying at some business schools can be costly, there are a variety of funding options available, from government loans to scholarships, to help you offset the cost of your degree.
Explore your possible post-grad salary potential with our interactive tool.
3. Choose your business school
Choosing a business school is one of the most difficult decisions you'll make. Again, your decision should depend on your career goals. Establish what you want to achieve with your graduate management degree and apply to the schools which seem like the best fit.
Some things to consider include:
Make sure you click with the culture
Find out about faculty and teaching methods
Explore what programs are offered by the school
Think about how far you're willing to travel and how it will fit in with your schedule
Think about the type of program you're looking for: online, full-time, two-years, etc.
Find the best fit with our Program Finder.
4. Take the GMAT™ Exam
The Graduate Management Admission Test™ (GMAT) is a critical step on the way to a graduate business degree. The test assesses your verbal and quantitative skills—it tells business schools if you're ready for the demands of a graduate degree program—and is accepted by over 2,300 schools worldwide.
Business schools will assess you based on your application as a whole and your GMAT score (ranging from 200 to 800) is just one part of the puzzle, albeit an important one. You'll need to dedicate some time to preparing for the GMAT exam to get the best score possible.
How important is the GMAT exam? Everyone has a different answer, but check with your target schools to get a better idea of how much head-space you should give your score.
Find out how long you need to prepare for the GMAT and access test prep materials.
5. Prepare your resume and recommendation letters
While application processes vary, most business schools will require you to submit an updated resume and provide letters of recommendation.
There are many tips to writing a winning resume. You should make sure you use the right template, paint a full picture of your profile, and make it specific to your business school application. You should source recommendation letters from current and former employers or professional and academic supervisors who can attest to your character and abilities.
Some schools also accept the Common Letter of Recommendation [hyperlink], essentially a templatized way for your letter-writers to create letters of recommendation in a quick and easy way.
6. Perfect your application
To complete your application, you'll need to pull together your resume, references, and GMAT score, as well as your application essays, college transcripts, and proof of English language ability if necessary.
Check out the application deadlines for your target schools and ensure your application is tailored to each school to stand the best chance of landing an interview. Once you're accepted, you'll know you're really on your way.
Want to know more about starting your graduate management education journey? Create an mba.com account profile and get access to the latest news and resources to help you on your way.
Create Account