Why the UK Remains a Top Destination for International MBA Students Post-Brexit
Why the UK Remains a Top Destination for International MBA Students Post-Brexit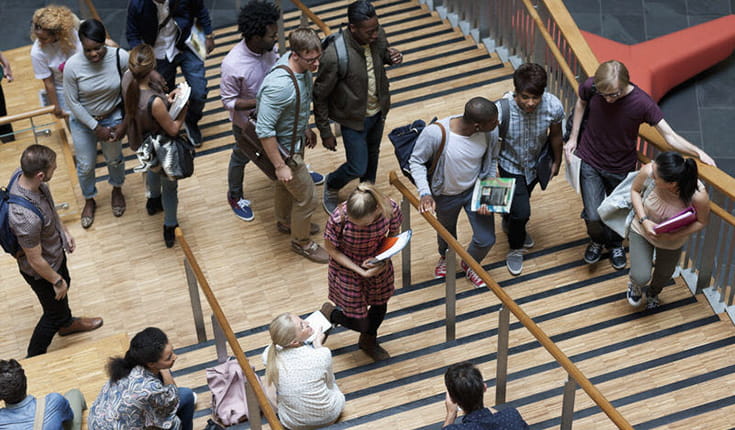 As one of the world's most popular study destinations, the UK has a lot to offer MBA candidates. But Brexit has cast a shadow of doubt over the country's future and the opportunities available for international students.
The COVID-19 pandemic has also hit the UK hard. Mass furlough and travel restrictions have caused a huge economic blow. Job opportunities for business school grads in some sectors—hospitality or travel—could be reliant on economic recovery, the length of which is still unknown.
The impact, if any, has yet to be felt strongly by business schools however. In the Graduate Management Admission Council's (GMAC™) Application Trends Survey, 84 percent of UK business schools reported growth in international applications in 2020.
The UK is still popular for international MBA candidates
Even in the years following the Brexit vote, the UK remained a popular destination for MBA candidates. Non-EU students—particularly those from India—have still been flocking to the country to study.
In February 2020, the British High Commission New Delhi stated that over 37,500 Indian students received a student visa in 2019—a 93 percent increase from the year before.
A UK outside the EU might be good news for non-EU MBA candidates from countries like India. Whereas before, when the UK was still a member of the European Union, EU students entering the UK from the continent to study could do so visa free, now there is a level playing field for all international students.
With the UK government focusing on a point-based immigration system for all internationals, visa policies like the new Graduate Route apply the same rules to all students coming into the UK from abroad.
🌎 Read more: How Changes to the UK Post-Study Work Visa Benefit International Students
Sam Weeks, founder of Sam Weeks Consulting, an MBA admissions consultancy, says that he's still seeing a continued rise in the number of non-EU candidates applying to UK schools.
"For applicants making a conscious decision not to apply to the US, many will only consider top brand names in the UK—think LBS, Oxford, and Cambridge," he says. "The UK is benefiting from that trend."
Another reason for the increase in non-EU applicants is the value UK schools place on international diversity. For example, according to the Financial Times Global MBA Ranking 2020, the MBA class at Oxford was 97 percent international, while the class at Harvard Business School was only 37 percent international.
"Another factor playing a part is the weaker Pound Sterling, particularly compared to the USD. This has made it relatively less expensive for non-EU international applicants to consider UK schools, particularly those from emerging markets," Sam explains.
Staying in the UK after your MBA
The Graduate Route is a new UK post-study work visa that starts summer 2021 and is available to any student holding a valid student visa. The Graduate Route allows international MBA graduates to stay in the UK for up to two years. During that time grads are free to work or look for work.
The UK has also introduced other ways for non-EU MBA candidates to stay in the country post-graduation. The Skilled Worker visa allows grads to stay in the UK for up to five years—this can be extended. Companies on the sponsorship list include Facebook, Microsoft, and Bain & Company.
💼 Read more: Bain, BCG, McKinsey: How to Get Hired by the Big Three Consulting Firms
A strong pull factor of studying abroad is the ability to stay permanently after you graduate. In the UK, if you're an international graduate who has worked in the country for five years you can apply for settled status. After having settled status for 12 months, you can apply for British citizenship.
Visas that allow you to stay and work traditional corporate MBA jobs after graduation aren't the only reason a post-Brexit UK looks appealing to non-EU MBA candidates.
The Startup and Innovator visas also look to encourage a startup and entrepreneurial culture among grads. You can apply for a Startup or Innovator visa if you want to set up and run an innovative business in the UK, or if your business or business idea has been endorsed by an approved body.
Post-Brexit career opportunities
Sam Weeks says that some of his clients are concerned about the UK job market. Applicants are waiting to see if their target companies relocate to continental Europe, a particular concern among applicants targeting finance. Financial services firms were among those that lost their passporting rights to do business seamlessly with other EU nations, and that could damage the sector, especially in London.
London, like any major city is a pull factor for the UK. But its recovery, like other major cities impacted by the pandemic, is a wait-and-see for candidates. Even so, there will always be opportunities for smart, business-savvy MBA graduates in the UK, increasingly in tech and healthcare.
"The demand within the worldwide health sector is increasing and graduates should consider expanding their horizons," says Neil Armstrong, career consultant at Durham University Business School. Neil adds that business graduates will find roles if they build up their digital and e-commerce competencies.
Rohit Kumar, head of international recruitment at the University of Liverpool, identifies the public sector, accounting, banking and finance, and technology as the key job creation sectors in the years to come.
And whatever sector you look to go into after your MBA, companies will be keen to hire top talent.
"Organizations across the board need digitally-savvy, analytical, commercially-aware talent with strong interpersonal skills to help them navigate the near future," Chris Garnett, head of postgraduate careers and employability at Manchester Alliance Business School, concludes.
"If you can bring this kind of broad skill set to the market, you should feel confident that there will be opportunities in the UK and beyond."
Which MBA program is the right fit for you and your goals? Our free guide offers expert advice to narrow your choices and establish your short list.