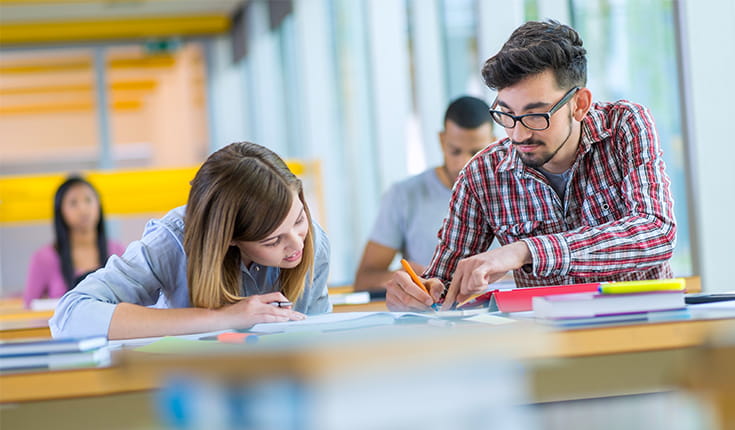 Studying abroad is a valuable opportunity to study at a top-ranked global business school and immerse yourself in a new culture. However, applying to study abroad can also be a stressful process with a lot of different steps. That's why we've created this easy guide to how to study in France.
Over 300,000 international students attend universities in France every year, and it is the fourth-most popular destination for international students. When you study in France you'll have the opportunity to learn a new language, explore world-famous cultural sights, and immerse yourself in the country's celebrated gastronomy.
If you're wondering how to study abroad in France, this guide will take you through everything you need to know, from details of French student visas to the best places to study in France.
Why Study Abroad in France?
It's no surprise that thousands of international students choose to study in France every year, as the French education system is ranked as one of the best in the world. However, there are plenty of attractions outside of the country's world-class education system.
For one, France is home to renowned cultural institutions, many of them concentrated in the elegant and lively capital Paris. As you study abroad in the city, you can explore years of French art and history at The Louvre or the Musée D'Orsay.
Elsewhere in France, many student cities are known for their quality of life. Lyon, for example, is ranked the 16th best place to live in Europe thanks to its affordable cost of living and efficient transport system. Other cities like Bordeaux and Grenoble offer lively nightlife alongside must-see cultural sights.
Students are also attracted to the lively gastronomy scene and the chance to learn French – a must for doing business in Europe. It is one of the EU's three official languages and one of the most-spoken languages for business alongside English.
Studying Business in France – Top Business Schools
We know that France attracts a large number of international students every year, but how popular is it among business students in particular? Well, it's also one of the most popular global destinations for MBA students owing to its innovative business landscape and diverse economy.
France has the third-largest GDP in Europe, with well-established tourism, agriculture, energy, and manufacturing sectors. However, the country is also known for its world-renowned luxury goods and fashion industries, and business schools such as HEC Paris and ESSEC have specialist knowledge in these sectors.
Many global companies are headquartered in France, including Salesforce, L'Oréal, Michelin, and Air France. But the country also has a growing startup sector – French digital startups recorded €7 billion of revenue in 2020. The Global Startup Ecosystem Report 2021 ranks Paris as one of the best startup ecosystems in the world, while France has large industries in innovative areas like big data and fintech.
The country also has many top-ranked business schools, the majority clustered in Paris. The highest-ranked French business school is INSEAD, but institutions like ESCP Business School, EDHEC Business School, and Emlyon Business School also appear in the top 100 of the Financial Times Global MBA Ranking.
How to Apply to Study in France
Applying to study abroad in France works in much the same way as with other international business schools. Your first step will be to compile all of the documents you'll need for your application, including your degree certificates, academic transcript, a resume, two professional references, and a passport photo.
For applicants for whom English isn't your first language, you'll also be required to submit an English language test score. Some of the most widely accepted tests in France are the TOEFL, TOEIC, IELTS, and Cambridge.
Finally, for most applications for a top-ranked MBA or Master's program, you'll also need to take the GMAT. You should start preparing to take the GMAT well in advance of applying to your business schools, to give yourself the best chance of submitting a competitive application.
After receiving your acceptance letter, all non-EU applicants will have to apply for a French student visa. For programs longer than six months, you'll be issued a long-stay visa (visa de long séjour etudes). The visa costs €50-€100 depending on your nationality, and to apply you need to have a valid passport, acceptance letter, proof of financial means to cover your studies (at least €600 per month), and health insurance.
Your long-stay visa is valid for up to one year – if your studies are longer than this you'll need to extend your visa by applying for a Carte de Séjour, or official residence permit. You can do this up to three months before your initial visa expires.
Cost of Living
If you're wondering how to study in France on a budget, then the good news is it's possible. While France isn't the cheapest country in Europe to study in, it does have a lower cost of living than other popular business school destinations like Switzerland, Hong Kong, and Ireland. However, if you stay away from the most expensive cities then it's entirely possible to study in France cost-effectively.
The most expensive French city is undoubtedly Paris – however, the city is also home to some of the best places to study in France, so you might have to weigh up your ideal business school against your budget. Rent will also vary considerably depending on whether you're in university halls of residence (called CROUS in France) or renting privately. Monthly rent for a room in a CROUS residence can cost around €400 in Paris or €200 in other French cities.
If you're planning on traveling around France during your stay, it's also worth picking up a carte Jeune, which gives anyone under the age of 28 at least a 25% discount on national train tickets.
To give you an idea of how expensive studying in France might be, here are some approximate figures for monthly costs and bills:
Rent: €400-€800
Groceries: €250-300
Transport: €30-€75
Restaurant meal: €10-15
Gym membership: €35
Data gathered from studying-in-france.org, mastersportal.com
French Scholarships and Loans
Tuition fees at public universities in France are heavily subsidized by the government, making them very cheap for EU citizens. However, business schools usually have much higher fees which are often the same for French and non-French students.
A bachelor's degree, for example, costs around €11,000 per year, while a master's degree is around €16,000-€24,000 per year. MBA degrees will cost much more, rising to €90,000 per year for France's top-ranked program at INSEAD, for example.
If you think you'll need assistance with funding the cost of your business degree, then there are lots of options available. In terms of the French scholarships, the first place you should check is the French Ministry of Higher Education. They offer scholarships to foreign students based on the subject of study and country of residence. There are also 14,000 tuition fee exemptions available to non-European students, for example from Africa.
If you fail to get a French scholarship, there are options for loans. Students from France and the European Economic Area (EEA) can apply for a low-interest loan from a French bank, borrowing up to €15,000. If you're ineligible for this, there are also third-party companies offering loans to international students in France, including Prodigy Finance.