The Benefits of Studying Abroad
The Benefits of Studying Abroad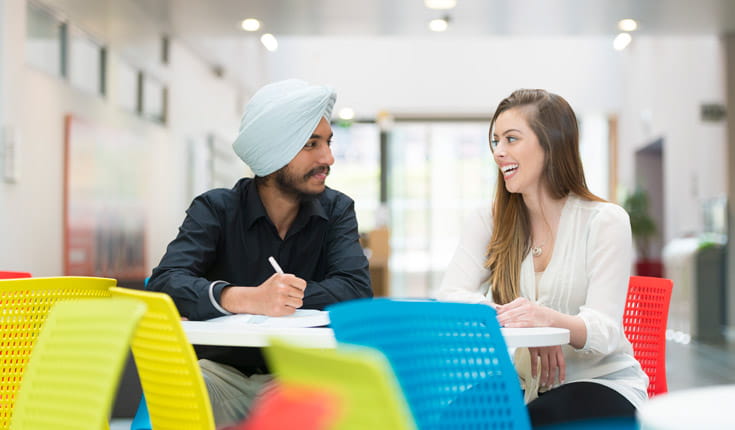 What are the benefits of studying abroad? Stand out from the crowd with the unique perspectives, skills, and experience you gain when you study abroad.
First off, why is studying abroad important?Earning a graduate management education abroad affords students numerous personal and professional benefits. The unique experiences you gain as an international student will develop you as an individual and make you more attractive to companies that are eager to hire graduates who can help them excel in today's truly global economy. No matter your study abroad goals, the advantages are universal.
Benefit #1: Become a more well-rounded individual
By living and studying in a foreign country, you can gain a greater understanding of your personal heritage and values. Exposure to different outlooks, customs, and ways of life means your beliefs will be challenged. Some will change forever, while others will evolve or gain even stronger footing. Interacting with native populations and fellow international students also allow you to develop greater respect for other cultures, values, and norms. With greater perspective, worldviews, and tolerance, you can become a more independent, self-reliant, and confident individual in both your personal and professional life.
Benefit #2: Develop marketable business skills
As an international student, you have the opportunity to participate in valuable life experiences and develop new skills that will benefit your resume. With an immersive study abroad experience, you can learn or master that country's language at social, academic, and professional levels. In addition, leadership styles often differ from one culture or country to the next, and you can learn how to work with—and gain a better understanding of—different leadership and business styles.
In an international business school environment, you'll gain valuable experience working with a diverse team and be able to apply those skills to the workplace to help you manage or work with people from all walks of life. Your exposure to a new culture affords you a broad and sophisticated worldview and diversifies your thoughts and values. As a result, it'll be easier for you to form partnerships and work effectively when tackling global or multinational challenges.
Benefit #3: Gain the competitive advantage
Students who study abroad often stand out from other job candidates with skills that can only be gained from overseas experiences, such as strong cross-cultural communications, global perspective, and familiarity with international standards, laws, and regulations. As an international student, you'll learn from and alongside people from diverse backgrounds and locations, which means that everyone will bring their unique solutions and point of view to b-school exercises, discussions, and case study analysis.
Additionally, if you study in a country with an emerging economy or challenging business climate, you can gain first-hand experience and learn to respond quickly and nimbly to unpredictable or uncomfortable situations. This adaptability and exposure to different points of view, makes you an attractive candidate and helps you differentiate yourself in an increasingly crowded job market..
Looking to stand out from the crowd? Find out why one Georgetown admissions representative thinks studying abroad is the answer.
Benefit #4: Open international career opportunities
If your goal is to work or have a career abroad, it is advantageous to also study outside of your home country. Studying in the country or area where you want to eventually work abroad is beneficial, as the network you develop in business school often plays an important role in connecting you with job prospects and other local networking opportunities. In this scenario, you also experience the region's people and culture first-hand which can help you assimilate and transition to a career in that country or area. But, regardless of whether you study abroad in the same region where you want to work, an international business school experience of any kind will open doors for you outside of your home country. The unique experiences you gain abroad will make you more attractive to companies looking for hires that are personable, effective, and comfortable in multicultural settings.
Learn how studying abroad can introduce you to a variety of international job opportunities.
Video: Why studying abroad is important if you have international career goals.
Full Video Transcript
The question as to in which way studying abroad will benefit you in your career is complex, because this is a market. We always discuss the US and outside of the US in this business, right, and I'm...I represent European business school, and the vast majority of our graduates come from abroad, right, and certainly...and the kind of students who choose to study abroad often come with an aspiration to geographically move their career, and studying at home is probably not the most effective way to produce a geographical change. So in a way, studying abroad gives you the first step in the direction of geographical change if that is what you want to pursue. So in the short term if your aim is to work outside of your home country, studying outside of your home country is a very logical and almost necessary step, some would say and this drives candidates' behaviors in international schools quite a bit.
What are your study abroad goals?
The advantages of studying abroad are far-reaching and universal. However, what you want out of a study abroad experience is unique to you, and only you. To reap the maximum advantage of an international business school experience, be sure that you understand your goals and can find a program that helps you achieve them.
To explore program options based on your unique study abroad goals and preferences, try our mba.com tool, Program Finder, today.