Is an MBA in Business Communication Right for You
Is an MBA in Business Communication Right for You?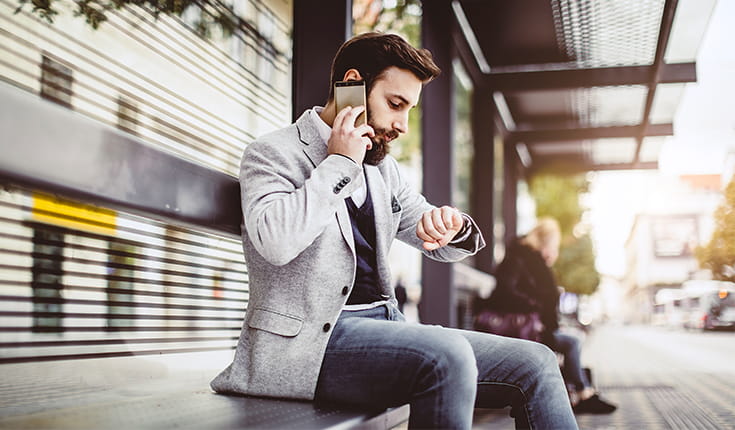 Whether you're talking with clients, working within a team, or producing a piece of business writing or marketing material – excellent communication is vital in day-to-day business.
The term 'business communication' refers to several key functions, including public relations, organizational communication, and even human resources. This makes it a key area that business schools look to develop within the typical MBA (Master in Business Administration) curriculum, and some schools go one further by offering specialist MBA programs in business communication.
So who should apply for an MBA in Business Communication? And what career opportunities are available for MBA in Business Communication graduates?
Here's everything you need to know.
What is an MBA in Business Communication?
An MBA in Business Communication is a degree combining both the fundamental MBA curriculum with specialist modules covering communication theories and skills.
Studying an MBA in Business Communication will see you learning key business elements such as finance and accounting, while delving into topics such as media strategy, media law, and public relations principles.
Who is An MBA in Business Communication for?
The typical student enrolled in an MBA in Business Communication degree is someone aiming to work in media-related roles within business. This could be in marketing, advertising, or PR, for example.
Communications specialists are typically skilled in shaping people's perceptions of companies or even high-profile individuals. This means there are several sectors that have high demand for these specialist skills. Graduating from an MBA in Business Communication could see you launch a high-flying career in corporate communication, political communication, or crisis communication.
MBA in Business Communication: Course structure
As a dual-focused degree, your MBA program will teach both key business practices alongside the more specialist knowledge and expertise related to the field of communications.
Communications MBA programs blend subjects such as finance, accounting, marketing, management, and strategy, with topics including public and media relations, strategic communication, direct marketing, communication ethics, and media strategy.
Your program will typically begin with a core period covering the fundamentals of business. At EU Business School, for example, the first two terms of the school's MBA in Communication & Public Relations are focused on business fundamentals, while the final term is dedicated towards developing your communication knowledge and skills.
Teaching is typically delivered via a mixture of theoretical learning and applied experiences where you'll be able to put the theory into practice. This could be within business simulators or consulting projects. You may also have the chance to attend company visits or lectures with industry experts while studying.
Enrolling in a communications MBA program could also provide you with the opportunity to complete an international exchange or study trip. Students at ISEG Business and Finance School in France can undertake an international track in either Barcelona, Berlin, or New York during their MBA in Digital Marketing/Communication and Social Media.
During the final period of the program, ISEG also provides students with the chance to complete an exchange with a partner school in either Ireland or the US, meaning you can earn a double degree by the time you finish.
Often the final part of your communication program will be a final project or dissertation, requiring you to deep dive into a subject area of your choosing. Tailoring your choice towards your preferred career path can help prepare you for your next role after graduation.
If you plan to work within the corporate sphere, you could focus your final project on corporate communications or crisis communication. Likewise if you're interested in pursuing a career in marketing, you could delve into the realm of media strategy.
MBA in Business Communication: Subjects
The core period of your MBA in Business Communication will cover a wide variety of business functions. At the American University of Leadership, the school's MBA in Marketing and Communication covers the following core subjects:
Leadership and Strategic Management
Financial Management
Strategic Marketing and Sales Management
Quantitative Methods for Decision Making
Entrepreneurship, Innovation and Change
Management Information Systems
Business and the International Economy
Business Law and Ethics
Strategic Human Resources Management
Production and Operations Management
Project Management
Corporate Accounting.
The specialist part of the program adds to this with the following modules:
Business Communications
Marketing Research
Consumer Behavior
Integrated Marketing Communication
International Marketing.
At EU Business School, specialist modules in business communication cover:
Public Speaking & Public Communication
Public Relations
Organizational Communication
Mass Media Strategy
Planning & Media Law
Practical Applications in Public Relations.
MBA in Business Communication: Electives and specializations
While already a specialized degree, you may have the chance to further specialize during your studies during a dissertation period or specialist concentration. This will allow you to choose a specific area of business communications to deep dive into over the course of an extended project.
Where can you study an MBA in Business Communication?
As a highly specialized degree type, there are only a handful of accredited business schools around the world that offer MBAs in Business Communication.
The program at EU Business School is delivered in Barcelona and partnered with Universidad Católica San Antonio de Murcia (UCAM). This means your MBA degree is awarded by both EU and UCAM when you come to graduate. The MBA in Digital Marketing/Communication and Social Media at ISEG is also offered in Europe.
Alternatively you could enroll in the MBA in Marketing and Communication at American University of Leadership, which is offered as an online program that can be completed over 12 months or four semesters.
Other options include enrolling in a generalist MBA degree that offers a specialization period with an optional business communication track, or enrolling in an MSc in Business Communication or another related master's degree.
MBA in Business Communication cost & ROI
Enrolling in an MBA is a big financial decision. In 2022, the average cost of a top MBA program was $189,000, according to BusinessBecause. But as a more niche program, the MBA in Business Communication is typically offered by smaller, specialist business schools who demand cheaper fees.
Enrolling in the communications MBA program at EU Business School will cost you around $7,400 (€6,950) per term, or $22,400 for the full degree lasting one-year.
ISEG's MBA in Digital Marketing/Communication and Social Media takes place over two-years but at a lower cost. Yearly tuition fees stand at just $8,100 (€7,600) with an added fee of $1015 (€950) for registration each year. This means the total program cost is around $18,200 (€17,000).
Of course, if you choose to take part in a study exchange, international trip, or other additional element while studying, this will likely push your costs higher. However you may find that financial aid is available to help reduce your overall fees. Make sure to check your preferred school's website when applying to see if you're eligible.
Graduates from MBAs in Business Communication can expect to see a strong return on their investment, with career opportunities open across a range of sectors and high demand for their specialist skills.
Career prospects after an MBA in Business Communication
An MBA degree will enhance your career prospects, with companies across the globe placing high value on the skills and expertise MBA grads can offer. Combining this generalist expertise with a specialism in business communication opens doors to a range of specialist management careers across the business world.
Typical career paths for MBA in Business Communication grads include:
Head of corporate communication
Communications project manager
Marketing manager
Customer relationship manager
Social media manager
Director of public relations
Media director
Fundraising manager
Event communications manager
Top companies hiring MBA in business communication grads
Graduating from an MBA can be your route into a career with a top global employer – more than 92% of corporate recruiters planned to hire from MBA talent pools in 2022, according to the Graduate Management Admission Council (GMAC).
Multinationals and world-renowned companies regularly hire communications professionals and value communications skills. At ISEG, for example, recruiting companies from the MBA program include:
AirFrance
Hermes
Decathlon
LVMH
Sanofi
Nike
Starbucks
Publicis Group
Carrefour
MBA in Business Communication average salary
Strong demand for communication skills and the prospect of landing a role with a top multinational means you'll likely immediately have strong salary prospects post-graduation. According to GMAC, MBA graduates in the US, for example, earn median starting salaries of $115,000.
As you progress your career your salaries will likely increase and you may also earn bonuses and other benefits, depending on the industry in which you choose to work. Typical industries that offer the strongest salary prospects for MBA grads are consulting, finance, and technology.
MBA in Business Communication: admissions process
Gaining admission to an MBA in Business Communication will require you to have completed a bachelor's degree and be able to provide copies of your degree certificate and academic transcript.
If you are a non-native English speaker and applying for an English-speaking MBA, you will have to provide proof of your language proficiency. At EU Business School, this means a TOEFL score of 89 if internet-based, or 233 if computer-based. Alternatively an IELTS score of 6.5, or CAE C1 with a minimum score of 176 would be accepted.
MBA programs are typically aimed at prospective students who have some professional experience, so often there will be a minimum work experience requirement of two years or more. This varies between schools so it's worth checking before you apply.
You will also have to provide evidence of your academic ability through either an entrance exam (GMAT or GRE), an average GPA, or both. Some schools, such as ISEG, have their own internal entrance exams that you must sit in order to gain a place on the MBA.
Along with your test scores and degree certificates, schools typically require you to complete an application form comprised of a resume, letters of recommendation (usually two), a written essay, and legal identification. You may also be required to pay an application fee.
Business schools will evaluate your entire application when considering the strength of your candidate profile. That means it's not just your test scores that are important, you should also show within your application why you want to attend a particularly school, how the program fits into your career goals, and what you can bring to the cohort.
If successful at the initial application stage you may be invited for an admissions interview before finally landing your place.
For more information on how to successfully navigate the MBA admissions process, check out our free-to-download Full-Time MBA Application Guide.