What Are the Benefits of a Professional B-School Degree?
What Are the Benefits of a Professional B-School Degree?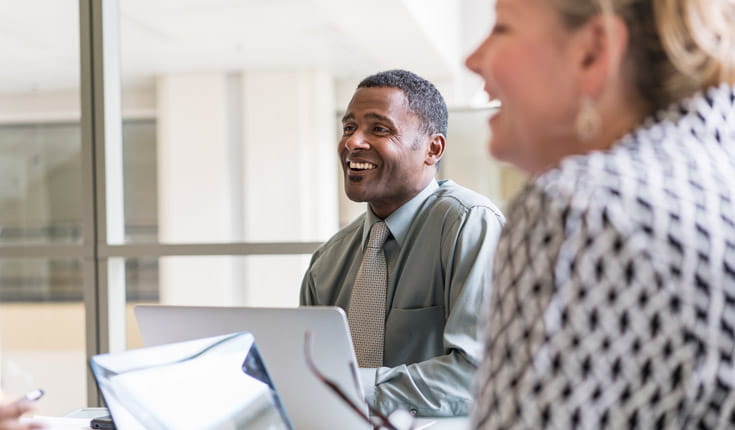 Graduate business degrees have widespread and far-reaching rewards, but the specific benefits of a professional b-school program can make it an attractive option for experienced working professionals looking to advance their career.
Executive MBAs (EMBA), executive master's, and online and hybrid programs stand out with their convenient and flexible entrance exam, accommodating course delivery methods, and unique alumni networks.
A convenient entrance exam
The Executive Assessment (EA) is the preferred entrance exam for professional business degrees. The EA requires modest preparation and tests your readiness to attend b-school based on the data-driven skills you use every day. You won't have to spend time studying school-based concepts, like geometry and algebra; instead, you'll be tested on the knowledge you've gained over the course of your career. The exam is composed of 40 questions across three sections: Integrated Reasoning, Verbal Reasoning, and Quantitative Reasoning, does not have an essay component, and is only 90 minutes long. You can schedule your exam at over 600 test centers around the world, choosing a time that works for your schedule. If something comes up, you can reschedule your assessment at no cost within 48 hours of your appointment.
When I found out the EA was an hour and a half, and I could schedule it whenever I wanted to—after work, before work, on weekends—that was a huge benefit for me.

–Skip Calvert, Darden Executive Program
Flexible course delivery
Professional degree programs understand the demands of your personal and professional lives. Courses are designed to accommodate your schedule so you can continue to perform your best both at work and at home. Most students work full-time and have the added benefit of applying their key learnings in the workplace, nearly in real time. EMBAs and professional MBAs take on average 20 to 26 months to complete, and some executive master's can be achieved in 16 months. Course content is delivered in concentrated, fast-paced formats, and most integrate in-person and online course delivery methods with on-campus classes taking place on nights and weekends.
Leadership-focused coursework
If you're looking to take the next step in leadership, a professional degree can help you get there faster. With programs that build on your current knowledge, you'll learn new skills that will help you excel on your current path and become a more effective leader. Today's programs focus on the topics that matter most to mid and senior-level career achievers, including leadership, management, strategy, and critical thinking. In the Graduate Management Admission Council's ™ 2018 Alumni Perspectives survey report, professional and EMBA alumni agree that their education prepared them for leadership positions and offered opportunities for quicker career advancement.
Expanded network
Graduate business degrees are well known for their powerful alumni networks—and professional programs are no exception. Your classmates will be at a similar professional stage and include high-achieving professionals from a wide variety of industries. Impressive and influential executives, climbers, and self-starters will diversify your network outside of your current industry and help open doors to new opportunities. EMBA alumni agree: When asked about the benefits of their degree, they report that their education helped develop their professional network, and 54 percent would definitely recruit alumni from their program.
A professional b-school degree can be the catalyst you need to take your career to the next level. They offer cutting-edge leadership education, the flexibility to continue working, and convenient course delivery options. Learn about the costs of a professional program and find your best-fit program via the Program Finder feature.