How Long Is Business School and What Can You Expect?
How Long Is Business School and What Can You Expect?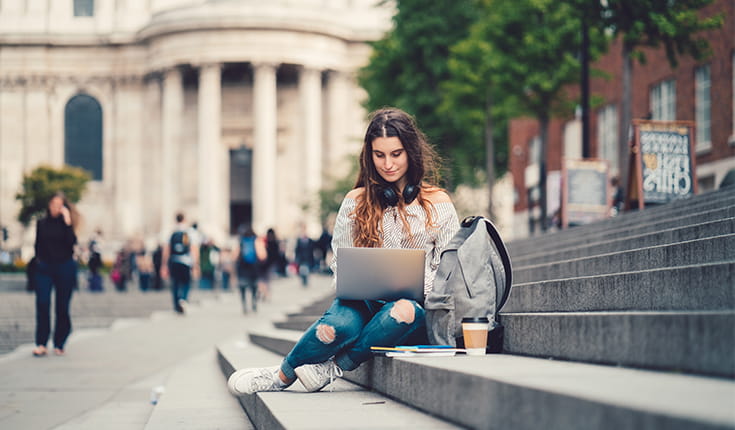 If you're eager to make a mark in the business world, then you've probably already considered whether graduate management education is for you. Yet, the length of an MBA will vary depending on program type and location, so you'll need to factor this in when deciding which program type is best for you. You'll need to ask yourself how long you're willing to stay out of the workforce for, or whether you would prefer to work while studying online or part-time.
Here's a breakdown of the lengths of different MBA program types, as well as what to expect from your business school experience. You can also compare this to the length of a business master's.
How many years is business school?
The length of a business school program can depend on many factors, from geographical location to whether it's full-time, part-time, or online.
Full-time MBA
In the US, for instance, many traditional full-time MBA programs at top business schools like the Wharton School of the University of Pennsylvania and Harvard Business School take two years to complete.
Meanwhile, in Europe, program lengths are typically shorter. You can complete the full-time MBA at INSEAD in as little as 10 months. There are also many one-year MBA options to choose from, or you could choose a slightly longer program like the 16-month MBA at HEC Paris.
Part-time MBA
For those wanting to juggle their degree and a career, part-time MBA programs allow you to study for around three-five years.
Online MBA programs also fall into this category and offer similar flexibility to combine work and school. Online MBAs can vary between one to two years, all the way up to six.
Dual MBA
Dual MBA programs allow students to study for an MBA alongside or before completing another degree, such as the JD-MBA. These joint degree programs take longer to complete than a traditional MBA, ranging from three-five years, depending on the subject.
Executive MBA
Meanwhile, more experienced professionals can complete an Executive MBA (EMBA), which is usually delivered on a part-time basis either in person, online, or in a hybrid format.
Programs typically range from 18-24 months in duration and require you to have significantly more work experience than a traditional MBA. Some programs ask for up to 12 years of experience from applicants.
The length of an MBA might seem daunting. But know that in comparison to other advanced degrees, such as law, medicine, or a PhD—which can often take up to five years or more to complete—a traditional or accelerated full-time MBA is relatively short and provides a strong return on investment.
What can you expect at business school?
MBA syllabus
Throughout your MBA, you'll study the fundamentals of business and management.
Core topics include:
Leadership
Finance
Marketing
Operations
Strategy
Accounting
Data Analytics
There are also opportunities to specialize further through electives in topics like entrepreneurship, artificial intelligence and big data, and sustainability.
If you're joining a traditional MBA, you'll usually study the core business courses in the first year before picking your electives in your second year.
For an accelerated MBA you may be expected to already have a strong knowledge of business and managerial skills, spending less time on the core courses across the year.
Regardless of program type, you'll need to dedicate a large portion of time to your studies. Although, many students quickly become familiar with the required pace and demand of an MBA.
"The beginning of an MBA program is similar to picking up a new skill; there is a learning curve, a feeling of unease to start something new. However, the rest of the cohort is experiencing the same thing," says Emily Keep, an MBA alumna from Trinity Business School at Trinity College Dublin and director of technical product at Salesforce.
MBA networking and social events
Joining an MBA program is more than just studying day after day. There'll also be lots of time to enjoy social activities and networking with your business school cohort and industry professionals.
These experiences can range from social dinners to case competitions and trips abroad.
EDHEC Business School in France, for example, takes its students on a learning expedition to Silicon Valley, where they get to network with entrepreneurs and investors and learn about the Silicon Valley startup ecosystem.
MBA student clubs will also facilitate professional networking and social events. The CEIBS MBA Women Leadership and Network Club offers an annual female leadership forum, alumni seminars, networking and social brunches.
"While academics are challenging and rigorous, a huge part of the full-time MBA program is the ability to build your network, and that means socializing," notes Harmonie Jacobson, an MBA grad from the University of North Carolina's Kenan-Flagler Business School and a program manager at Google.
She adds that over the course of her MBA, she engaged in outdoor activities like hiking and movie nights with her peers, and joined clubs, such as the Carolina Women in Business and the Healthcare club, which hosted student-led conferences. "There was always something going on throughout the week and over the weekend," she says.
MBA work experience
A major reason many students want to study at business school is to leverage the real-life consulting projects, professional work experience, and internships that typically come as part of a full-time MBA.
During a two-year, full-time MBA, the summer in between your first and second year is typically spent working for a company as an MBA intern.
You'll also usually get to work on real consulting projects, during which you'll help a company solve a strategic or managerial issue they're facing. This could be a startup, SME, or multinational corporation.
Professional work experience opportunities are a chance to further enhance your expertise in a specific area or start to build experience in a sector or industry to which you want to pivot post-MBA.
Whichever MBA program type you choose, you'll study cutting-edge business topics, gain stellar networking opportunities, and move a step closer to the career of your dreams.