Future Business Leaders Opt for Quant-Focused Grad Degrees
Future Business Leaders Opt for Quant-Focused Grad Degrees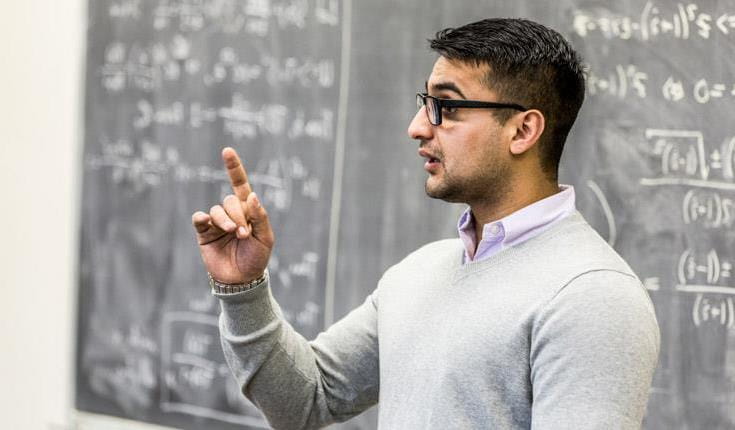 If you're a numbers person and numbers just make sense to you, then a quant-focused graduate business degree will put you on a career path that leverages your strengths.
So, you're a numbers person. Numbers just make sense to you, and you're looking for a career path that leverages your strengths.
Naturally, you're drawn to business. Quant-minded leaders are essential in today's business reality of predictive analytics, big data, and algorithms that can predict what show you want to binge watch next. Having leaders that are fluent in the language of numbers can make a critical difference in the success of companies, from start-ups to multinational corporations.
As a result, more future business leaders (e.g., you) are opting for quantitative specialized business master's degrees—in disciplines like finance, accounting, data analytics, and taxation. More importantly, employers are targeting these grads to join their companies—and we've got the numbers to show it!
Bright Employment Outlook for Quant. Grads
Our 2014 year-end global poll of more than 150 employers revealed strong interest in hiring quantitative business master's grads this year. In 2014, 3 in 4 employers met or exceeded their hiring goals for grads of finance and accounting programs, and even more expect to maintain or boosted their hiring projections for 2015.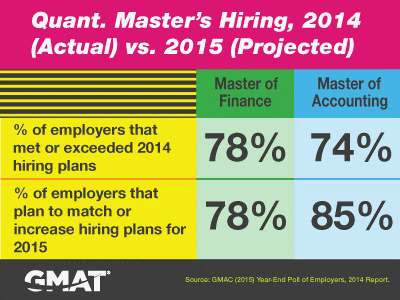 In addition, recent class of 2014 graduates of master's programs in finance, accounting, and taxation give stellar reviews to their degree in helping them get their career off to a hot start after graduation.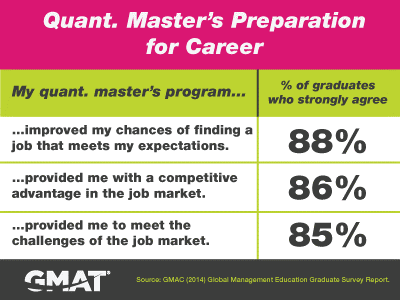 Financial and Personal Rewards
Individuals graduating from quantitative specialized business master's programs can also look forward to earning to a competitive salary, as shown below in median salary data reported by job level, for alumni of accounting and finance programs across all class years surveyed. This, combined with the positive hiring outlook, speaks to the high value of these specialized degrees: 92% of alumni rate the return on investment (ROI) of their degree as outstanding to good, and the overwhelming majority report they would recommend their program to others.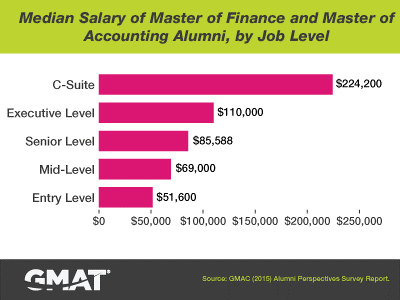 But, of course, money isn't everything. Are grads of quantitative business programs satisfied with their jobs? Our research shows the answer is a resounding yes: 83% of alumni from such programs across all class years surveyed last year report being very satisfied or satisfied with their current job, and 84% indicated their work is challenging and interesting.[1]
Our Prediction for Next Generation of Business Leaders: Higher Share with Quant Degrees
If your focus is a numbers-driven career, you're in good company. More of your fellow registrants on mba.com are interested in specialized quantitative programs than ever before. Among your peers under the age of 25, 1 in 3 are considering a Master in Finance program and 1 in 4 are considering pursuing a Master of Accounting degree.
High interest levels in quantitative programs among women in this age bracket may also signal increased gender diversity in the future ranks of business leaders. Women younger than 25 consider quantitative specialized business master's programs at higher rates than men, particularly accounting programs (see figure below). This differs from MBA programs, where women account for 31% of mba.com registrants under 25 who are considering these degree formats, compared with 47% of men.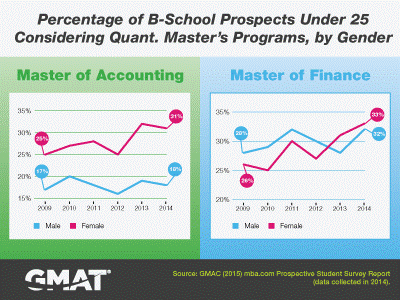 Considering that April is Mathematics Awareness Month AND tax season in the United States, there's no time like the present to get started planning your future career.
Start exploring available quantitative specialized business master's programs using the Program Finder here on mba.com. While you're here, check out our GMAT test prep materials and begin tabulating your steps toward b-school and your fulfilling (and numbers-filled) career.
[1] GMAC (2015) Alumni Perspectives Survey Report. Data reported for alumni of accounting and finance programs.