New Enhancements to the GMAT™ Online Exam Announced
New Enhancements to the GMAT™ Online Exam Now Available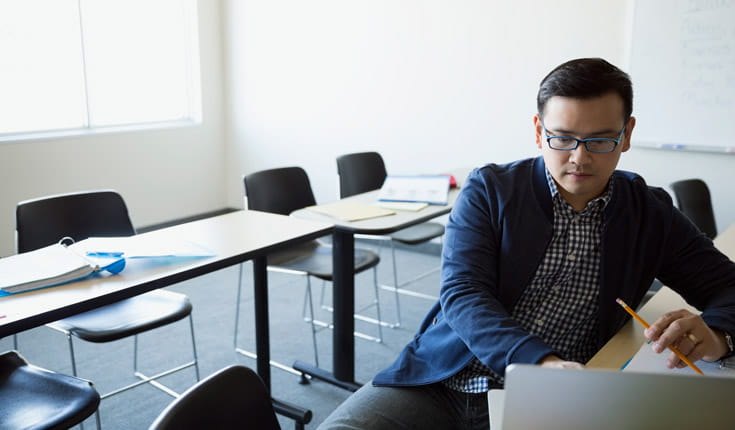 New enhancements to the GMAT™ online exam bring even more choice and flexibility to the online testing experience. Available for testing appointments beginning today, the upgrades are designed with test takers like you in mind to help you bring your best on test day and confidently meet your goals.
"We believe that test takers should have the ability to choose how they test to bring their best on exam day," said Joy Jones, Chief Product Officer and General Manager Assessments. "Our ongoing enhancements to GMAT online exam help to ensure the options are consistent regardless of where a candidate prefers to test."
Registration for the enhanced GMAT online is now available for testing appointments.
New enhancements to the GMAT online exam
So, what's new? There are four major enhancements that are now a part of the GMAT online exam:
1. Receive your unofficial score report immediately. Leave the suspense for the movies. See your score on screen so you can plan your next steps.
2. Select your Section Order. Choose which section of the exam to take first, just like the test center exam.
3. Take two 8-minute optional breaks. Why have one break when you can have two?
4. Write your Analytical Writing Assessment (AWA). Show off your critical writing skills to your target programs.
Read more on the GMAT online exam homepage.
Make your testing plans with confidence
Want more information? Here's where to get it:
Online or test center? The choice is yours
With the new enhancements to the online exam, the test center and at home testing experiences are even more similar than before:
Identical test structure. Whether you take it at home or at a test center, the GMAT exam will have the same four sections.
Score comparability. Test either way with the confidence that the score scales and reliability will be interpreted the same way by your target schools.
Similar testing experiences. Get the same flexibility and control at home as the test center, including selecting your Section Order, whiteboard usage, and breaks.
Same exam integrity. Both exam delivery options prioritize security and fairness for all test takers.
We're focused on providing the flexibility and support to address long-term needs of schools and test takers," said GMAC's Jones. "As we continue to adjust to uncertainties of the new norm, our online exams become a vital standard option, providing test takers with the confidence to test in a test center or online to meet business school application needs."
Ready to register? Create or log in to your mba.com account to get started.