What's New in the GMAT Official Guide 2022
What's New in the GMAT™ Official Guide 2022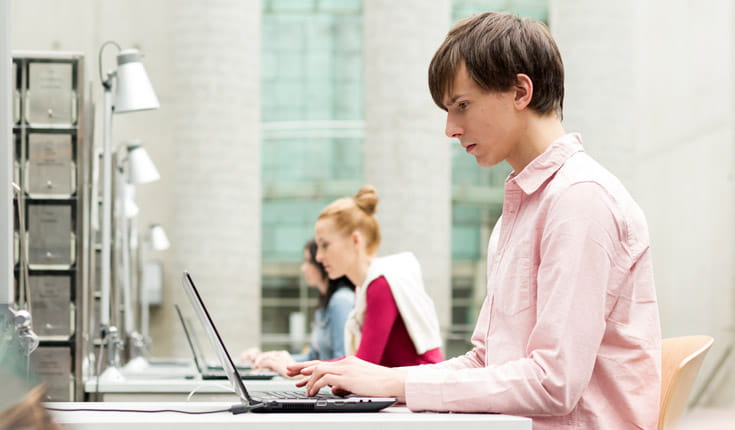 Why prep with anything less than the real thing? Available for purchase today from the makers of the GMAT exam, the new GMAT™ Official Guide 2022 gives you all the tools you need to confidently prepare for test day—whether you plan to test at home or at a test center.
The gold standard in GMAT prep, the GMAT Official Guide is the only source of real GMAT questions from past exams, providing you with more than 1,000 questions across Quantitative and Verbal Reasoning, Analytical Writing, and Integrated Reasoning.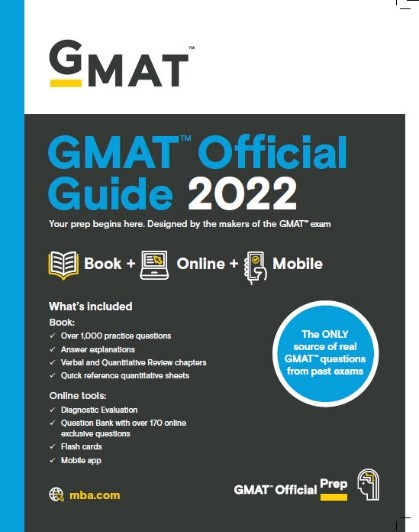 Detailed answer explanations give you insight to the reasoning behind the answers to help improve your performance.
"Our focus and intent has always been on bringing new content and additional tools to make the Official Guide series more useful and valuable for our candidates with each new edition," said Shaifali Gupta, Product Management Senior Manager for the GMAT exam, about the new Official Guide during the most recent episode of the Inside the GMAT podcast. "I'm sure our candidates will find the new additions to this year's guide extremely useful to their prep."
Also available today are the GMAT Official Guide Verbal Review 2022 and the GMAT Official Guide Quantitative Review 2022. Want them all? Bundle and save with the GMAT Official Guide 2022 Bundle!
GMAT Official Guide 2020 – What's new?
"This year's edition, I can confidently say, has more features than ever before to help candidates evaluate their skills, build their knowledge, and track their performance," says the GMAT's Gupta.
Here are four new features in this year's Official Guide:
The new Official Guide exclusive online diagnostic evaluations include three separate diagnostic tests, one each for the Verbal, Quantitative, and Integrated Reasoning sections of the exam. Each test includes questions from different fundamental skill groups to cover a wide variety of topics and difficulty levels for each exam section.
"This should help you gauge your strengths and weaknesses at the beginning of your prep journey so you can do a more focused prep as you progress," says Gupta.
The new Verbal Review chapter builds on the introductory content of past guides, including a fuller review of the verbal concepts that are useful in developing all the skills you will need to answer Verbal Reasoning questions. This new chapter includes 25 new additional practice questions from real past exams to help you practice the concepts you just reviewed within the chapter.
"In past editions we have always included introductory content for each of the three Verbal practice chapters in the book," explains Gupta. "Whereas in this new edition, in addition to those three pieces of introductory content, we now have an all-new Verbal Review chapter with a much fuller review of the key concepts."
The new Quant Review chapter organizes the content based on the different fundamental skill groups, for example, algebra, geometry, value order and factors etc. Similar to the new Verbal review chapter, this chapter also includes 25 additional practice questions.
"This will help you with the breakdown of the content, similar to how we tag them within practice questions, so you can go back and tie the content back to the questions themselves," says Gupta. "This will help you do a more targeted or focused study."
Another new feature of the new Quant Review chapter is quick quantitative reference sheets.
"These reference sheets will be a very handy resource for our candidates to review common formulas and concepts that you will need while doing practice questions," adds Gupta.
The new updated answer explanations help you study the reasoning behind the answers.
"I'm sure our candidates will find all these new additions to this new book extremely useful while doing their prep."
3 ways to study with the GMAT Official Guide 2022
One of the best features of the GMAT Official Guide 2022 is that it gives you three ways to study:
The book: Know what to expect on the GMAT exam
Learn the exam structure: Start with the verbal and quantitative review chapters followed by practice questions.
Review common quantitative formulas and concepts using quick reference sheets.
Master verbal and quantitative reasoning by difficulty level and studying detailed answer explanations.
Online tools: Focus your studying
Take our Diagnostic Evaluation to discover your strengths and focus areas for each fundamental skill.
Take our Diagnostic Evaluation to discover your strengths and focus areas for each fundamental skill.
Practice online with the same questions from the book plus 174 additional online-exclusive questions.
Create custom practice sets by difficulty level and by fundamental skill.
Track your progress using performance metrics.
Prepare for exam day by timing your practicing in exam mode.
Test your knowledge of key concepts with flash cards.
Mobile app: Practice on the go
Study offline after downloading the question sets.
Sync between devices. Start on your phone, finish on your computer.
Which Official Guide is right for you?
Not sure which Official Guide will best meet your needs? These questions and answers can help you find the best option for you.
Are you just beginning your GMAT prep? If so, the GMAT Official Guide is most definitely your best option. It's the gold standard in terms of being a comprehensive starting point for your GMAT exam prep. You can't do better than the Official Guide.
Are you in need of targeted preparation? If you're a little further along in your prep, and you've done the work of identifying your strengths and weaknesses, level up with Verbal or Quant Reviews to zero in on your opportunity areas and improve your skills.
Do you want to be an expert in the test itself? Go all in with the bundle. Save money and time with the most extensive study prep collection and get all the tools to evaluate, practice, and focus your prep.
Get matched to your personalized prep plan
Looking for some additional guidance on finding the right prep resources for you? In less than a minute, find out which GMAT™ Official Prep options best fit your personal study style and exam score goals by taking this quiz.