6 Things Every Undergrad Needs to Know About the Future of Work
6 Things Every Undergrad Needs to Know About the Future of Work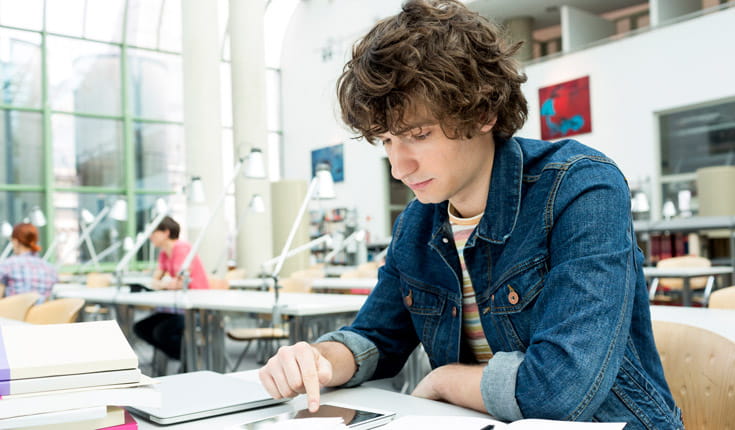 If you're an undergraduate student, early 2021 looks vastly different to early 2020. Virtual lectures, video calls, and remote learning have become the norm.
The same can be said of the world of work. Graduating from university means entering a workplace that has undergone significant change since the COVID-19 outbreak.
Here's what every undergrad needs to know about the future of work.
1. Remote work is here to stay
As the pandemic subsides, there won't be a sudden explosion of employees returning to the office.
When McKinsey surveyed 800 executives about the future of work post-pandemic, 15 percent said at least 10 percent of their employees could work from home two or more days a week going forward.
"Your workplace is wherever you have your mobile device—be it at home, in a café, or aboard a train or plane," explains Dr. Martin Rich, senior lecturer and course director for the BSc Management at City, University of London's Business School.
"This will have implications for work/life balance meaning you might need to work out a routine which is good both for work and family, which doesn't fit the traditional mode of a 9-5 job."
2. Digitization has accelerated
Remote workforces, a huge spike in e-commerce, and an uplift in the number of digital communication tools being used to communicate with friends, family, and colleagues, all meant companies had to act fast when the pandemic hit.
Eighty-five percent of executives who responded to McKinsey said their business had since accelerated the implementation of technology that allowed employees to interact and collaborate digitally.
Understanding technology is one of the things the big three consulting firms look for in their hires. You don't have to be a coder, but you'll need to be able to work across teams that could be made up of data scientists, user experience designers, or developers.
✔ Read more: Bain, BCG, McKinsey: How to Get Hired by the Big Three Consulting Firms
Learning about change while it's happening means if you're looking at further education, in the form of a business master's or an MBA, a program with a strong practical component—consulting projects or built-in internships—will help you prepare well for the future of work.
3. Careers will diverge into two distinct camps
Susan Lund, a partner at McKinsey Global Institute who has conducted research on the future of work, explains that "for students, our research suggests two very different avenues for careers, one based on math and quantitative skills, and the other on leadership and soft skills."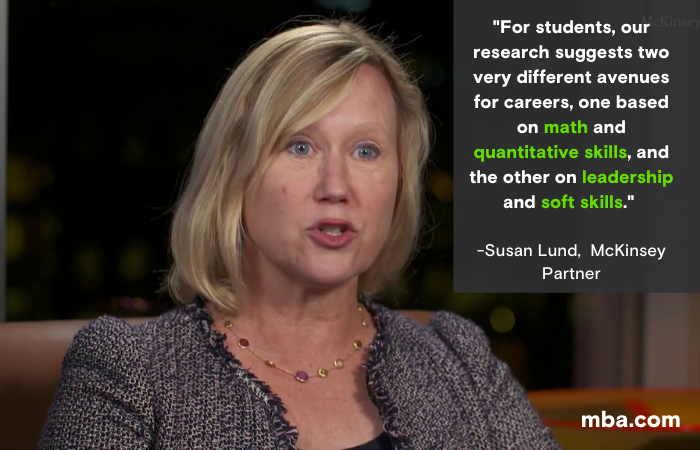 Time spent utilizing technological skills, like advanced IT skills, computer programming, engineering, and scientific research and development, is projected to increase by 13 to 27 percent in advanced economies like France, Germany, Japan, Spain, UK, and the US, Susan says.
Demand for both emotional and social skills could increase by 25 percent in the US over the next decade, compared with 18 percent pre-pandemic.
🤗 Read more: Companies Need Managers With Soft Skills Now More Than Ever
The tasks that require emotional skills—like interpersonal skills, empathy, negotiation, leadership, and initiative taking—are less automatable. Think caring for patients, managing people, leading an organization, coaching an employee, or negotiating a deal.
"The shift in skills need in the workforce requires major retraining efforts by companies as workers transition out of performing routine tasks and into more activities that require creativity, problem-solving, and interacting with others," Susan says.
4. Lifelong learning is essential
In this climate of change, Liza Kirkpatrick, managing director of the Career Management Center at Kellogg School of Management, says dedicating to lifelong learning is key.
"When looking at further education, I recommend you consider how important it is to identify a program/course that offers lifelong learning potential," she says. "You will want to future-ready your skill set and look at gaps to fill through education, particularly if you want to manage or lead teams."
Mannheim Business School, in Germany, understood that need when it launched its Network Clubs. The Clubs—including clubs focused on consulting, technology, and entrepreneurship—are open to any student at Mannheim Business School, membership is free, and it lasts a lifetime. The initiative also won the 2021 Association of MBAs (AMBA) & Business Graduates' Association (BGA) Award for 'Best lifelong learning initiative'.
📈 Read more: Follow These 4 Simple Steps to Become a Lifelong Learner
Jens Aedtner, director of alumni relations and the career development office at Mannheim, explains that the initiative consists of peer-to-peer learning, knowledge-sharing, and lifelong learning.
Virtual talks, which are usually on campus, bring in members of the network to talk about business challenges in their industry, their daily working life, and career opportunities. The theme this year is sustainability and digitization. The school recently had a senior vice president from Salesforce give a talk on the software as a service (SaaS) business model.
"You can read a lot about the SaaS business model, look on YouTube, read books, however, the way we're running it you get that information from someone who is doing it on a daily basis; someone who becomes part of your network," says Jens.
5. There'll be an opportunity boom in certain industries
Susan from McKinsey explains that long-term trends like aging populations and rising incomes means health aides, technicians, wellness occupations, and health professionals will see the greatest growth in labor demand by 2030.
Accelerated digitization will also mean a growth in demand for STEM jobs. Across the eight countries McKinsey researched, the growth in STEM jobs is expected to hit 17 million.
There won't just be demand for the technologists, but also for the management and leadership professionals required to successfully grab the opportunity that's being presented by pandemic-induced change.
👩‍🔬 Read more: What's a STEM MBA and Why Is It So Popular?
"Companies may hire a work-from-home integration manager who ensures that new technologies and equipment are in place to make remote work a success," suggests Susan.
6. Agility will be key
Ultimately, to thrive in the future of work professionals will need to continuously unlearn and relearn amid a world of work ripe with disruption.
Agility will be key to successfully maneuvering the future of work, as will adapting to new ways of working.
Knowing the latest business developments across industry, and how to utilize and benefit from disruption rather than be defeated by it, is essential—and that's where a business master's degree with a strong lifelong learning culture can benefit you.
"In the future of work, you will want to adopt a learning mindset by being nimble and being adaptable to the employment market," asserts Liza from Kellogg. "It's a behavior that will drive your performance."
Our free guide, Finding Your Best Fit Program: A Guide for Undergrads, offers you expert advice to find the right program to put you on the path to long-term career success.