5 Ways A Business School Network Will Help Your Career
5 Ways A Business School Network Will Help Your Career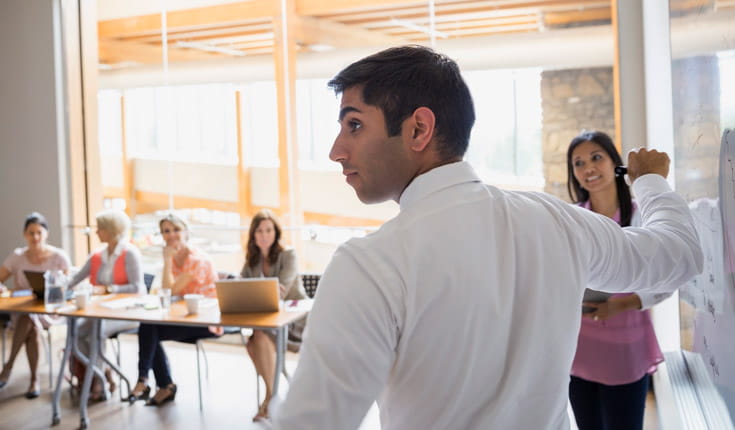 The business school network is a powerful tool when it comes to career development.
Accessing a global web of talented alumni, faculty, and peers will help you discover opportunities, gain useful insights, and even grow as a leader.
For this reason, the strength of a business school's network is a key factor you should consider when researching business schools. But what exactly is the value of a business school network?
Here are five important ways building strong network will help your professional development.
1. It will help you land jobs
The network you build at business school can help you find a job you're excited about when you graduate.
This should come as no surprise since, according to some experts, up to 80 percent of jobs are filled through networking.
Networking for jobs while at business school can take a few different forms. You might attend career fairs and build direct relationships with potential employers, reach out to alumni working in your target function or industry, or meet a future co-founder in your cohort.
Business schools can also connect you with internship opportunities in your field of interest, and many of these roles even turn into full-time jobs.
2. You can explore new industries and functions
A robust business school network is much more than a route to a target job. Networking with a diverse range of professors, recruiters, and alumni can help you find the industry and function that fits you best.
Many students change their career plans entirely after networking conversations at business school, finding a job they love but didn't expect to pursue when they first enrolled.
This was the case for Victoria Bulson, who graduated from the MBA program at American University's Kogod School of Business in 2017. Victoria came to the program hoping to move away from her original career in real estate, but without a clear picture of where she would end up.
Conversations with one of her professors encouraged her to launch a career in consulting—an industry she hadn't considered before, but that offered the career opportunities she craved.
"That was definitely eye-opening, and I can honestly say that I love my consulting career," she says. "I'm constantly learning and it's very rewarding."
3. You'll gain insight into different business cultures
The international flow of information, people, trade, and investment has risen by 25 percent since the Global Connectedness Index was launched in 2001.
In other words, the world of work is becoming more globalized. A deep understanding of how businesses work around the world will help you keep up, and one good way to develop this understanding is by networking at business school.
Business schools attract students and faculty from around the world, giving you the chance to work with people from several different cultural backgrounds and learn from one another.
4. It will support your long-term professional development
When well-maintained, the connections you build at business school will benefit your career for years to come.
Terri Cramer, associate director of career services at the University of Indiana Kelley School of Business and networking expert, says a strong business school network is for life.
"If you're very diligent, and practice good networking hygiene while you're at business school, you'll end up with a set of colleagues you can reach out to and connect with for the rest of your career," she explains.
Keeping in touch with like-minded peers provides a network of mutual support. Proactive networkers who are careful to stay in touch can discuss concerns in their professional lives and draw on each other's insights.
Read: Eight of the Best Podcasts for Business-Minded People
5. It will help you innovate
Making connections across a broad array of industries in the business school classroom will pay dividends later in your career, helping you stay abreast of new developments whenever you catch up with fellow alumni.
Insights shared between industries aren't just interesting. These conversations can spark new work practices, and even sow the seeds of cross-industry collaboration.
Whether you're an established leader embarking on an Executive MBA program, or a recent graduate pursuing a Master's in Management or MBA, building strong, diverse connections at business school will support your career development at every stage, offering global networks of mutual support and opportunity.
Are you ready to take the next step in your business school journey? Explore Program Finder to help you decide which school and program would be the best fit for your goals.