Eight of the Best Podcasts for Business-Minded People
Eight of the Best Podcasts for Business-Minded People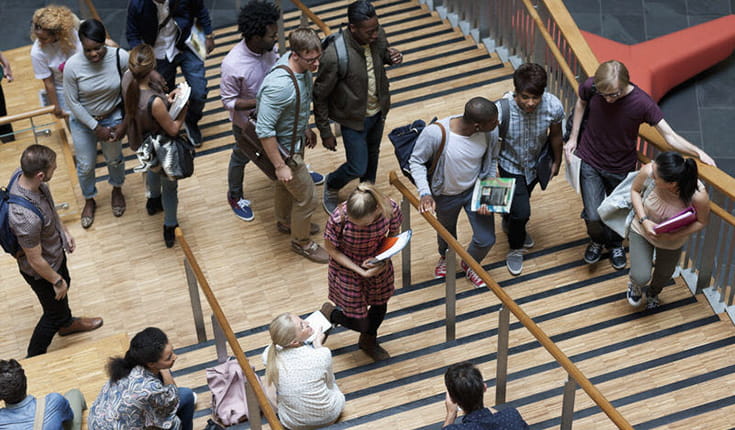 Name a better way to learn about success from brilliant minds than listening to business podcasts, we dare you.
Get business school advice and advance your career with these eight must-listen podcasts while you drive, cook, or work out. Tune in to gain insights on everything from completing your business school application and rocking your admissions interview to making a career change and smart passive income opportunities. Start listening today!
1. Inside the GMAT™
Brought to you by the makers of the GMAT Exam, Inside the GMAT™ gives you an inside scoop on how to get a leg up in the business school application cycle. Featured experts provide insights on how to succeed on the GMAT and graduate school assessments, and share tips on business school success strategies. If you're thinking about taking the next step in your business school journey, this podcast is for you.
2. The Touch MBA
Former MBA Admissions Director Darren Joe gives MBA applicants the inside scoop on how to craft a successful application for top-ranked schools. In The Touch MBA podcast, Jones interviews admissions directors and students from around the world who offer their opinions and advice on how to get accepted to programs like Wharton, MIT Sloan, INSEAD, London Business School, and more.
3. HBR IdeaCast
Want to master the art of persuasion? Or learn to break down bureaucracy and build up workers? Listen to HBR IdeaCast. Brought to you by Harvard Business Review, this weekly podcast features leading thinkers in business and management. HBR IdeaCast is hosted by Harvard Business Review senior editors Alison Beard and Curt Nickisch.
4. TED Talks Business
Each TED Talks Business episode showcases influential presentations from a range of business leaders, researchers, and innovators. With talks that examine nearly every aspect of business and the workplace, you can learn about productivity, management, creativity, communication, and much more.
5. Entrepreneurs on Fire
If you're tired of spending 90 percent of your day on things you don't enjoy, Entrepreneurs on Fire is the podcast for you. Founder and host John Lee Dumas (but he says you can call him JLD) provides listeners with inspiration and strategies to ignite their entrepreneurial journey and live the life they've always dreamed of. To-date he's interviewed more than 2,000 busines all-stars such as Tony Robbins, Seth Godin, and Barbara Corcoran.
6. The School of Greatness
If you're looking for some serious motivation, consider tuning in to
The School of Greatness
hosted by former professional football player turned entrepreneur and New York Times bestselling author Lewis Howes. The goal of the podcast is to "share inspiring stories from the most brilliant business minds, world-class athletes, and influential celebrities on the planet to help you find out what makes great people great." Join Howes and his guests as they discuss everything from business and entrepreneurship to health and relationships.
7. Everyday MBA
Where can you hear interviews with best-selling business authors, innovative thought leaders, and top-shelf executives—all divulging their best success techniques and tips that you don't learn in business school? On Everyday MBA, of course! For experienced pros and novices alike, this podcast will help you take your business and career to the next level.
8. Clear Admit MBA Admissions
From what business schools to add to your application list to determining if certain hobbies make you sound crazy as an MBA candidate, Clear Admit Wire Taps podcast provides insightful information every prospective graduate business school student should know. This is the leading independent resource for top-tier MBA candidates.
Business Inspiration You Can Read About, Too
Clearly there's no shortage of inspiring content to help you navigate whatever is next; whether that's a new business venture, a career change, or graduate business school. Looking for more? Check out content on today's most powerful women in business, how entrepreneurs are tackling ocean plastic pollution, and why self-aware people make better leaders.
Want to embark on your graduate business school journey?
Our wealth of online resources will help you make your next move strategically and successfully. Want to learn more about taking the next step on your business journey? Explore content on how to get started.