Why Get an MBA? It Comes Down to 5 Big Reasons…
Why Get an MBA? It Comes Down to 5 Big Reasons…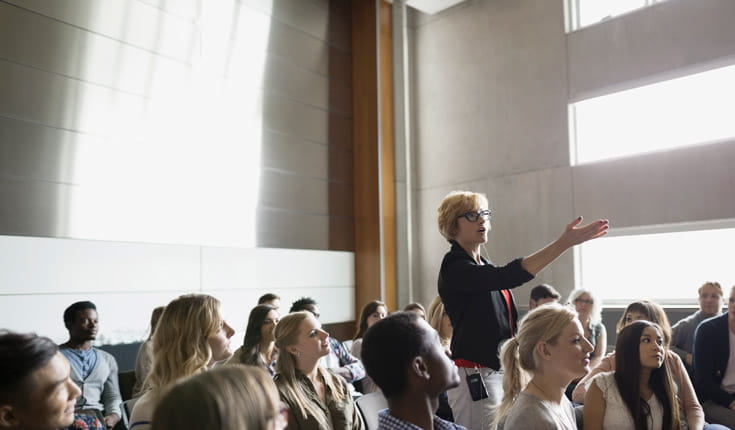 Should I pursue an MBA in the midst of the COVID-19 pandemic? If you're asking yourself this question, the answer is yes. These unprecedented times are ideal for re-evaluating where you are and where you want to be professionally.
There are definite advantages to being an MBA candidate. And with so many online MBA options, there's never been a better time to pursue your graduate business degree conveniently and safely. If you're on the fence about how an MBA fits into your future career, consider these five big reasons why an MBA adds value:
1. An MBA offers practical communication, management, and leadership skills.
Of course most professions come with a specific knowledge base and skills an individual needs to succeed. But equally—or often more—important are the u that effective professionals bring to each workday. A core part of an MBA curriculum focuses on good communication, team-building, and leaderships skills. In many instances, the individuals with an MBA stand out in the workforce because of their time-tested soft skills versus those who are limited by their technical expertise.
2. Fast-track your career path with an MBA.
From STEM and sustainability to entertainment and busines ownership, an MBA adds substantial value to careers across many sectors. Aspiring entrepreneurs find an MBA essential in providing the knowledge and resources they need to run a business; one in four graduate business school students are on an entrepreneurial path. An MBA also helps you transition to a new career or different industry, assisting with making connections as well as gaining practical skills and experience.
3. MBA programs expand your knowledge about specific business disciplines.
While an MBA provides leadership know-how and soft skills, it also hones the expertise in specific business disciplines. From public policy to supply chain management, there are graduate business degree options and programs across many professions and industries. MBA students study a curriculum that gives the day-to-day knowledge they need in their chosen field. If you're not sure which specific MBA program you'd pursue, explore your options with this Program Finder tool.
4. Gain a global perspective on businesses and leadership.
According to this Forbes post, a global economic perspective is one of the most underrated reasons why you should pursue an MBA. It's important for professionals to venture away from their office, company, and country to view their career through a global lens. Even better than learning about a global economy is living it by earning an MBA abroad. Many international business schools offer an exceptional curriculum as well as the opportunity to expand your career and global experience after graduation.
5. Lifetime access to networking and learning opportunities within the MBA community.
No one finds lasting success in a vacuum; the "it takes a village" mentality resonates highly among MBA graduates. An integral part of being an MBA student and alumni is the access you have to a vast learning and leadership community. In fact, 74 percent of MBA alumni say that their business school experience developed into lifelong friendships. Networking within an MBA community helps you exchange ideas and find solutions to business challenges you'll face throughout your career.
Take an MBA Tour to Learn More
Once you've decided to pursue an MBA during COVID or further in the future, your next step is to take a virtual MBA Tour to find your best fitting school and program. After that, it's time to think about testing and start learning more about the GMAT exam prep process.