How Business School Can Help You Become a Consultant
How Business School Can Help You Become a Consultant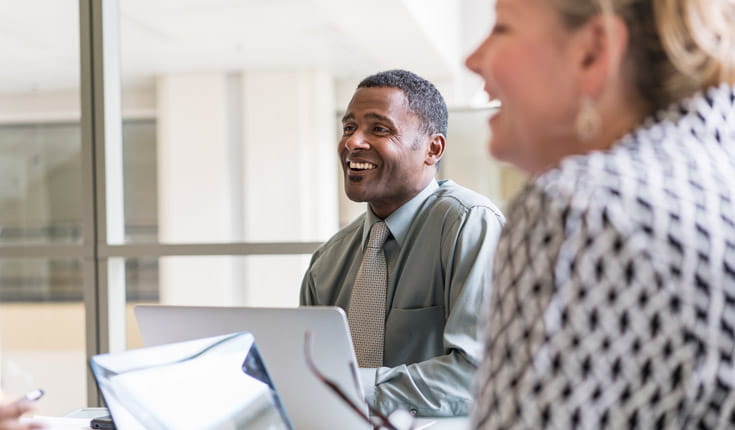 If you've considered becoming a consultant, you've probably asked yourself if getting a master's degree in business could help you get to the next level of your career. The short answer is: Yes. A graduate business education is a valuable asset for a career as a consultant, and your degree will provide the skills and experience needed to get consulting jobs, find new business, and establish yourself as an expert. Following are a few key questions for you to consider as you evaluate your b-school options:
What is a consultant exactly and do they all hold master's degrees in business?
The "consultant" title can have a wide range of applications and interpretations. It can refer to a top-level management coach who provides strategic advice to a CEO, a marketing professional who contributes social media expertise, or an IT specialist who creates a custom program or application. Essentially, a consultant is an expert that offers professional services, advice, and recommendations in a specific area for which they are uniquely qualified. An MBA or specialized business master's degree is not a prerequisite for the consulting field, but depending on the field that interests you most, earning your degree can give you the business acumen and specialized expertise required to be successful. Furthermore, while earning your degree, you'll gain first-hand knowledge from classmates that are already in the field and make important connections with influential alumni.
How will a business master's degree help with my consulting career?
Since attending b-school requires a significant investment of time and finances, it's important to understand the ways in which a master's in business will impact your career. As a consultant, your degree will be extremely beneficial—or even necessary—in providing the highest quality services to your clients. You will learn the technical and leadership skills necessary to provide strategic advice and recommendations, as well as how to effectively manage diverse teams and senior executives. Below are two popular consulting paths to consider:
Management consulting
If you're considering a career in general business or management consulting with a large consulting firm, b-school can have a serious impact on your access to job opportunities, especially those at top firms. Several of the most prestigious consulting companies, including McKinsey and Deloitte, recruit directly from MBA programs, and having an MBA is typically necessary to be competitive for these roles. If this is the type of career you want to pursue, consider an MBA program.
Independent and specialized consulting
If you're interested in being your own boss, becoming a specialized or independent consultant is a viable option. With an MBA you'll gain a broad business understanding, which gives you the flexibility to work independently with varied clients. Additionally, an MBA will improve your trust and credibility among potential clients, allowing you a greater chance at success in independent consulting.
How do I establish myself as an expert?
An advanced degree and a stellar reputation contribute to being seen as an expert and will lead to both professional growth and financial opportunities. Your degree is an excellent way to demonstrate to potential business partners that you're a committed and knowledgeable expert. It can help you stand out from your competitors and instill confidence in your clients before you even begin work. According to a recent survey, 95 percent of full-time MBA alumni say they would recruit an alumnus from their alma mater.
Management consulting is now a $250 billion-dollar industry and having a master's in business can be a valuable tool in building your career as a consultant. B-school gives students a 360-degree view of how businesses work. You'll sharpen skills in many important areas like negotiation, strategy, and leadership as well as more fundamental topics including finance, operations, and marketing. Not only does it give you the skills to effectively navigate the business world but it can open new doors, increase your earning potential, and help you grow your business.
Browse business school options by clicking below.