Want a Career in Management in the UK? Here Are 3 Ways Business School Can Get You There
Want a Career in Management in the UK? Consider B-School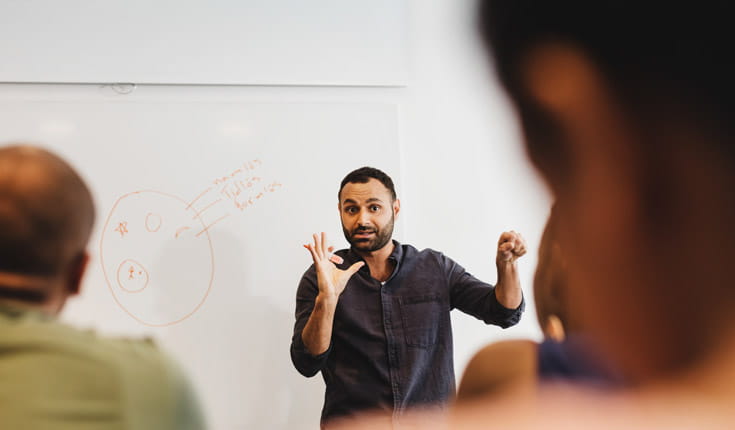 Regardless of your sector or function, moving into management is an exciting opportunity. In management roles, you can take ownership of projects, enjoy new challenges, and have a greater impact on your organization.
However, competition for management opportunities is fierce, and differentiating yourself is crucial. Going to business school can help you do just that.
Completing a business degree is a significant investment, but the knowledge, experience, and network that these programs help you build pay off long after graduation.
Here are three reasons why studying at business school will help propel your management career in the UK, making that initial investment worth it:
1. You'll build a strong UK network
Going to business school means tapping into a local network of like-minded professionals who can offer you career support, industry insights, and even job opportunities.
By connecting with alumni who have management experience, you can also get a better sense of what it takes to launch your own management career in a particular industry. This was certainly true for Prasad Hattikudur, who received an MBA from Aston Business School in Birmingham, which acted as a springboard for a management career in the UK.
Prasad managed to land a London-based role with Deutsche Bank just three months after graduating. A few years later, he was promoted to vice president. "The MBA was key in securing the role," he explains. Events like alumni lectures, employer campus visits, and careers fairs help students develop their network.
Accessing a school's career services can also be a great way to connect with alumni in a specific industry or function, as well as helping you prepare for job applications and interviews. In other words, it will help you gain access to some of the best jobs for business management degree grads in the United Kingdom.
2. You'll gain valuable work experience in the UK
Without the right experience, launching your management career can be a struggle. A business school degree will open up plenty of opportunities for you to build your managerial skills, both in and beyond the classroom.
"Right from the beginning of the degree, we were put into groups simulating a real team," Hattikudur explains. "This gave me an opportunity to develop my leadership skills and become a better team player."
Completing an internship was an especially important part of the business school experience for MBA graduate Beatriz Cortés. She used an MBA from University of Bath School of Management to land a management role in the UK with food giant, Mondelez, transitioning from her home country of Colombia.
Half-way through the program, she completed a five-month internship with UK-based pharmaceutical producer, Perrigo Company. As a demand planner, she had the chance to take on a leadership role in the company, making data-backed supply chain decisions, which gave her the experience she needed to qualify for a full-time management role.
Internships are a great springboard for your managerial career. You can build real-world managerial experience in your target field, along with professional connections, and develop the confidence necessary for taking on leadership roles. Many MBA internships also result in a full-time job offer.
3. You'll develop the soft skills employers look for
Soft skills like communication and teamwork are crucial for managers today. According to the Graduate Management Admission Council's Corporate Recruiters Survey, employers value soft skills like problem solving, working with others and listening more highly than hard skills like accounting.
Developing soft skills was another of Cortes's key goals. She notes that undertaking the MBA challenged her to take the lead on group projects and work with a diverse group of peers.
Business school students can also tap into careers service resources to grow their soft skills. Most schools offer one-to-one career coaching, which gives you the chance to talk openly about your goals, strengths, and weaknesses so you can build a plan to improve your skills. Practicing soft skills gives students the confidence to apply for managerial roles when they graduate—and the ability to succeed in them.
By giving you the chance to develop your professional network, gain hands-on work experience, and improve your soft skills, going to business school can be a launch-pad for a management career in the UK.
Just ask those who've done it. According to GMAC's Alumni Perspectives Survey, 80 percent of business school alumni say their business school experience was worth the investment and 90 percent would still pursue a graduate business degree knowing what they know now.
The GMAT exam is your key to a career in management in the UK
The UK's leading MBA and business master's programs accept the GMAT exam because it's a proven predictor of your ability to succeed in their classrooms. Applying with a competitive GMAT exam score demonstrates your commitment and motivation and helps you stand out during the admissions process.
Are you ready to take the GMAT exam? Register for your exam today.
Challenge yourself and your friends to the GMAT mini quiz! We've selected eight real questions from past exams for your GMAT™ Mini Quiz challenge. You will have the chance to try out four Verbal Reasoning and four Quantitative Reasoning questions.