US Graduate Student Visas Explained
US Graduate Student Visas Explained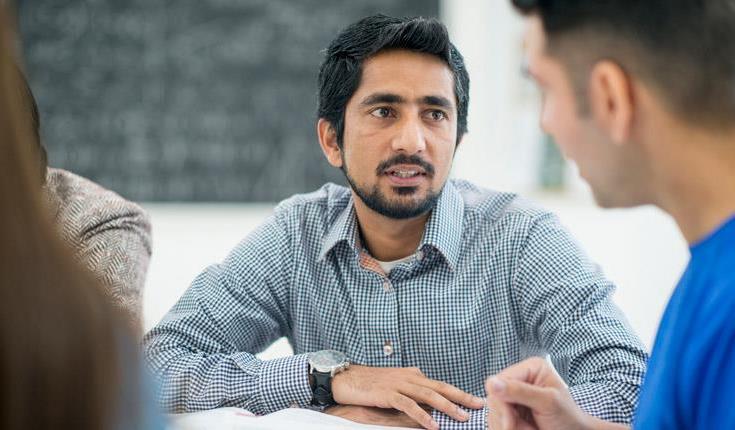 Are you an international candidate considering business schools in the United States? You must have a valid student visa before you start business school and, as an international candidate, you should get familiar with US graduate student visas—the different types of visas and how to apply—before enrolling in MBA or business master's programs in the US.
Here's everything you need to know:
US graduate student visas: F-1 vs J-1
To apply for a student visa, you'll first need a valid, up-to-date passport for the duration of your degree. You'll also need to have secured a place on a program of study in the US.
There are two types of US graduate student visa that are valid for international candidates: The F-1 visa and the J-1 visa.
F-1 visa
The F-1 visa is the nonimmigrant graduate student visa you'll need if you're planning to study full-time at a US business school.
For new students, F visas can be issued up to 120 days in advance of the start date for your course; you'll not be allowed to enter the US on your student visa more than 30 days before the start date of your course.
If you're on an F-1 visa, you can also undertake an internship after completing at least one full academic year of study. This will likely be completed as Curricular Practical Training (CPT).
Employment for 20 hours or more a week counts as a full-time internship. You should be aware that 12 months or more of full-time CPT will eliminate your eligibility for Optional Practical Training (OPT). OPT is often used by students to remain in the US for 12 months to work after graduation.
If you're travelling to the US with immediate family, they will need to apply for an F-2 nonimmigrant visa, which will allow them to remain in the US for the duration of your F-1 visa.
J-1 visa
The J-1 visa is the visa you'll need if you're travelling to study full-time in the US on an exchange program from another business school, typically for one or two semesters. The J-2 visa is the F-2 equivalent your dependents will need to apply for if they are travelling to the US with you.
Your visa application
Applying for an F-1 visa is a nuanced process that can vary based on the program you're applying to, your individual circumstances, and your home country. While business schools support you, they are not directly involved in the visa application process.
The admissions team at NYU Stern recommend beginning your visa application as early as possible. At Stern, once accepted, international students receive a Form I-20 from NYU's Office of Global Services (OGS), which proves you're legally enrolled in a US education program, before getting to work on the visa application.
Danielle Richie, who leads admissions for the full-time MBA program at UNC Kenan-Flagler Business School, encourages candidates to go directly to source—US embassies or consulates—if they have questions about the required documentation.
"We recommend that students start the process to apply for a visa as soon as they can, which means requesting the documentation from the school needed for visa application as early as possible," she adds. "For best possible planning, check visa wait times for the US Embassy or Consulate closest to you to find out how long it will take to get a visa appointment and how long visa processing will take."
Your 6-step visa application
🌎 Step 1. You can start to apply for your graduate student visa as soon as you've been granted a place at an SEVP-approved business school. You'll be registered for the Student and Exchange Visitor Information System (SEVIS). You'll need to pay the I-901 SEVIS fee, which is US$350 for F visas, and US$220 for J visas.
🌎 Step 2.If you're an F-1 visa applicant, you'll be given a Form I-20 by your school. After completing this, you can then apply for your visa at a US Embassy or Consulate. If you have dependents travelling with you on F-2 visas, they need to also complete this process. However, they don't need to pay the SEVIS fee. J visa applicants skip the Form I-20 stage.
🌎 Step 3. Complete your online visa application, Form DS-160.
🌎 Step 4.Schedule a visa interview at your local US Embassy or Consulate.
🌎 Step 5. Prepare for your interview. As an F-1 visa applicant, you may be required to pay your non-refundable visa application fee before your interview. If your visa is approved, you may also pay a visa issuance fee. This varies depending on your nationality.
🌎 Step 6. Attend your interview. Your consular officer may inform you that your application requires further administrative processing after your interview. Once your visa is approved and you've paid your issuance fee (if required), you must make arrangements for the return of your passport and visa.
Important documents
You'll need the following when applying for your US graduate student visa:
Passport—this must be valid for at least six months beyond your period of stay in the US
Nonimmigrant visa application—Form DS-160
Application fee payment receipt, if required to pay before your interview
Photo
Certificate of Eligibility for Nonimmigrant (F-1) student status, Form I-20
You may also need:
Academic transcripts, diplomas, degrees, or certificates from schools you attended
Standardized test scores required by your US school
Your intent to depart the US upon completion of your course of study
How you will pay all educational, living, and travel costs
Remember to keep up with the news, as the visa application process is something that can change depending on government action. "Policies can and do change, so prospective students are wise to monitor these areas during their application process," warns Danielle of UNC Kenan-Flagler.
But don't let the visa application process put you off. Thousands of international MBA and master's students secure student visas each year.
The best way to ease yourself through the visa application process is to keep in regular touch with both the admissions team at your business school and your local US Embassy or Consulate.
The GMAT exam is your passport to international opportunity
Earning your best GMAT exam score is a great way to stand out in competitive applicant pools and qualify for MBA scholarships. Do you have a GMAT prep plan that suits your individual preferences and study style? Take our short quiz and get matched to your personalized GMAT prep plan.