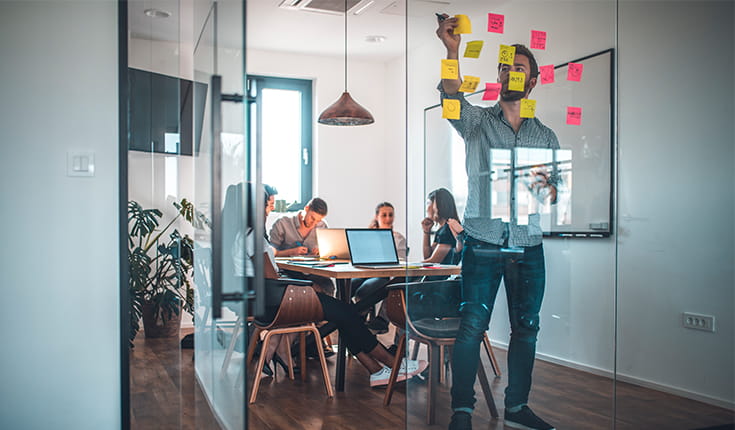 Every year, over 17 million people travel to India to experience its vibrant culture, food, and historical sites. However, it's not only tourists who travel to this diverse country; there are also rewards for those who study abroad in India.
There are plenty of benefits to studying internationally – you'll meet people from all around the world and gain exposure to new ways of learning, which will only benefit your career. For business students, India has its own unique attractions: it's a growing economy, it's affordable, and you'll learn inside and outside the classroom as you adjust to a new culture.
But how do you prepare to study in India? This guide will take you through everything you need to know, including details of Indian student visas, the best places to study in India, and the Indian scholarships that are available.
Why study in India?
When you study abroad, you're probably looking for a destination where you can get out of your comfort zone, meet people from all over the world, and discover a brand-new culture. Studying in India offers all of this and more.
Between 2019 and 2020, India welcomed almost 49,500 international students from 168 different countries. Particularly on postgraduate courses, you'll study with a wide range of people from all over the world, improving your communication skills and getting to know many different cultures.
Outside of your university or business school, though, there's plenty to explore as you study abroad in India. The country is equal parts serene and lively, with both bustling cities and quiet rural areas. For example, you can experience the hectic lifestyle in Delhi or Mumbai, retreat to the beaches in Goa or soak up the beauty of the Taj Mahal: India has it all.
That's not to mention the cost of studying in India. It's known as a highly affordable travel destination, and tuition fees are also much cheaper than other popular study abroad destinations. This means you can get a valuable degree and explore the country on a tight budget.
Top business schools in India
India's economy is growing at a rapid rate, making it an ideal destination for business students – especially those looking to study at a higher level. In fact, out of the almost 50,000 international students who arrived in India in 2019-2020, 74% of them studied for a postgraduate degree like an MBA or master's.
While India isn't traditionally known as a hub for business education, its reputation is growing rapidly. The Indian School of Business (ISB) ranked 32nd in the Financial Times Global MBA ranking this year, beating other popular business schools in Hong Kong, the US, and the UK. Meanwhile, the Indian Institute of Management Bangalore, the Indian Institute of Management Ahmedabad, and the Indian Institute of Management Calcutta also appeared on the list.
India's economy is also growing rapidly, meaning plenty of new opportunities for business graduates in years to come. In particular, the IT sector continues to dominate, and graduates interested in data solutions or information management will find plenty of value in studying for their business degree in India.
How to apply to study in India
Your first step in applying to a business program in India will be to collect all the documents you'll need for your application. This includes professional recommendations (usually just one but sometimes two), your academic transcript, a passport photo, and a personal statement or letter of intent. You'll apply directly through your chosen Indian business school or university.
International candidates will also need a GMAT score, which is the most widely accepted standardized test for entrance into international business schools. You can take your GMAT online or at a global testing center.
After you've applied, the next stage is to attend an interview. While candidates from India will usually attend an in-person interview at their university, international applicants can do it online via video conferencing software. The interview stage may also feature a writing test.
Once you've been accepted to your business program, you should apply for an Indian student visa. The cost of an Indian student visa varies but is generally between around $50-$100 depending on the country you're applying from. To apply, you'll need a passport, proof of address, a printed copy of the online application, your admission letter, and a bank statement to prove you have the financial support to cover your stay.
Cost of living
India is well-known for being a highly affordable travel destination. It's one of the cheapest countries in the world, beaten only by Pakistan. As you study in India, you'll find that you'll have plenty of budget left over to make the most of your time there.
As with any country, the cost of living can vary considerably depending on where you live. For example, Mumbai is one of the most expensive cities in India when compared to places like Bangalore or Udaipur – but it's still much more affordable to live in Mumbai than in other global cities.
Aside from everyday costs, it's also recommended that you take out medical insurance for the duration of your stay. This should also cover medical evacuation, in case you are injured in a rural area and need transport to a local hospital. The cost of this will depend on your personal requirements and how long you're staying in India.
If you're wondering how to study in India on a tight budget, here are some approximate monthly costs for everyday items and bills in the country.
Rent: $250-$400
Groceries: $35-$40
Transport: $10
Restaurant meal: $3.50
Gym membership: $20
Data gathered from expatistan.com and numbeo.com
Indian scholarships and loans
One of the main reasons people often choose to study in India is the low cost of tuition. Even at a top-ranked Indian business school like the Indian Institute of Management Ahmedabad, the total cost of the MBA-equivalent Post Graduate Program in Management is just $50,000. This fee even includes board and lodging.
However, there are Indian scholarships that you can apply for – for example, the General Scholarships Scheme (GSS) funded by the Government of India. Additionally, many business schools and universities offer financial assistance for international students, so it's worth checking with your program or university directly.
Unfortunately, it's not easy to find loans for International students in India. However, the cost of living and low tuition fees make it much easier to study abroad in India on a budget.