Consider Studying Abroad for Your MBA
Consider Studying Abroad for Your MBA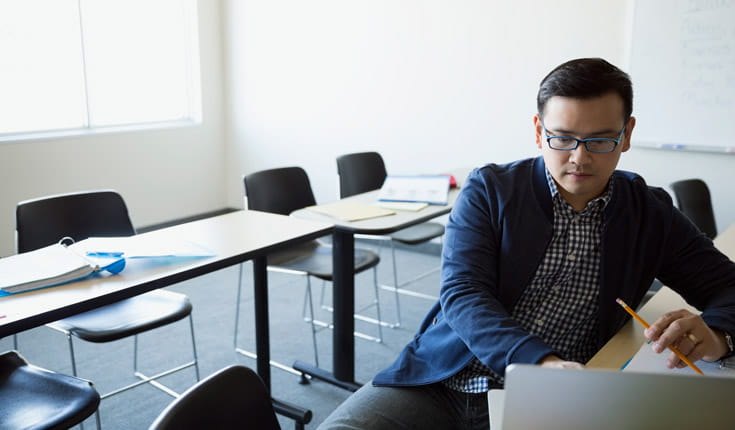 Juan discusses the benefits of studying abroad for your graduate business degree.
Juan Maldonado Alcazar, Full-time MBA student at the Rotterdam School of Management, Erasmus University.

Hi! I'll start by saying I'm not the common MBA profile. I'm a published writer and a creative guy who loves to tell great stories and study communication strategies. I've lived in crazy and amazing Mexico City most of my life and am currently living in the Netherlands. I'm also a bit of a geek and love everything related to games and technology.
Dream career: I am a complete fan of anything related to technology and video games, and recently discovered a passion for customer development I didn't even knew I had. If I were to aim for an ideal role, it would be definitely related to content creation (maybe even create the next great entertainment franchise!).
Why Business School? After working for Sony by collaborating in the PR department for PlayStation, I realized that while my communication skills were great, I was lacking preparation to take my career to the international arena. At first I was just looking at regular masters programs in Europe, but when a friend finished his MBA and told me the sheer amount of learning he had in a short span I decided that this was the path for me.
Best GMAT study tip? For me that was to never go for the exact answer, especially in the numerical test. You have very little time to come up with a solution so do a quick estimate, think of rounding numbers and the nearest answer will almost always be the correct one.

Before business school, I was: Launching some of the most famous video games for a great entertainment company! I organized immersive events with media and the gamers so they could play the newest titles and have a great time. It sounds like a breeze, but it's a very tough job with a lot of rewards.
When I'm not in class, you'll find me: Lately? Reading! To be honest, the MBA program requires a lot of commitment. It's not easy, and the amount of reading material is huge. Especially at the beginning you will have a lot of challenges getting on par with the workload. That's what you have to give in order to get the best experience, and believe me, the learning is exponential. That being said, I also use my time to hang out with amazing people; that's the best reward the program has given me!
Advice for anyone thinking about b-school? Do it! There's always a way to finance it, and there's no better time than right now. If I had waited for the conditions to be perfect and not taken the plunge, I would've missed one of the best years of my life! That being said, don't base your choice merely in rankings. Most business schools listed have a very good level already, think more about geography (where do you want to work afterwards?), the work culture that you like, where the school is located (believe me lots of schools say they're in a major city and they're like a million miles away from anything), future salary and ROI.
My remedy for pre-test nerves: Gum! Totally takes the edge off and helps you concentrate, especially in the quant section.
On the day before your exam, you should: Rest. Really! By then you should have all your study hours ready, it takes commitment and practice but the exam is totally doable even by someone without a quant background like myself.
How did you fit studying for the GMAT exam into your busy schedule? Take every little break available and carry the GMAT study guide with you like it was your kid! I discovered the MBA almost before the application period so I only had 30 days to prepare and I had a full time job (talking about 10-12 hour days). I hadn't seen anything math related in at least 10 years, so it's totally doable, and if you have more time you should have no problem reaching your target.
How well-prepared for business school do you feel, after studying for the GMAT exam? The GMAT exam prepares you for your career and the MBA in a way that is not very obvious at first: It gives you a way of thinking like executives and managers do. Believe me, GMAT gives you a way of thinking that you will employ in the rest of your career.
---
Consider Studying Abroad for Your MBA
"To contact the employers that I really wanted to, it was necessary for me to move abroad and be where the action was."
Full transcript
"Hello, I'm Juan from Rotterdam School of Management, and this is our video blog for GMAC. The topic of today's video is business school and international exposure. Why did I choose to study abroad? Mainly because of three reasons. The first one is that I really wanted to have an international career. To contact the employers that I really wanted to, it was necessary for me to move abroad and be where the action was. It is very easy for employers to see your CV or have skype conversations, but it's not the same as if you're able to travel to their offices and actually have a meeting face to face with them and they can hear your proposal. The second reason that studying abroad is very interesting is that it gives you international exposure so you have contact with a lot of people of different nationalities and you would be surprised how many times I've heard this in interviews: people want managers with actual international experience and how to manage cultural differences is very important and a very difficult task. You will definitely learn this in a business school that has international prestige. Just in my classroom alone, I have 25 nationalities, and it's a very interesting and fulfilling way to enhance your education. The last factor beside the amazing education and experiences is the big network you are going to be a part of. So employers here are familiar with people who are coming from certain universities. Let's face it, it's not the same to say I come from the best university in my home town than to say that I come from a reputable school in this country. It gives them a benchmark and they can see the quality of your credentials."