Complete Guide To Getting Into Business School In India
Complete Guide To Getting Into Business School In India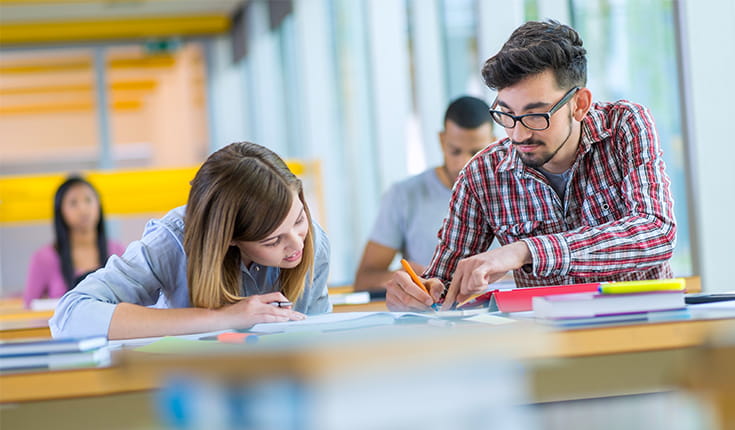 Are you thinking about applying for an MBA? Do you want to get into the top MBA colleges in India but have no idea where to start? In this guide we provide you with a breakdown of all you need to know about getting into b-school in India.
Significant numbers of students in India are attending business school. According to The Times of India, India has the second largest pool of MBAs in the world.
Having an MBA from a top institution in India is likely to attract a great deal of opportunities both domestically and abroad. B-school graduates from top MBA colleges such as the Indian Institute of Management (IIM) Ahmedabad or Indian School of Business (ISB) are highly regarded by employers.
Graduates of the top Indian schools regularly attract careers working for prestigious companies across sectors such as consulting, technology, and finance. There is a diverse range of business schools in India ranging from public schools, to university-run colleges, and private institutions.
One distinctive feature about attending business schools in India is that recent bachelor's degree graduates with minimal work experience can enroll for most MBA programs. That's unlike other MBA programs across the globe, where students are required to have work experience requirements before enrolling.
So, the key question is: how do you get into b-school in India? And, are there specific requirements for the best MBA colleges in India?
In this guide we breakdown everything you need to know about attending business school in India, from how to choose the right b-school for you, and an analysis of the application process, to insider tips from MBA students at some of the top MBA colleges in India.
How will b-school benefit you?
Diverse skills and knowledge
Pursuing an MBA degree in India will equip you with crucial skills and knowledge that can help you excel in the professional world.
An MBA in India is typically structured with a strong emphasis on theoretical learning across the fundamental areas of business. This means you will graduate from your course with an understanding of a diverse range of sectors, providing opportunities in a range of industries.
Programs also typically blend practical elements to help you practice and develop your skills, which many students like.
"The MBA program's curriculum is broad, practical, and experience-based, it will allow me to develop both my leadership capabilities and critical soft skills in a collaborative environment with a diverse set of classmates." says Simrita Barai, student at KJ Somaiya Institute of Management.
Simrita explains that she chose her MBA program because she wanted to invest in a course that would elevate her career and help her assume a leadership position. "This curriculum is extremely specialized, and I will benefit greatly from being exposed to these technical areas," she says.
Increased job opportunities
An MBA in India also opens doors if you're in the early stages of your career and aiming to increase your earning potential.
The highest paying jobs after from graduates of an MBA in India offer salaries ranging from Rs 4,00,000 to 32,00,000 per annum, according to Careers360. Higher salaries are also possible depending on your individual experience and industry knowledge.
"An MBA helps you inculcate practical or soft skills and makes well equipped, resourceful individuals for the corporate world," says Aabhash Adarsh, also a student at KJ Somaiya Institute of Management.
"Financially, you are better equipped to gain more in the roles that you land because companies tend to pay you more if you have an MBA degree," he adds.
How to choose the right b-school for you?
There are several key things to consider when selecting which b-school will work best for you.
First, you should evaluate why you want to pursue an MBA in the first place. Then you can shortlist colleges who could help you achieve what you are looking for.
"I don't believe that the answer to this should be the same for everybody. It depends on your background and reasons for joining an MBA program," explains Preeti Chandak, recent alumni from the PGP (Postgraduate Program) MBA course at the Indian School of Business (ISB).
"Choosing a b-school that resonates with your career goals would be of upmost importance," Simrita adds.
She says that it is also worth taking note of the experience of faculty members that you will be working with, campus facilities, committees available and any extracurricular activities that you could benefit from culturally and personally.
While it is important to choose a course that offers placements which align with the roles that you want to explore in the future, you should also remember the importance of choosing a school where the alumni are well connected, as this can impact opportunities available to you during your career.
It's also important to choose a school with a diverse pool of students, Preeti notes, as this creates a richer experience for both personal and professional growth.
"The true ROI of an MBA program is ultimately the network and connections you create, much more than the placement you end up with."
Top tips for preparing for entrance exams
In India, schools accept a range of different examinations including the CAT, XAT, NMAT, or GMAT examinations. Exam requirements may change depending on the b-school and course that you choose.
This means it's important to check which exams are a part of your target school's entrance requirements. If you are planning to apply to multiple schools in India, you may need to shortlist multiple exams.
Mock examinations are a great way to prepare for your b-school application process. "I prepared for the GMAT using [test prep organization] Manhattan Prep resources," says Preeti.
"I took one mock test before even starting preparation to set my baseline and spent a few months going through all the study material. I then took regular mocks and thoroughly analyzed my performance to see where I needed to improve before my final test."
It is beneficial to create a strategy for how you will approach your exam. Exams will typically consist of sections testing your verbal ability, quantitative skills, and data interpretation. Since you know what the main components of the test include, you can plan accordingly.
Brush up on your comprehension and grammar knowledge, Simrita advises. It is crucial that you also consistently practice your logical reasoning abilities and learn to minimise calculation time by working on your mental math to help with these tests, she adds.
Ace your interview
If you're successful during the application process you will be invited to the next stage, which will involve an MBA interview. Attending your interview can be one of the most intimidating parts of the process, so it's important to go in feeling prepared.
One way to be ready is to craft your answers for common interview questions beforehand, and practice with friends or family.
"Here aspirants can talk about their achievements, they can also use statistics and examples to support these achievements," Simrita explains.
"For applicants without experience, questions could relate to the bachelor's degree they have completed. This could be with reference to a particular subject or a little bit of everything learnt throughout the course." she adds.
It also helps to acquaint yourself with the institution you are interviewing at. You should attend the interview armed with knowledge about your target college, what it specializes in, and any other key details that might be relevant.
You can find out key information by connecting with current students or alumni and speaking with them about their experiences. Ask what content they have found interesting during their studies, their impressions of the school's culture, and what advice they would give to someone considering applying.
Your interviewer may also test your knowledge of current affairs, business, or specialist concepts such as marketing or finance. It's a good idea to brush up on these areas as part of your preparation.
Make your application stand out
Applying to top MBA colleges in India is a competitive business, so it's always a good idea to make your b-school application stand out as much as possible.
A key tip is to be authentic and honest about who you are, your interests, and your skills in your application. Avoid using the most sophisticated language you can think of. Instead, talk about your story, how your experiences have shaped you into the person you are today, and how they have led you to apply for b-school.
"An application filled with jargon does less for you rather than more," Preeti says.
If you think there are gaps in your application, you can build on certain areas to help you stand out. For example, you could enroll in certified online courses which could help to catch your b-school's attention.
Standing out doesn't just mean in terms of academic achievements. It also helps to spend time building your personal interests outside of your career. An interest in music, sport, theatre, or other extracurricular elements could add a more personal layer to the conversation with your interviewer.
This can show what you can bring to the school both inside and outside the classroom. "A healthy balance between academic and non-academic inclusions on your application would be extremely beneficial," adds Simrita.
For more ideas on applying to business school, seek out the BusinessBecause Application Guide