Top 10 Skills An MBA Will Teach You
Top 10 Skills an MBA Will Teach You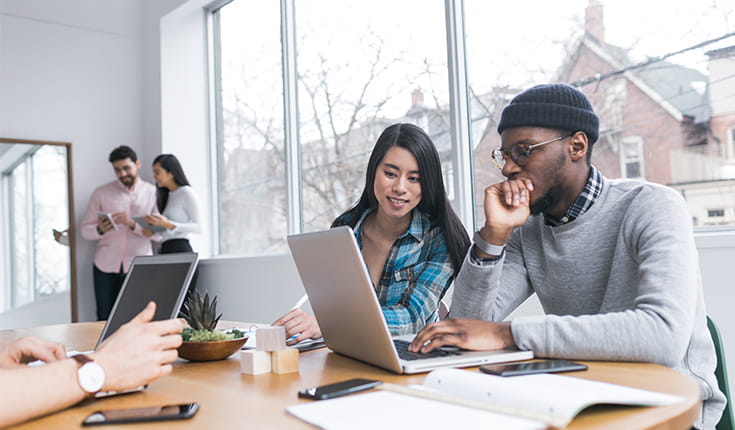 From networking and career growth opportunities, to learning all about the evolving business world – the benefits of studying for an MBA degree are endless. But what are the top skills that this prestigious degree will teach you?
Joining an MBA program can help you to hone skills you already have from previous work experience, and to upskill in new areas as you find your feet in the business world.
When embarking on your business school journey, it's important to gain a range of soft skills, including non-technical skills or non-engineering skills, alongside the equally valuable hard skills.
Gaining a blend of these skills helps ensure that MBA graduates can tackle whatever comes their way in the business world. This also means that you do not need to be an engineer or be well versed in technical skills to be successful at business school – it's about becoming a well-rounded individual.
Here are the top 10 MBA non-technical skills you could gain from business school.
1. Communication skills
First up in the list of non-technical skills that are in demand in business are communication skills. Now, you might already be thinking: I know how to talk to people, what communication skills do I need to learn?
Communication skills aren't just about socializing with others. You'll need to know how to have a difficult conversation with someone you are managing or how to navigate conflicting views and opinions on a team project.
There are several ways you can enhance your communication skills while studying on an MBA program.
Networking opportunities with peers – including alumni events and MBA clubs – can be a great way to practice your communication skills in an informal setting. Here, you'll have a chance to get to know your peers beyond the business school classroom.
There are also more formal ways to improve your communication skills. For instance, many MBA programs integrate experiential learning opportunities where you can spend time consulting for a company and then present your findings at the end of the project.
This is a great way to learn about the kind of language you should use in business presentations and how you can condense analytical findings into a short discussion.
2. Leadership and management skills
One of the most important MBA skill sets you will gain is how to lead and manage.
You could be the smartest person in your MBA class in terms of academic grades but if you have no ability to lead others, you'll soon hit a ceiling in the business world.
MBA programs integrate leadership and management courses into the core curriculum.
At Copenhagen Business School, for instance, MBA students can develop their leadership capabilities through exercises and activities in the Leadership Discovery Process.
Such MBA courses help students find the leadership style that best suits them, as there's no one-size-fits-all approach to leadership.
3. Entrepreneurial and innovation Skills
Next up on the list of non-technical skills that can help you thrive in the business world are entrepreneurial and innovation skills.
Whether or not you dream of becoming an entrepreneur, embracing innovation and entrepreneurial skills can help you to think outside the box when faced with a business conundrum.
Most MBA programs offer electives in entrepreneurship or innovation.
Asia School of Business (ASB) is one business school that recognizes the need for MBA graduates to practice entrepreneurship.
During the Entrepreneurship Trek at ASB, students can work with a team to create, test, and launch a product prototype. This project has helped MBA grad and serial entrepreneur Awal Suddeeq successfully lead his businesses across Asia and Africa.
4. Project management and time management skills
To stand out in the business world, you will need a sharp understanding of how to successfully lead multiple projects while being conscious of deadlines and targets.
It's a good thing, then, that MBA programs facilitate regular group project work to help students hone these all-important non-technical skills.
Depending on the project you're involved with, the topic could involve anything from solving a financial problem as a team, or consulting with a company on how to enter a new market.
As a team, you'll need to work out a schedule and set deadlines to ensure you complete the project on time, which has the added benefit of enhancing your time management skills.
5. Interpersonal skills and emotional intelligence
Interpersonal skills are necessary soft skills that are needed to work with a wide variety of people in your future career. It's likely that you're going to be managing or working in teams of people from all walks of life and from diverse backgrounds.
Developing your interpersonal skills will be about noticing how others communicate and adapting your communication style to match, when necessary.
MBA modules or courses in emotional intelligence can help you hone your interpersonal skills.
At University of British Columbia (UBC) Sauder School of Business, emotional intelligence is a central part of the MBA program. Students take an emotional intelligence test, which helps to identify their areas of strength – while also finding out where they can improve their interpersonal skills.
The business school then facilitates case study days, group presentations, and internships, which offer MBA students the space to improve their non-technical skills.
6. Problem-solving and decision-making skills
Studying for an MBA will teach you good problem-solving and decision-making skills.
In your business career, problem solving will likely be a part of your daily role – regardless of the sector in which you work. There are always unexpected situations in business, and you will need to know how to be ready at a moment's notice to handle such problems with ease.
In almost all MBA courses, there are opportunities to practice your problem-solving and decision-making skills.
At ESCP Business School, students can develop these skills during the Company Consultancy Projects in the MBA in International Management.
As a small group, MBA students analyze and provide recommendations based on a specific real-world problem the company is facing.
7. The ability to understand global issues in the business world
Business issues cannot be considered in a vacuum, which is why it's important to not just understand business from a domestic viewpoint but also from a global perspective.
Students can even choose to join specialized MBA programs in global business, such as the Sino-international MBA (SiMBA) at Jinan University in Guangzhou, China.
MBA students will learn about both Eastern and Western perspectives of business and deep-dive into topics in courses such as Chinese Business Environment.
8. Strategic thinking and planning abilities
Strategic thinking skills are some of the most useful MBA skills that you will acquire. There will be many occasions in your business career when you will need to craft a plan when entering a new market, launching a product, or expanding the business.
Business schools are keen to help MBA students develop their strategic thinking skills by offering practical projects that test students' understanding of the learnings from core courses in strategy.
Harvard Business School teaches MBA skills in strategy through first educating students on topics such as how companies operate, balancing opportunities and risks, and creating value for customers. Students then learn how to apply their knowledge to analyze industries and competitors from a strategic thinking mindset.
9. Data analysis
From the data that's collected every time you watch a show on Netflix to the adverts that pop up on your phone – data is a part of everyday life.
Data analysis is one of the most important skills that MBA graduates need for the business world.
When it comes to knowing how to leverage this data to enhance business processes and use data analysis skills to spot gaps in the market, business school provides a perfect environment to learn these crucial MBA skills.
Some MBA programs offer teachings in specific areas such as data visualization, using tools such as Tableau, and statistical analysis, using software such as R.
The London Business School MBA program provides a core course on Data Analysis for Managers, which will help you understand how to leverage data when making complex business decisions.
10. Financial management and financial analysis skills
Last but not least, you might have all the soft skills and non-technical skills stated above, but you'll certainly need financial management skills to get along in business.
These skills aren't just useful for financial managers – you will need to have a strong grasp of numbers in sectors such as consulting, technology, and even healthcare.
Luckily for you, finance features as a core course in all MBA programs, so there's plenty of time to brush up on your quantitative skills.
Depending on the MBA program you opt for, you could learn about financial forecasting, making financially-driven decisions, and how to improve business finances in the short and long term.
How can the skills gained on an MBA benefit your career?
The MBA skills you gain from your business school experience will be vital when searching for MBA careers.
It will come as no surprise that many of the MBA skills listed here – including communication, leadership, and analytical skills – rank among the most in demand skills that employers look for, according to a LinkedIn report in 2023.
Employers will want to see that you not only have a variety of soft non-technical skills, non-engineering skills, and hard skills – but they will also want to see how you showcase these in the job application process, on your MBA resume and in the job interview.
Employers will shortlist candidates based on the MBA skills that are demonstrated in your resume, so make sure you provide a holistic overview of your talents.
In terms of succeeding in the MBA graduate job interview process, business schools have dedicated career services that are on hand to help you with mock interview sessions or simply to discuss how to best showcase your MBA skills.
Just remember that there is no single set of MBA skills that you need before applying. Everyone in your class will bring a different outlook to the business world – and that's what MBA admissions teams and employers look for.