School Expert Q&A: Stanford Graduate School of Business
School Expert Q&A: Stanford Graduate School of Business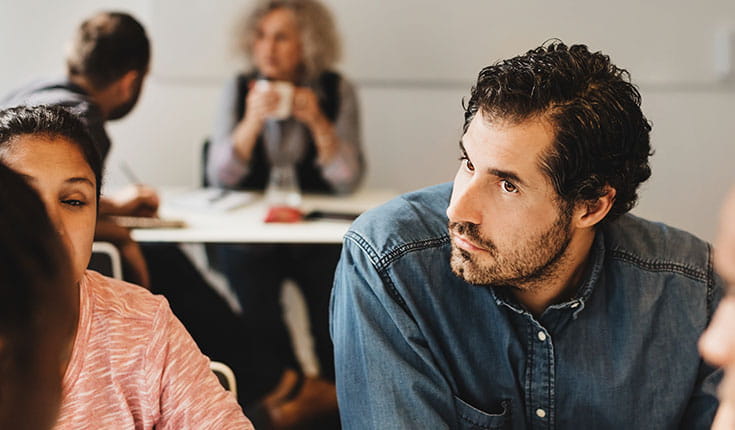 Get the details from the ivy league experts before you apply. We got the inside scoop from Sabah Khan, director of outreach at Stanford Graduate School of Business MBA Admissions on some of the most critical aspects of a competitive application, program differentiators, and more.
About Stanford's business school program
The Stanford MBA Program is a business school program at Stanford Graduate School of Business (GSB) located in Palo Alto, California. Stanford MBA rankings are among the best in the world, selected as #1 by the Financial Times and Business Week and #2 by Forbes ROI and U.S. News & World Report in 2019.
Everything you need to know about application requirements
To be admitted to the Stanford MBA Program, you must submit a packet of information that demonstrates your critical thinking and qualitative abilities as well as your personal traits and development as a leader. With regards to work experience, there is no minimum amount required for entry into the Stanford MBA Program. A US bachelor's degree or equivalent, however, is required. See the Stanford MBA website for international degree equivalents.
"There is no minimum GMAT or GRE score requirement for graduate study at Stanford, and we accept students with a wide range of scores," reports Sabah Khan, director of outreach at Stanford Graduate School of Business MBA Admissions. The range of GMAT scores for the Class of 2021 was 600-790, but you can view the Stanford MBA class profile for more information.
"We welcome applications from college seniors and recent college graduates, as well as those with all levels of work experience. We value diversity of experience in our student body, so no specific industry, function, or background is preferred over another," Khan says. "We are more interested in the impact you have had in your workplace than in the name or stature of your organization."
As you complete the work experience section of the application, describe your employment history, including your responsibilities, challenges, and accomplishments. Responses are paired with three letters of reference to help the Stanford admissions officers understand how you have contributed to your work environment(s).
Letters of reference for your Stanford application
For the letters of reference, source one from your current direct supervisor (or next best alternative) at work, one reference from someone else who has supervised your work, and one from a peer. Khan notes that the admissions board is impressed by what a reference letter says, not by the title or background of the individual who wrote it.
"Letters of reference should provide specific examples that illustrate your potential impact," Khan notes. "We understand that you may be in a situation that prevents you from providing a reference from your current direct supervisor. In this case, use your judgment in finding a source for your recommendation—a previous supervisor, a client, a member of your board of directors, or any other individual who reviews your work."
If your college or university taught some classes in a language other than English, the Stanford MBA Program requires you to take the TOEFL, IELTS, or PTE. This applies even if your specific program was taught in English. Stanford University requires a 100 score for the internet-based test (iBT); a minimum 7.0 overall band score for the IELTS; and a minimum 68 overall score for the PTE.
Finally, every candidate who is offered admission will be interviewed. Your admission interview is both evaluative and informative: "Our goal is for the interview to be a positive exchange of ideas and information," Khan says. "We evaluate your candidacy for admission based on all information collected from the application process, including your interview."
The application and admission processes
The Stanford MBA Program Application is available online and instructions are included in the application. You should also read through the Stanford MBA Program Admission website carefully; it is your primary source for application information. The application fee is $275.
You may apply in any one of the three application rounds each year. Application deadlines are typically in mid-September for Round 1, the first week of January for Round 2, and the first week of April for Round 3. Round 3 in April of each year is the last date to apply for the fall semester.
After you submit your application, you'll be contacted regarding the timeline for interviews. You can review your application status anytime in the online application portal.
Learn how to make your business school application stand out
Fees and expenses
For the 2019-2020 school year, tuition was US$73,062; the cost is the same for US and international students. The cost of living in 2019-2020 ranges from US$32,712 to US$54,300 depending on whether you live on or off campus, and whether you are single or married. Other expenses to consider include books and supplies, instructional materials, transportation, medical insurance, and the expenses related to a study trip to fulfill the global experience requirement. Visit the Stanford website for estimates of the full cost of attendance.
Due to the rigorous nature of the MBA curriculum, Khan advises against relying on part-time work to defray the cost of the program. It is also important to note that Stanford GSB does not offer college work-study, and research and teaching assistantships are rarely offered to MBA students.
Financial Support Options for Students
"A Stanford MBA degree is a significant investment in you and your future," says Khan. "To help you fund the full cost of your attendance, Stanford offers generous fellowships to those with demonstrated need. Our community is committed to providing you with the opportunity to attend Stanford GSB regardless of your financial resources."
Khan notes that fellowships are gifts from their community based solely on your demonstrated financial need. Consider researching outside scholarships for need-based and non-need-based aid. Visit types of aid on the Stanford GSB website.
Stanford GSB receives generous fiscal support from many individuals. One scholars program, the Knight-Hennessy Scholars program, is designed to build a multidisciplinary community of Stanford graduate students dedicated to finding creative solutions to the world's greatest challenges. To be considered, you must apply separately to the Knight-Hennessy Scholars program and to your GSB graduate degree program (by Round 1). Read more about specific fellowship opportunities on the Stanford GSB website.
"Most financial aid received by Stanford GSB students is in the form of student loans," according to Khan. "You can borrow up to the cost of attendance minus any financial aid or other resources (i.e., parents, relatives, friends, employers, and other external sources). Our financial aid office will provide access to federal loans, and all loans through Stanford GSB must be used for educational purposes." Students may also self-source private loan options.
Stanford GSB works with several lenders to provide loan options for international students. The Financial Aid Office will determine which loans to offer based on a student's citizenship status, although students are strongly encouraged to look for private loan options in their home country since they may secure better interest rates.
Learn how to fund your graduate business degree
Intake, Curriculum, and Graduation
"We admit one class each year and new students enroll annually in the fall," said Khan. "Each class is approximately 415 students and the class of 2021 was 43 percent international."
Regarding curriculum, Stanford GSB is a general management program. In your first year of the Stanford MBA Program, you'll build your general and functional management knowledge, develop leadership skills, and gain global experience. In the second year of the MBA Program, you will continue to broaden your experience and perspective, deepen your knowledge in a specific discipline, or simply pursue areas of interest.
"Each year we offer at least 100 elective courses that change year to year. Moreover, about 20 percent of Stanford MBA students take advantage of a joint or dual degree to complement their MBA," notes Khan.
Graduating from this program gives many people a solid footing in the job market. "Ninety-four percent of the class of 2019 had job offers within three months of graduating," according to Khan. Furthermore, the mean starting salary for the class of 2019 was US$152,000. Full employment reports are available on Stanford GSB's Career Management website.
To learn more about the academic experience or access the latest application deadlines, visit the Stanford MBA website. You can also register to Stay in Touch for admission related updates, event invitations, and more. The Stanford MBA office is typically reachable Monday through Friday 8:00am - 4:00pm Pacific Time at +1 (650) 723-2766.
Learn more about Stanford GSB and explore other business schools using the Program Finder tool.