The Most Cutting-Edge Innovation MBAs and Master's Programs in Europe
The Most Cutting-Edge Innovation MBAs and Master's Programs in Europe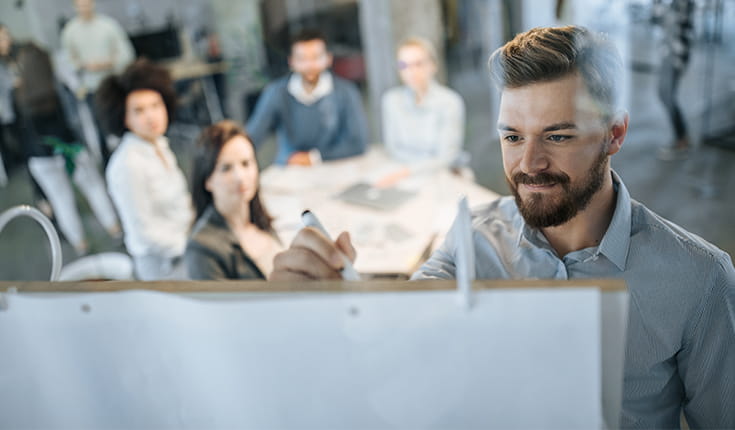 Innovation is one of the most sought-after parts of a business school curriculum – half of the students in GMAC's Prospective Students Survey 2023 say they would prefer a business degree focused on either innovation or entrepreneurship.
Innovation is a crucial part of a business administration curriculum, and global businesses know that it's vital part to their growth strategies. McKinsey cites innovative processes and skills as one of the key ways companies can overcome future challenges.
But where should you go if you want to study innovation? While most business schools will implement some innovation as part of their curriculum, it's not a focus for every school.
So, we've researched Europe's most innovative business schools and programs. On these degrees, you'll develop the skills that will put you in the best position to gain roles in innovation after you graduate and future-proof your degree for the future.
Top 6 Business Innovation Management Programs At European Business Schools
1. MBA in Sustainable and Disruptive Innovation at HEC Paris
HEC Paris is known for prioritizing future technology on its flagship MBA degree program. However, if you want to go further into digital innovation, you can choose the Sustainable and Disruptive Innovation specialization, which sets itself apart from traditional MBA programs.
On this advanced major, you'll take one core course and six additional modules, all in sustainability and innovation. Not only will you gain knowledge of the impacts of climate change and technological disruptions, but you will also absorb soft skills in innovative thinking, circular processes, and business impact.
Elsewhere on the MBA program, HEC Paris takes an innovative approach to business administration by combining traditional case study learning with gamification. Students take part in two business games over the one-year program, the Negoism Business Simulation and Bach Business Game, which will enable them to test their disruptive thinking skills.
Then there's the Creative Destruction Lab, a 10-month program that can be completed alongside the MBA course. At this accelerator, students can choose to work directly with startups in three innovative areas: climate change, science and technology, and AI and machine learning.
The skills involved in developing an impactful business innovation culture and interrogating global challenges enables graduates to take future consulting roles in innovative industries.
HEC Paris' innovative education model works, too; the school has graduated more CEOs of Fortune 500 companies than any other institution in Europe. Plus, 25% of HEC Paris graduates start their own businesses. As a result, it's viewed as one of the best MBA programs in innovation.
The MBA at HEC Paris is a 16-month program that can be started in January or September, and fees for the MBA total US$95,000.
2. MBA in Leadership and Coding at IÉSEG School of Management
What could be more innovative than studying management and coding? IÉSEG School of Management knows that tech skills are a vital part of today's business landscape, so their MBA comes with an optional specialization in Leadership and Coding.
This track prioritizes advanced tech skills to form leaders who can respond to technological disruption effectively. The course is taught in collaboration with Le Wagon, the top coding school in the world, and students will be introduced to both back-end programming languages and front-end development.
Alongside that, students can explore digital technology like machine learning and data science, plus product design and software architecture. There are also opportunities within electives to explore other advanced topics like data analytics or fintech. Subsequently, students gain up to date knowledge of business management across both the technical and management side.
Innovation is also a key element among core MBA courses. Students explore how to approach global challenges like climate change, ethics, and business models for innovation. So, it's the ideal choice for students wishing to study for a traditional MBA with a focus on practical technology skills.
The MBA at IÉSEG can be completed between 13 and 16 months and costs US$42,000, substantially less than comparable tech-focused MBAs in the US. The GMAT isn't required, and students also don't need a bachelor's degree in coding or software engineering to enter the course.
3. Master's in Global Innovation & Entrepreneurship at Emlyon Business School
Emlyon Business School focuses on international business, despite its sole campus in Lyon, France. Consequently, their innovation Master's degree focuses on global business and offers students an alternative way of developing and applying practical skills in innovation.
In the first year of the 18-month Master's program, students rotate campuses periodically. Starting in Lyon, students spend three months at Oulu Business School in Finland before heading to the French Vietnamese Center of Management in Ho Chi Minh and Hanoi. By rotating, students gain a practical understanding of global business practices and how to innovate.
The program's final year can be spent anywhere in the world, with Emlyon operating five other global campuses in Saint-Étienne, Paris, Shanghai, Bhubaneswar and Mumbai. At this point in the program, students also have the opportunity to complete a six-month internship or professional experience to cement their skills in innovation.
The MSc in Global Innovation & Entrepreneurship also places a high value on sustainability skills, merging this study with innovation to help students become skilled leaders of the future. Emlyon's philosophy of "doing to learn, learning to do" is also threaded throughout the Master's degree, and students will have ample opportunities to put their skills to the test.
Tuition fees for the 18-month Master's program are US$27,000. Standardized business exams like the GMAT are optional for applicants, as Emlyon conducts its own digital test for all applicants.
4. Master's in Innovation and Technology Management at the University of Bath
This Master's program aims to "bridge the gap" between studying management and technology, with teaching occurring in Bath's School of Management and the Department of Mechanical Engineering.
The course focuses on managing technology, science, or engineering businesses, and students develop specific skills relating to the complex digital transformation challenges these kinds of companies face. Elsewhere, students will also explore how to commercialize new technology and how to overcome challenges inherent in technological innovation.
However, there's also a strong focus on soft skills, with students exploring how exactly to creatively innovate within companies. Innovation is also fused with sustainability so students can tackle future challenges effectively.
In the second semester of the program, students can take part in a Sustainable Business Challenge alongside other business school students around the country, plus the option of a summer consultancy project where you'll put your skills into practice.
The Master's program at Bath is ranked in the top 50 innovation programs in Europe by Eduniversal and costs $19,000 for UK students and $33,000 for international students.
5. Master's in Innovation and Entrepreneurship at Vlerick Business School
Vlerick Business School in Belgium is known for its innovative approach to business education, which prioritizes skills practice and frequently includes opportunities for students to participate in interactive games.
This is especially true on the MSc in Innovation and Entrepreneurship. An 'Action Learning' plan ensures students have chances to practice innovation first-hand, such as in business simulations and real-life challenges.
As part of the practical skills program, students get to visit disruptive tech companies in Silicon Valley, work with a startup accelerator, and participate in an innovation project with a real company. Vlerick also has a Student Entrepreneurship Fund to help students gain access to seed money for their ventures.
As part of the innovation studies side, students will develop soft skills in creative thinking and design thinking, which merge with leadership skills on the management side to produce experienced professionals who can manage digital business.
The tuition fee for the one-year Master's in Innovation and Entrepreneurship is US$21,000, and students aren't required to have any work experience to join the cohort.
6. Master's in Management of Innovation at Rotterdam School of Management
The Management of Innovation program at RSM takes a more managerial focus than other Master's on this list, making it unique among European business schools.
Consequently, it's one of only a few programs that specifically prepares students to work as innovation managers and consultants, and explore new management models for innovation management.
Focusing on strategy, disruption, and overcoming challenges, the degree supplies students with a variety of soft skills that they can employ when managing innovation at companies. As part of this goal, students can enroll on a unique Innovation Clinic elective, where you'll join workshops and coaching in design thinking and deliver real innovation projects.
Elective modules on the innovation program are in keeping with RSM's wider focus on sustainability and business ethics. So, you can explore circular economies and social entrepreneurship, or choose advanced innovation classes including open innovation and patent law.
The Master's in Management of Innovation costs US$23,000, though students from the EEA can get a significant discount on fees, totalling US$2,500.
Are you thinking of heading elsewhere for your innovation degree? Then check out some of the most innovative degrees in the US here.