The Most Cutting-Edge Innovation MBAs and Master's Programs in the US
The Most Cutting-Edge Innovation MBAs and Master's Programs in the US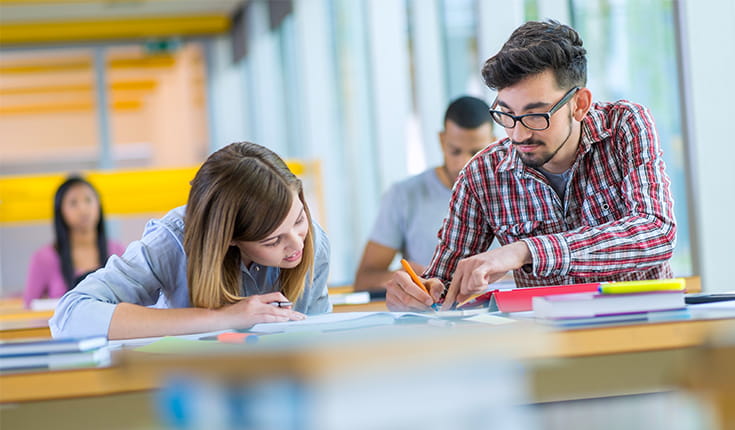 Innovation has always been a vital part of graduate business administration programs. Today, though, with the advent of technology like artificial intelligence, blockchain, and virtual reality, businesses must know how to keep up with trends or they risk being overtaken.
This means that more than ever before, students are applying to b-school with innovation in mind. Data from the GMAC's latest Prospective Students Survey shows that applicants cite business analytics and data science as some of the most important parts of a graduate management education (GME) curriculum. Entrepreneurship and innovation comes in 6th on the ranking.
But not every graduate business administration program is genuinely innovative. So, we've done some digging for the top six most innovative business programs in the US.
On these Master's and MBA programs, you'll discover new ways to learn, explore cutting-edge advancements in technology, and gain a business education that's clearly focused on innovation management.
Top 6 Most Innovative Business Programs at US Business Schools
1. MBA at Babson College's Olin Graduate School of Business
The two-year Master's of Business Administration program at Olin Graduate School of Business has ranked number one in the US for entrepreneurship by US News & World Report for 30 consecutive years – testament to how the program continues to change to accommodate new innovations.
Core modules on the program are all designed around innovative leadership, and among electives, students have the chance to focus on other topics such as game theory, machine learning, and disruptive change.
On every module, professors are guided by Babson's 'Entrepreneurial Thought & Action® methodology' which prioritizes four soft skills: creative problem solving, collaboration, communication, and leadership. The MBA also has seven concentrations, including two STEM-designated programs: quantitative finance and business analytics and machine learning.
Students can also take advantage of innovative learning opportunities at the business school, like the Babson Social Innovation Lab and Women Innovating Now Lab Venture Accelerator. In the WIN accelerator, students can join a community of female entrepreneurs and gain valuable skills in innovative thinking.
Though Olin's MBA is a full-time program, students have the option to complete it in either 12 months or 21 months. The school also offers a part-time Flex option, an MBA for online students, and a blended learning MBA with in-person classes in Miami.
The one-year MBA costs US$89,550 and the two-year MBA US$113,354.
2. MBA at University of Notre Dame's Mendoza College of Business
One of the biggest draws of the program at Mendoza is the Business on the Frontlines module, which takes students to international locations to apply their decision-making and strategic thinking to social impact projects and gain real world experience.
Since 2008, MBA students have worked on more than 80 projects globally, taking them to emerging markets including North Macedonia, Kenya, Sri Lanka, and Bolivia. By spending two weeks in the field, students learn how to harness business strategies for growth and transformation, giving students a unique real-world view of innovation.
Three out of five MBA majors on the degree at Mendoza College of Business are STEM-designated, giving students even greater technical skills and opportunities for innovative learning. Students also take part in 'interterm intensives' each year, where students can apply their skills to practical challenges with businesses.
Additionally, on the technology pathway, students spend seven weeks in Silicon Valley studying modules like digital innovation and digital product management, while networking with tech professionals in the hotbed of innovation. Almost 20% of Mendoza MBA graduates take roles in tech after graduating.
Mendoza's MBA program ranks fourth in the world for alumni effectiveness, evidence that the school's future-focused approach to business teaching translates to transformative actions. The program costs US$64,660 for two years of tuition.
3. Master's in Entrepreneurship & Innovation at Hult International Business School
On this school's campus in San Francisco – one of the world's biggest technology hubs – students on the Master's program in Entrepreneurship and Innovation at Hult International Business School can get up close to technological innovation.
Their Business Master is a hands-on program prioritizing soft skills development including future thinking, leadership, and design thinking. With semester campus rotations, students also get the chance to experience new environments and cities, boosting adaptability skills.
Alongside this, students get introduced to emerging tech like machine learning and artificial intelligence in core modules, with options to take learning further in electives. There are over 150 to choose from, from data-driven innovation and Web 3 to Python and the science of behavioural economics.
Each of the three core modules focuses on practical knowledge. Each module ends in a business challenge where students can apply their newfound skills in innovation to a practical challenge such as an innovation hackathon, consulting project, or business simulation. These challenges are the cornerstone of the Master's degree, where students can leave the classroom and try out business innovation first-hand.
Tuition fees total US$55,000 for the one-year Master's degree, and 16% of graduates of the program go on to work in technology – double the percentage who come into the program from the industry.
4. Leaders for Global Operations (LGO) at MIT Sloan School of Management and MIT School of Engineering
If your background is in STEM, then the dual-degree Leaders of Global Operations (LGO) is one of the best options to give you a head-start in operations management. Combining top-ranked teaching from MIT Sloan School of Management and MIT School of Engineering, students graduate after 24 months with an MBA and a Master of Science from one of seven departments in the School of Engineering.
The LGO program was one of the first dual-degree programs of its kind in the US, combining technical knowledge with innovative business subjects to develop students into industry leaders. Students can personalize both elements of the program to suit their knowledge and goals, and get the chance to explore cutting-edge technology from both an engineering and business viewpoint.
Meanwhile, MIT Sloan's flagship MBA degree is known for being innovation-focused. Business management students can follow a dedicated innovation major which covers how to build a successful startup and includes a study tour to Silicon Valley.
The dual-degree program was established in 1988, and since then, it has produced successful entrepreneurs such as Jim Lawton, the CEO of Rethink Robotics, and Guadalupe Hayes-Mota, the CEO of biotech firm Healr Solutions. The LGO degree costs the same amount as MIT Sloan's two-year MBA degree: US$161,000.
5. Master in Product Management at Carnegie Mellon's Tepper School of Business
Tepper School of Business was recently recognized by the Association to Advance Collegiate Schools of Business (AACSB) as an institution that is creating visionary and innovative graduate business programs.
The program in question? The Master of Science in Product Management (MSPM), which combines business studies with computer science to prepare graduates to work as future business leaders.
The Master's degree was created by Andrew Moore, a former director and vice president at Google, and was born out of his frustration with the lack of specialized product managers with knowledge of computer science, technology, design, and business.
As a result, the MSPM curriculum focuses on practical product management coursework, and covers data science, digital innovation, and artificial intelligence. The one-year degree also includes a mandatory capstone project where students will collaborate with real companies on innovation challenges.
Many of the students who study the MSPM degree are older than typical Business Master's students, and after graduating, they target roles in the C-suite as CIO and CTO. The MSPM is also STEM-designated, offering more opportunities to international students who want to stay and work in the US after graduating. Tuition fees for the MPSM degree are US$70,565.
6. Master of Finance at Georgia State University's Robinson College of Business
Robinson College of Business has a strong focus on 'experiential innovation,' and this is clear on their Master of Finance degree. As part of the program, students can get involved with the university's FinTech Lab, the first business school-based fintech lab in Georgia and one of the most innovative in the country.
In the lab, finance students can explore the technology that is impacting financial services and work directly with machine learning and blockchain to hone their skills. The focus on emerging technologies aims to create financial management students who can work in the future of finance, not just today's companies.
As part of the careers services, students can also get one-on-one mentoring with C-suite executives, find internships through the Georgia Fintech Academy, and attend the semiannual Financial Leadership Symposium.
This Master of Finance also comes with the lowest price tag on this list, at US$37,500 for Georgia residents and US$43,500 for other US and international students. Prominent alumni of the program include Jim Tait, who graduated in 1997 and subsequently spent 20 years in the finance department at Gulfstream Aerospace, before landing a role as CFO at large chemical company Dulany Industries in 2018.
Learn More: Explore more programs with our program finder.