Is an Online MBA Right for You? COVID-19 May Be Its Big Moment
Is an Online MBA Right for You? COVID-19 May Be Its Big Moment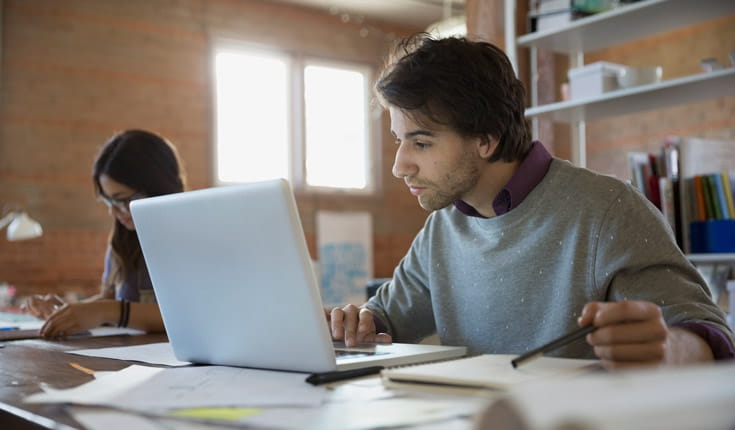 Online MBA programs offer the prestige of the MBA degree with the convenience and flexibility of online coursework.
Historically, in times of job loss and economic recession—like the period we now face amid the COVID-19 crisis—there's been a countercyclical increase in applications to graduate business school programs. In times like these, many people will consider investing in their education in order to increase their competitiveness, career stability, and earning power. In the past, it's been full-time MBA programs that have seen the greatest increase in applications. But what's different this time around is wide availability and growing credibility of the online MBA.
Could COVID-19 be the big moment for online MBA programs? To be sure, online education, and the online MBA in particular, were already a growing segment of graduate education before COVID-19, with an increasing number of very well-respected and internationally recognized business schools already offering online MBA programs. Now, amid our new reality of indefinite social distancing, the online MBA may be set to accelerate into a new phase of growth and maturity.
Is an online MBA right for you? Prospective students who in the past may have only consider in-person programs may now be warming to online programs, and not just because they're stuck at home. There are several reasons why an online MBA may be the right fit for you.
If you're considering earning an online MBA, here are five things to think about.
1. Online MBA programs provide flexibility
An online MBA program adapts to your lifestyle and is incredibly flexible.
Complete coursework when and where it makes sense for you. Do your reading, complete homework, or write papers in the middle of the night if you need to. You'll have the option, in many cases, of choosing synchronous classes where you attend lectures, seminars, and discussions at the same time as all the other students. But there may also be self-paced asynchronous classes that allow you to access course materials at any time without needing to adhere to a schedule at all.
Is an online MBA right for you? If you are unsure if you'll be working or not, or if you have kids or other family members to consider, an online program can offer huge advantages over a traditional in-person full-time or evening MBA program.
2. Online MBA programs are often cheaper
In this new economic environment, it makes sense to conduct a more rigorous cost-benefit analysis. While there are certainly some high-priced online MBA program, with the top degrees maxing out in the US $50,000 range, many of them are much more affordable.
And, the flexibility of an online MBA means you can also keep working while getting your degree.
Read more in the article Exploring How to Pay for Business School
3. The material is the same online and in-person
People get an MBA for a wide variety of reasons. Is your primary objective in considering an MBA to learn new things about business functions, from marketing to accounting to finance to human resources? Is building business skills and experiencing new concepts and frameworks your goal? Are you a marketer looking to learn more about the latest in marketing research or consumer behavior? If your answer is yes to any of these questions, it's probably fair to say that an online MBA should not be much different, or really any different at all, from a traditional the in-person experience.
Indeed, many people get an MBA to actually learn new things. This is, perhaps, the main reason to pursue graduate education in any field. And here, the online MBA does not fall short.
4. Online programs create real-life networks
Networking with professors, other students, and industry representatives is an important part of getting an MBA. In fact, many students say that networking is the primary reason they pursued an MBA. In the past, online MBA programs were dismissed by candidates keen to grow their networks. But now, thanks to advances in technology and carefully designed student experiences, online MBA students are able to make powerful connections through their coursework.
Read more the in article Why an Online MBA Doesn't Mean Forgoing Real-Life Networks
But it's also worth considering how many traditional MBA programs might be interrupted and transitioned from in-person to online over the next year or so. Right now, even after all we've been through, it still seems unlikely that most academic institutions will be on campus again in the fall. But there could be other waves of sheltering in place to come.
5. The stigma of online is diminishing
The stigma associated with online learning has been in a slow decline, and we will definitely see it diminish even faster in this new COVID-19 era. While several ivy league universities may be slower to adopt the online MBA, there are hundreds of schools who are investing in their online programs now and ramping up the availability of more online courses in the coming months.
Did you know the Executive Assessment—the admissions exam designed specifically for busy professionals—is now available online? Register today!
6. Is an online MBA right for you?
Only you can decide! If you weren't already considering an online MBA, COVID-19 may be making you take it as a more serious option. If you were already considering an online MBA, COVID-19 probably makes it an even better option. With or without the introduction of the coronavirus into the decision-making process, an online MBA is an interesting option that more people should consider. You get the same degree, at a lower cost, in a more flexible way. There is a lot to like about that.
There are more than 300 online MBA programs in Program Finder for you to explore and find your best fit. Get started on your business school journey now!
Mark Skoskiewicz is the founder of MyGuru, a boutique provider of online tutoring powered by a small but extremely experienced team of passionate GMAT tutors (they help with other standardized tests and academic subjects as well). MyGuru helps students build customized study plans and focuses on a mix of core concepts and test-taking skill development. Mark holds an MBA from the Kellogg School of Management.
Early Profile Guide
Get step by step assistance in answering questions about why you're pursuing a graduate business degree.