How to Prepare for a Master's Degree in Management
How to Prepare for a Master's Degree in Management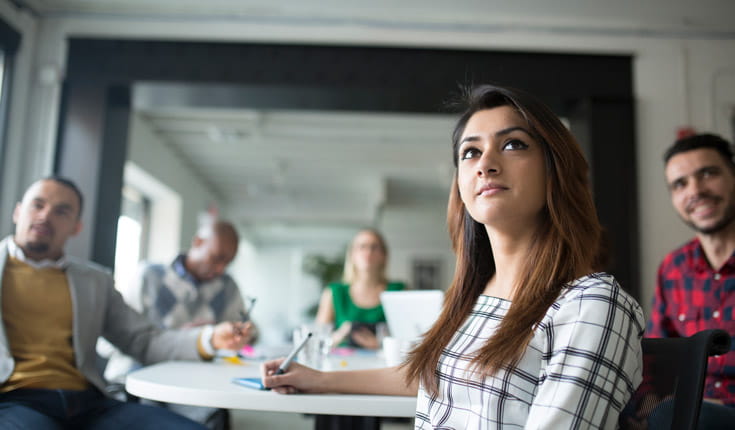 If you aren't sure an MBA is right for you, consider a Master in Management.
If you've always wanted to go to business school but aren't sure an MBA is right for you, consider a Master in Management or MIM. What makes it different from the MBA? You don't need nearly as much work experience to start, which makes a MIM an ideal route for recent or soon-to-be graduates. MIM degrees can also be specialized in a business area, like marketing or accounting. But don't mistake a MIM for an easier alternative to an MBA. Applying to and being accepted to a MIM program is just as competitive. Still, with the right preparation, you can transition from an undergraduate to a Master in Management. Let's take a closer look at how you can take that next step:
Assess Your Starting Position

Figure out what you want from a MIM degree—is there a management specialty that interests you? Have you researched MIM programs? Does your undergraduate degree match the prerequisites for acceptance? Do you need to take a prep course or other short-term course to fill in any gaps for the entrance requirement? Do you need to take exams, like the GMAT exam before you can apply? Make sure you have the right qualifications for the program of your choice before starting the application process.

This is particularly important if you are considering a MIM program overseas. Apart from academic qualifications, you'll need to assess your language skills. Is the course taught in your native language or another? If you need to brush up on language skills, now is the time.

Consider your academic starting point, too. Make sure you take a diagnostic and figure out where you are academically before you start. Knowing where your strengths—and your weaknesses—are will show you where you need to focus and where you need to improve.

This is the time to fill in those gaps. Need some help? Contact the admissions office for the various MIM programs you've selected. Someone there will steer you in the right direction. Or check out this useful tool that helps you compare and choose the right school.

Another strategy? If you're currently an undergraduate, make an appointment with your academic advisor—you won't regret it.

Once you've figured out where you are in relation to where you want to be, you're well on your way.

Gain Work Experience

Unlike the MBA, work experience is not critical for a MIM. However, it certainly doesn't hurt. Between one and three years can increase your chances of getting into a program of your choice. Don't underestimate the power of the internship, either. Strong internship experiences, obtained during or after your undergraduate studies, can be just as impressive as a year or two of work under your belt.

What are the benefits? You'll have a taste of real-world experience—and with experience comes wisdom.

Top-Up Your Extracurricular Activities

This is your chance to shine, at least on paper—and to give an admissions committee real insight into your character. Perhaps just as critical, if not more so, your extracurricular activities count. Why? They reflect your interests and passions. What you do outside of work and school matters.

Are you interested in sports? Showcase your interests and abilities on your resume. If you were involved in academic or university associations, list them—and make sure to note whether you held leadership roles in those organizations. Volunteer work is also a fantastic extracurricular activity to highlight. Even hobbies, like stamp collecting, yoga or woodworking, will make a positive impression on the admissions board. The key is to make sure your extracurricular activities give a sense of your interests and abilities, but leave an admissions counselor at your selected MIM program wanting to know more about you.

Prepare for the Interview

This is the time and place to show who you really are and what you care about—and what you can bring to a MIM program. What made you choose a MIM? Why did you select this school? How will the program help you reach your goals? What have you learned from your internship experiences? How about work? How do you handle difficult situations? How are you helpful to your classmates?

Here's the most important one: do your homework, and make sure you ask at least one thoughtful question of your interviewer about the program or the school. One caveat – in this case there are stupid questions. The answer to your question shouldn't be obvious from the program's website or marketing materials.

Take the GMAT exam
Ready to apply for a MIM? Take the GMAT exam, the world's most widely used and a trusted indicator of academic success in graduate business degrees.
The GMAT exam will give you the competitive edge you want—and a high score can ensure that you will have a variety of options when it comes to choosing a MIM program.
What does the GMAT exam test? Analytical writing, integrated reasoning, quantitative reasoning, and verbal reasoning. There are over 600 test centers around the world, but remember that the GMAT is given only in English.
Preparing for the GMAT requires study skills, self-motivation and the ability to seek out and utilize resources, like prep courses, tutors and study guides.
Finally, the GMAT exam is also a test of your ability to plan and manage your time. You may have spent your undergraduate doing late-night cram sessions for exams, but the GMAT requires commitment and a dedicated study plan. Get an idea of what is in store by taking the GMAT Mini Quiz.
Good luck!