GMAC's Soft Skills Assessment is an online assessment that provides you the opportunity to enhance your application to a graduate management program. The assessment helps you showcase unique strengths, such as your approach to achieving challenging goals or working with others. You can use the results of this assessment to refine and develop your business school applications.
Assessment Structure and Your Results
The 80 question assessment measures traits that are critical for success in business school and takes approximately 45 minutes to complete, although it is untimed. You can complete the assessment in multiple sittings.
Each question asks you to review three statements and choose the statement that is most true about yourself, and least true about yourself. There are no "right" or "wrong" answers.
It is important to answer the questions truthfully, based on what you would typically say is most and least true about yourself. Do not bring in external considerations or answer the questions in a way you think is more desirable. Avoid reading the three options presented and thinking about how your answer could change depending on circumstance. Simply select the answers that you would say are generally "most" and "least" true about you.
Sample assessment item: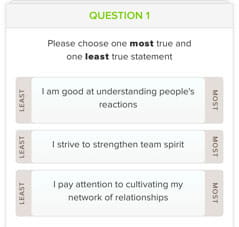 The school(s) that you select when you register will receive a report detailing how you may approach setting challenging goals and working with others. You will receive feedback on your top strengths.
Registration, Scheduling, and Refunds
To take the Soft Skills assessment, create an account and then purchase the assessment. The assessment costs $65 and can be taken immediately. You have 90 days to complete the assessment after purchase.
Since the exam is on-demand – there is no need to schedule an appointment. You may take as little or as much time as you would like and can take the assessment in multiple sittings.
You may only take the assessment once within a 24-month period. Results cannot be cancelled once the assessment is complete.
Refer to the Soft Skills Assessment Policies and Procedures page for additional details, including our refund policy.
How the Assessment Fits into the Application Process
The assessment results complement the rest of your application by providing you the opportunity to show case your unique strengths.
Schools that you select during registration will receive a copy of your assessment results 48 hours after completion. GMAC recommends that schools use your assessment results as part of their holistic evaluation process.
You will receive a report highlighting your strengths 24 hours after completing the assessment. The report can help you develop a stronger application and prepare for interviews.
Accommodations
The GMAC Soft Skills Assessment incorporates high-contrast formatting and conforms to guidance regarding screen reading compatibility according to Web Content Accessibility Guidelines (WCAG) published by the Web Accessibility Initiative (WAI). The GMAC Soft Skills Assessment is untimed, and you may take as long as you need to complete it.
If you are a candidate with a disability and have questions about the GMAC Soft Skills Assessment, please contact the GMAC Accommodations Team with any questions.
Featured Schools
Minimum System Requirements
Desktop Internet browsers:
Internet Explorer v11 or higher
Firefox – latest version
Safari – latest version
Google Chrome – latest version
Mobile Device OS:
Android 4.1 or higher
iOS 8 or higher
Mobile Device Browsers:
Android Browser – latest version
Chrome – latest version
Safari – latest version
Questions? Contact the Soft Skills Assessment team.