What do business schools think of the new GMAT™ Focus Edition?
What do business schools think of the new GMAT™ Focus Edition?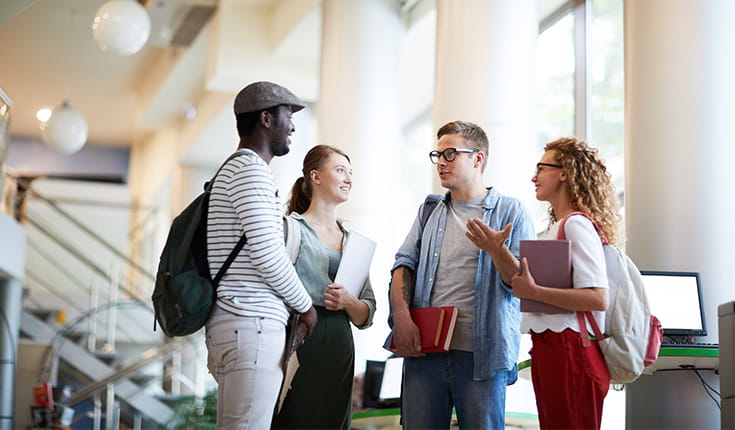 With a new focus on the skills we know are most relevant to modern businesses, GMAT™ Focus streamlines the preparation and exam process for candidates. But what do business schools make of the new test format?
If you're an ambitious graduate with your eyes on the prize of a successful career in business, you'll know that a Master of Business Administration (MBA) or other postgraduate business degree programs will open doors and get you on the fast track to the job of your dreams. But business school admissions are highly competitive, with the most sought-after programs selecting candidates they know have what it takes to succeed on the course and beyond.
A competitive GMAT score is one way for you to prove that you have the ability and commitment to succeed in business school. For over 70 years, the GMAT exam has been used by global MBA programs to identify the strongest candidates and those who could be eligible for scholarships. Now, the new GMAT Focus Edition has been redesigned in collaboration with leading business schools around the world to align more closely with candidates' priorities and the changing world of work.
We asked a selection of these business schools to share their take on the exam.
A highly positive development
As the expectations of candidates and institutions have evolved, ongoing refinement of the GMAT exam has kept pace, believes Joёl McConnell, Executive Director of Institutional Relations and Strategic Initiatives at Imperial College Business School in London.
"The redesign of the GMAT exam couldn't have come at a better time," he says. "With 70 years of leadership in the assessment space, the GMAT Focus Edition will continue to be a critical aspect of the pathway to elite graduate management education. I view the redesign of the GMAT exam as a highly positive development."
Rodrigo Malta, Managing Director, MBA Recruitment and Admissions at McCombs School of Business, University of Texas, agrees that a changing GMAT is aligned with our changing world. "So much has changed in the past three years," he comments, "so I think this was a natural time for the GMAT to be revisited. It allows the organization to continue to deliver what schools are looking for, but with test takers also in mind. I'm excited for the change."
Arnold Longboy, Executive Director, Recruitment & Admissions at London Business School's Degree Education & Career Centre, says: "I think the redesign of the GMAT exam is testament to GMAC's commitment to continuous improvement. Changes to the exam address the growing importance of certain competencies and the future of work – for example with the addition of Data Insights."
"This is an important evolution of the test," concurs Bruce DelMonico, Assistant Dean for Admissions at Yale School of Management. "In terms of the relevance and usefulness of the test, this is definitely a positive step that will be beneficial both to business schools and to candidates."
Improved experience
We know that business school candidates lead busy lives, which is why shorter preparation and exam times are a key component of the new GMAT Focus Edition. But the new exam is also more targeted than ever before, with a new Data Insights section that focuses on your ability to make informed decisions in real-world business scenarios and extensive resources available to help with your GMAT test prep and maximise your chances of a high score.
"It's a positive thing that it is shorter," says Dr Bindu Kulkarni, Associate Professor and Director of Central Admissions, Strategy and Innovation at S.P. Jain Institute of Management and Research in Mumbai. "Two hours versus three hours is a positive move. And the new section could give us some more insights into how the students perform on different parameters."
"The evolution of the exam feels like an improved version of the GMAT exam that will make the test-taking experience more straightforward for candidates, especially given all the test prep support that is being planned by the Graduate Management Admission Council," agrees Joël. "A shorter test duration, a clear focus on data insights, the removal of the essay component, and being able to complete the sections in any order are all aspects of the new GMAT exam that are likely to prove highly attractive to candidates."
Rodrigo also points to the improved candidate experience – highlighting that it brings benefits for admissions panels, too. "I believe that the redesign really improves the experience. So, the exam will be shorter, but still incredibly insightful. But at the same time, the redesign will continue to provide really satisfying information for schools, and I believe better information for the test takers themselves. Introducing the Data Insights section is a huge win for us."
Moreover, Arnold believes that the changes will work to level the playing field for business school entry, particularly for international candidates, ensuring a more diverse cohort. "We rely on the GMAT exam as a standardized, objective component in our holistic admissions process," he says. "Given our aspiration to increase underrepresented groups, the shortening of exam length should make the exam more attractive and help in our goal of widening access not only at LBS but overall."
Bruce also points to a more diverse cohort of students as a benefit of the GMAT Focus Edition. "I'm hopeful that the new test will avoid some of the biases that are built into standardized testing, particularly with the removal of the essay component," he says. "People need to be proficient in written and spoken English, but they don't need to be Ernest Hemingway! I also believe that the new test – because it is shorter and requires less prep time – will be a little more egalitarian and there won't be as great a disparity resulting from how much time people are able to spend on prep."
Don't worry, be confident
As a candidate, you might feel concerned about the reception the new GMAT Focus Edition will receive from business school admissions panels, particularly if you've already started preparing for the exam in its previous format. But the in-depth involvement of schools in the redesign process should put your mind at ease, says Joël. "It's been a pleasure to be part of the Next Generation GMAT Advisory Group. Understanding the challenges of updating a globally recognized assessment tool like the GMAT exam; understanding the trade-offs when deciding what's best for test takers, institutions, and other stakeholders."
The view from Yale is the same. "For me individually and as a school, we continue to believe in the relevance and importance of standardized tests as a metric for evaluating candidates for admission to graduate management education," says Bruce. "We're eager to continue to work with GMAC to help develop and evolve the test in ways that will continue to respond to where the market is and where it's going."
Arnold, who also served on the advisory group that collaborated on the redesign, shares this view. "This next generation of the exam is a positive move and I thank GMAC for the inclusive process that welcomed a wide range of perspectives in its development," he says.
"The redesign makes the exam more focused, more accessible and less daunting," comments Rodrigo. "But more focused doesn't mean easier or less valuable. It just means smarter. It's still a rigorous exam and valid for the schools that are going to be using it. It is a test for the future. But for candidates who have prepped for the original GMAT exam, or taken the exam, those scores are still valid."
"People should not be worried," agrees Bindu. "The GMAT exam is accepted worldwide, and we've been using it for years. We believe in the GMAT exam."
Learn more about GMAT Focus Edition.