Discover Your Competitive Advantage
Discover Your Competitive Advantage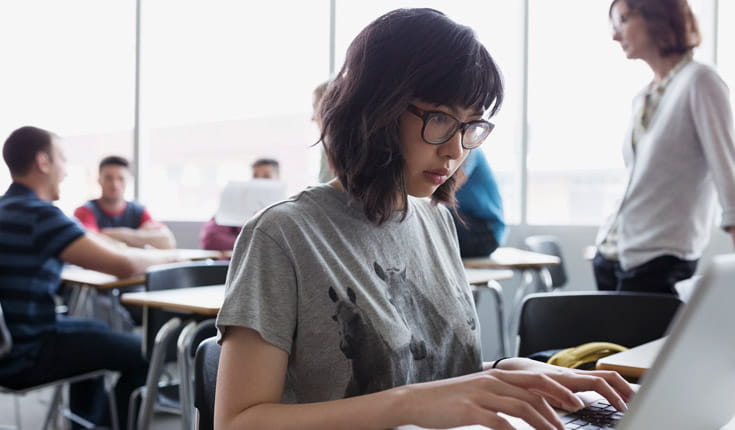 My Recommendations helps you maximize your time and investment in the GMAT exam.
Upon completing the GMAT™ exam, candidates often have two pressing thoughts:
How competitive are my scores?
What programs are the best fit for me?
The possibilities may feel endless! Choosing the right MBA or business master's program for your career goals is important, but with thousands of programs available, it can be hard to narrow them down to the ones that best fit you. My Recommendations is a free resource incorporated into your GMAT test taking experience that provides you with personalized business program recommendations.
What is My Recommendations?
Once your GMAT test has been scored, an in-house algorithm evaluates your profile, program preferences (including program type, geography, intended major, industry, etc.), GMAT scores, and global GMAT score-sending trends to formulate a list of up to 10 best-fit programs. These recommendations take into account future career function and industry, class size, program location and cultural fit—essentially these are programs that you'd be a competitive candidate for.
Comparing Best-Fit Programs
My Recommendations allows you to be confident in the schools you're applying for based on your competitiveness. It also presents program options that you may have not explored before. Each recommendation provided is listed as Excellent, Above Average, Average, or Low. A competitive rating of "Excellent" indicates that our algorithm has identified you as a strong candidate for a particular program.
In calculating your competitiveness, the following factors from both your Verbal and Quantitative section scores are evaluated:
Your global percentile rank for the Verbal and Quantitative section scores
Your percentile rank for the Verbal and Quantitative section scores among test takers from your geographic location
Volume of scores sent to each recommended program
The number of GMAT scores received by each program from within your geographic location
How Does My Recommendations Help Me?
There are a variety of ways this resource can help you. First and foremost, My Recommendations narrows down your choices and helps reveal new choices. It helps you maximize your time and investment in the GMAT exam by showcasing programs that you match well with. Secondly, My Recommendations makes it easy to send score reports. With just one click and a small fee*, you can easily send your GMAT scores to any of your recommended programs. Lastly, archived GMAT score data from the last three years is available for review. You can compare your most recent GMAT score with those of past test takers to see how you measure up.
Where to Access My Recommendations?
Find My Recommendations by logging in to your mba.com account and going to your profile page. Once you've completed at least one GMAT exam,accepted your score and sent your score to at least one program, you will be able to select a button that states, "Unlock My Recommendations." Your recommended programs list will be updated with each new GMAT test you complete.
Already taken your GMAT exam and sent your score to at least one school? Sign into your mba.com profile to view your personalized recommendations now.

Haven't taken the GMAT exam yet? Register here.
Get more information about My Recommendations.
*Additional Score Reports can be purchased, see GMAT fees.