The Executive Assessment: Accepted Globally to Meet Your B-School Goals
The Executive Assessment: Accepted Globally to Meet Your B-School Goals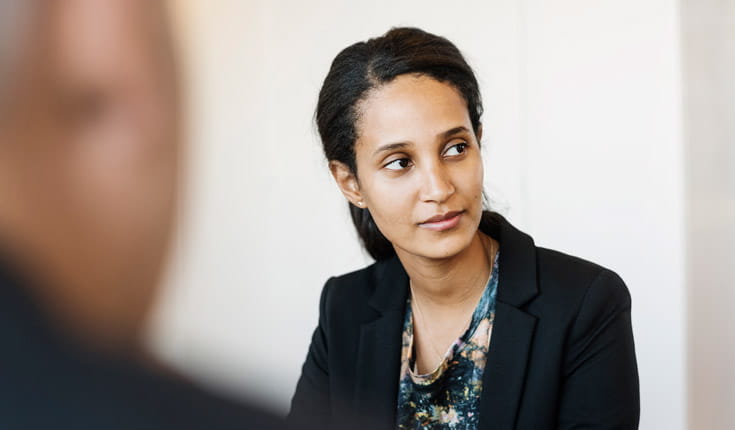 Your ambition knows no limits. Why should your business school assessment?
Whether you plan to pursue an Executive MBA from a business school near you, an Online MBA from a school across the country, or you plan to travel to earn an Executive Master's in a different hemisphere, the Executive Assessment is accepted globally to help you accomplish your business school goals.
Here's four reasons the Executive Assessment is the preferred assessment option for ambitious working professionals like you who want to invest in themselves with a graduate business school degree.
1. Leading business schools trust the Executive Assessment
From the makers of the GMAT™ exam, the Executive Assessment has a pedigree that schools recognize and trust as the gold standard of admissions exams.
Business schools value that the Executive Assessment provides them with a reliable snapshot of your readiness to succeed in their programs and provides test takers like you with the actionable takeaways based on your results that can help you sharpen your skills before your program begins.
📺 Watch the video: Why the Executive Assessment?
2. The Executive Assessment values your experience
The Executive Assessment values the knowledge and real-world experience you will bring to the program. It evaluates the data-driven skills you use every day that are critical both at work and in your business program.
The best part: it requires minimal prep, is easy to schedule, can be taken online or at a test center, and takes just 90 minutes to complete.
⏰ Read more about how time is on your side with the Executive Assessment.
3. A diverse mix of innovative programs types to choose from
Over the last decade, in response to increased demand from working professionals like you who recognize the critical importance of being lifelong learners, business schools around the world have dramatically expanded their program portfolios to a wide array of program types delivered in different formats.
Technological and curricular innovations, designed to teach the skills for the future of management to the next generation of corporate leaders, have resulted in new and exciting twists on the traditional business school experience.
Your programs options are vast when you choose to take the Executive Assessment, which is accepted by Executive MBA, Online MBA, Part-Time MBA, Hybrid MBA, and Executive Master's programs.
✔ Check out the business schools that accept the Executive Assessment.
4. Accepted in more than 100 countries
With COVID-19 vaccines now being rolled out globally, we can expect the world to open up again at some point this year for international travel. The question is: where in the world will you want to get your MBA or Executive Master's in 2021?
🌏 Read more: Where in the World Should I Get My MBA in 2021?
Another great feature of the Executive Assessment is that it doesn't limit your international business school aspirations. In fact, it's accepted in business school programs in over 100 countries around the world.
Expert tips for finding your best fit program as a working professional
With so many program types and destinations to choose from, where do you even begin to find your best fit programs to apply to?
Our free guide, Finding Your Best Fit Program: A Guide for Working Professionals, gives you the expert tips and guidance you need to confidently narrow your options and identify the programs that make the most sense for your needs, preferences, and career goals.
Get exclusive, insider advice on:
The key questions you need to ask yourself to ensure optimal preference-to-fit alignment
The best tools to use to understand what your options are
How to build out your program list and what mix of programs should be on it
Best practices for connecting with schools and getting your questions answered
Developing specific, tailored responses to "why this program?"