Top 5 Tips for Connecting with Business Schools Virtually in 2021
Top 5 Tips for Connecting with Business Schools Virtually in 2021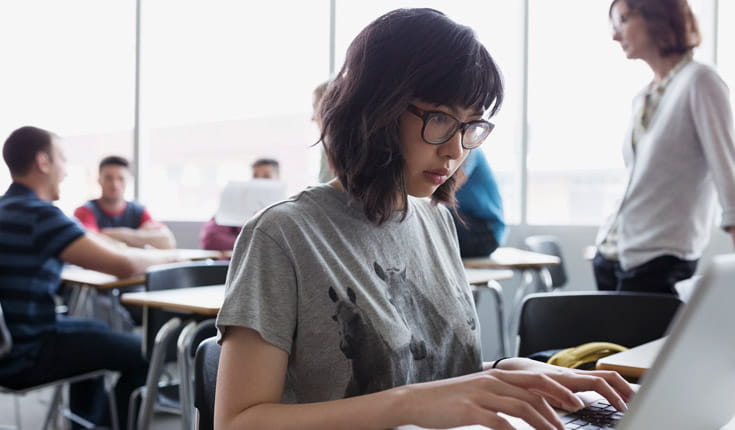 Interest in business school has jumped in the last year, and it's not hard to see why. Earning an MBA or business master's degree is a great way to level-up your skills, stand out in a competitive hiring market, and advance your career. A question on the mind of many prospective applicants who are just getting started is: with COVID-19 still going on, what's the best way for me to connect with business school virtually?
Among the silver linings of the last year is business schools have done a fabulous job pivoting what was previously a very high-touch, in-person recruitment process to the virtual environment. Just because you can't connect with school admissions professionals in the same room doesn't mean you can't make an impression and get on their radar by engaging with them virtually.
Here's our top tips for connecting with business schools online:
1. Help business schools discover you with GMAC™ GradSelect
The best way to get started connecting with business schools is to help them discover you. Opting in to GMAC™ GradSelect on mba.com only takes a minute and instantly puts you on the radar of your target programs. And just like that, you're off and running!
GMAC™ GradSelect is the go-to recruitment tool for more than 500 of the world's leading business schools. MBA and business master's programs use it to actively seek out prospective applicants like you to share program information, invite you to admissions events, and share scholarship and financial aid opportunities.
Schools are searching for you, and GMAC™ GradSelect is one of the first places they look.
2. Make an impression with your target schools at a The MBA Tour Event
With so many quality business school options to explore, the prospect of connecting with your entire consideration set of schools may sound daunting.
That's why The MBA Tour™ assembles the world's leading business schools all in one place so you can make those critical first connections in a super convenient and helpful way.
The MBA Tour events give you the opportunity to chat live with admissions reps, current students, alumni, and other prospective applicants. You'll explore unique features and program options available at different schools during Interactive Presentations, and in initiate MeetUps, with a max of six other attendees, you'll be able to ask questions and get a feel for your fit for different programs.
❓ What questions will you ask? Here are our top seven suggestions
What's more, The MBA Tour's smart algorithm will match you to schools that best meet your ambitions, and you'll hear specialist advice on applying, getting accepted, and financing your degree. Don't miss your chance to win GMAT exam vouchers and access fee waivers!
3. Attend the virtual tours, info sessions, and webinars of individual schools
Signing up for individual school's virtual tours, information sessions, and webinars is a great way to signal to them that you are interested in their program. If you're interested in engaging directly with staff, most schools offer some form of chat session during which you can ask questions. If at this stage you're more comfortable with a less direct connection, information sessions typically include a formal presentation where you can simply listen and absorb.
These events are a great way to learn about school-specific offerings, hear directly from the admissions team that will make admit decisions, and get tipped off to additional upcoming events that you may be interested in.
Use our Events Calendar to find an upcoming school event today.
4. Get in the mix on social media
Another great way to connect with business schools virtually and signal your interest is to follow their social media accounts on platforms like Facebook, Instagram, Twitter, and LinkedIn. Their social content should give you a better sense of their brand and culture, as well as the school's core values.
🤳 Is your social media business school ready? Here's our advice for what to do
Be strategic about when and how often you engage with schools on social. Don't feel like you need to like or comment on every post.
Keep in mind that when you engage with admissions staff off social, something you saw on the school's social could be a good conversation starter. For instance, you maybe you saw a pic of a recent event that took place on campus. Asking a thoughtful question about the event and its purpose would demonstrate your interest and could give you an opening to talk about how you would be an engaged member of the student community who wants to be involved with such events, should you be admitted.
5. Make strategic person-to-person connections
Many leading business schools have school ambassador programs—current students who are happy to connect with you to share information. These connections can be great because it's a chance not only to ask questions about the program, but also about the student life and what an actual day in the life of an MBA or business master's student there is like. These kinds of connections are often the most revealing about your fit for a school.
🤝 Read more: How to Network for Your MBA Application
If you're up for it, you could also try connecting with program alumni on LinkedIn and ask if they'd be willing to give you an informational interview. A good place to start is to search and see if anyone you're already connected with is an alum. From there, try second or third connections that may be a good fit. You may be surprised how willing they are to engage with you about their school—business school grads are passionate about their alma maters and are often happy to talk about their experience!
Not sure which schools to target? Use Program Finder to compare schools' offerings and narrow down your options based on factors like degree type, location, areas of study, and more. From a school's Program Finder page, you can contact their admissions team and ask for them to put you in touch with current students or alumni.
Remember: the point of connecting is to assess your fit
Don't forget: this point of all this connecting and engagement is for you not only to demonstrate your interest to your target schools, but for you to assess your fit for their program. Can you see yourself thriving there? What hesitations do you have? Don't be afraid to ask the questions that you need to.
How do you know if you're a good fit for a program? Our free guide, Finding Your Best Fit Full-Time MBA Program, gives you the expert tips and guidance you need to confidently narrow your options and identify the programs that make the most sense for your needs, preferences, and career goals.
Get exclusive, insider advice on:
The key questions you need to ask yourself to ensure optimal preference-to-fit alignment
The best tools to use to understand what your options are
How to build out your program list and what mix of programs should be on it
Best practices for connecting with schools and getting your questions answered
Developing specific, tailored responses to "why this program?"