Putting MBA Skills to Work Saving Elephants Amid COVID-19
Putting MBA Skills to Work Saving Elephants Amid COVID-19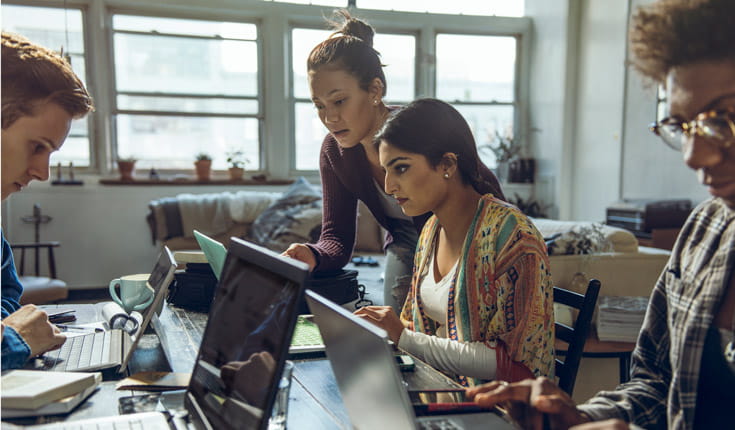 Everyone knows MBA skills are critical for working on Wall Street in finance, or marketing for a multinational firm. But did you know they can also equip you with the management skills you need to do things like save the endangered Asian elephants?
Putting MBA skills to work in wildlife conversation
Wendy Leggat from Cannes is the Manager of the Mekong Elephant Park in Laos. A 2013 MBA from the Skema Business School, Leggat is using her managerial talents and education to keep the park operational during the COVID-19 crisis.
Since the pandemic hit, the park has experienced a financial disaster. The borders to Laos are closed, so no guests or tourists are allowed in. There has been no tourist income for several months, which is typically a critical source of revenue for the local economy.
As a result, the number of employees at the park has been cut from 22 to nine. But the animals have the same nutritional and emotional needs as before, and the elephant handlers (mahouts) must be paid to care for them.
Before the crisis, the park featured a gift shop with products made on site by local weavers and blacksmiths, and a restaurant stocked with fresh produce grown on site. Private guests arrived by 9 a.m. and walked through the forest with the mahouts to look for the elephants, at a distance. Unlike other parks, these elephants are not confined in cages.
By 11:30, the park opened to all guests. Leggat welcomed them and lectured on the park's mission. Visitors observed the elephants, visited the botanical garden, ate at the restaurant, watched handicrafts being made and walked in the forest. The park closed at 4:30 p.m. Today the remaining employees and gardeners visit the elephants for health checks and patrol the area.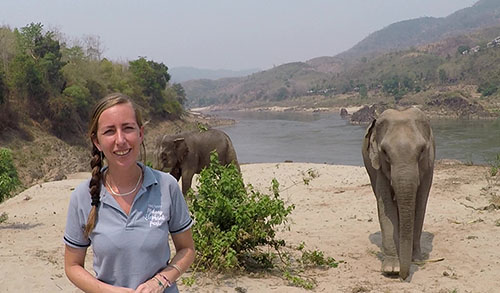 Wendy Leggat at Mekong Elephant Park in Laos
Managing through the COVID-19 pandemic
Now, the site is open in the morning for locals only. The long walking paths are no longer maintained, and the restaurant and gift shop are closed. After her morning rounds, Leggat spends the rest of her day on the computer working on marketing and fundraising efforts.
It's a tough task in a difficult situation, but Leggat's MBA, taught her skills in marketing, finance and accounting to help her manage during this difficult time.
"In this project you need to handle everything, from welcoming the tourists, to managing a team in a different country, to doing some accounting and when the day is over, answering your email and doing social media," Leggat says.
"An important part of this job is to develop the park with new projects," Leggat says. At one time Laos had one million elephants, but the population has evaporated, down to only 800 —400 in the wild and 400 in captivity. "We have decided to make reproduction a priority with the help of the Elephant Conservation Center," Leggat says, because the situation of the Asian elephant in Laos is critical. She learned to take the blood of the females every week to see when they are ready to reproduce, which is only three days every four months. "I was happy to have a strong background in different competences needed for this project, thanks to Skema."
Finding sustainable solutions
Donors recently contacted Leggat to help rescue an elephant from a riding camp. Because there are so few elephants left in Laos, the park was looking to find another male to mate with the females. Any task is time-consuming and expensive, especially without tourist income to feed the elephants and pay for salaries.
"We are distributing rice for the staff who no longer have a salary but it's difficult for them," Leggat says. "We are in a very remote area where we were one of the most important employers."
The Mekong Elephant Park was founded in 2008. The welfare of elephants is their main goal. All money raised from visits and donations is used toward rescuing elephants, feeding them, providing veterinary care, and constructing land and infrastructure for them to live on.
Besides budgeting and marketing, Leggat learned critical management skills, including how to lead a team in a foreign country. She worked at internships in India and Southeast Asia during her time at Skema. "Internships are really important and they helped me decide the country in which I wanted to build a portion of my life."
If you are interested in learning more about the park's work or would like to donate, please visit: mekongelephantpark.com.
What skills do you need for your chosen career?
A graduate business degree like an MBA or business master's can help you develop the skills you need for leadership positions in a wide range of career paths.
Which master's degree will most benefit your future career? The mba.com interactive Career Explorer tool will help you identify the skills you need for success in your chosen career, and then give you personalized recommendations to develop them. Want to read more about how MBA alumni are using their degrees for good? Select "read more" below.