How to Stay Positive and Productive at Work During Uncertain Times
How to Stay Positive and Productive at Work During Uncertain Times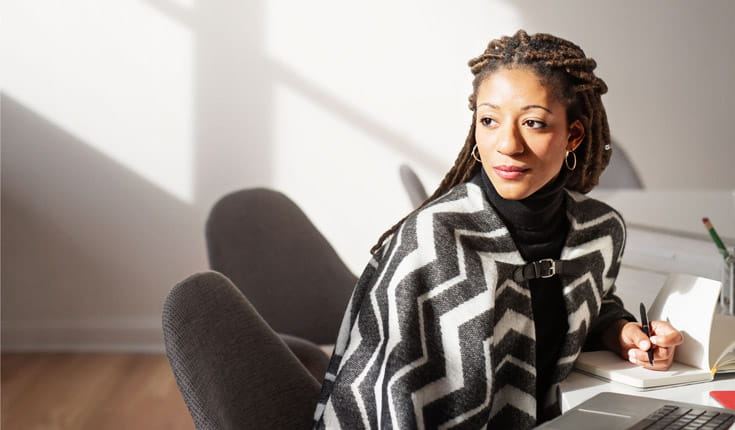 The spread of the novel coronavirus has impacted almost every aspect of our daily lives—from our freedom to travel internationally to the availability of daily commodities like hand sanitizer.
As the virus continues to ramp up in the United States, most companies have encouraged employees to work from home in an effort to reduce chances of cross-contamination and infection. For many, working from home results in increased productivity—91% of workers report feeling more productive in a remote environment. However, the prospect of working from home can feel unsettling to those who are not used to doing so, particularly for extended periods of time.
Remaining upbeat and positive about the work you're doing amidst the continuous swirl of negative news can pose a challenge. Furthermore, the absence of positive energy and reinforcement that you receive from daily interactions from colleagues can take some of the pleasure out of your job.
Follow these five tips to help you stay happy, mentally healthy, and productive while working from home:
1. Create a Separate Workspace
The first step to remain positive and productive while working from home is to create a designated workspace that is separate from the other areas of your home. Find a spot that is as far from distractions (like the kitchen) as possible and that lets in natural light. Getting out of bed and into your "home office" every day will make you feel more focused and improve your daily performance.
Make sure you are equipped with the materials you would have in your office. Many employees find that purchasing a second screen for at-home work is necessary for maintaining productivity levels. Adding plants or pictures of friends and family to your work space can also boost your mood and keep you motivated throughout the day.
2. Plan Your Workday Ahead
Every night before you go to bed, make sure to check your calendar for the next day. Create a plan (whether mental or written) that provides some kind of guidance and structure for the next day. Often, colleagues hold us accountable and remind us of certain tasks that need to take priority. When everyone is remote, prioritizing can be more difficult.
Creating a to-do list every day will help you stay on track and allow you to easily communicate what you have been working on with others. If necessary, block off chunks of your calendar and allocate time every day to specific tasks. Your calendar will send automatic reminders that can help you stay on top of your work. Plus, checking off items on your to-do list is satisfying and will remind you of your small wins.
3. Drown Out the Noise
One of the biggest distractions we face at home are our cell phones. Notifications from social media and text messages can be tough to ignore throughout the day. Turn off all notifications from social media during your workday to minimize the possibility of digital distractions. Unless your job requires cell phone use, you should mute all phone notifications by placing your device on "do not disturb" mode. This won't prevent you from receiving updates, but it will ensure that your phone isn't lighting up constantly and diverting your attention.
In the same vein, try not to visit news sites too frequently throughout the day. During uncertain times, it can be tempting to check the news for updates on the coronavirus situation, but this is not always best for your mental health. While it's important to stay informed, allowing yourself windows of time where you're not constantly reminded of the news is important for your mood and ability to maintain a positive outlook. Plus, limiting your negative news intake will help you remain focused longer.
4. Take Breaks
Part of the reason working from home can be challenging is that there is no clear start and end to the workday. This can make you feel pressured to work all day or make it seem like the days blend together. To prevent this from happening, schedule set breaks throughout the day. Set aside time to eat lunch, as you normally would, and use this window to do something active like taking a walk or completing an at-home workout. You will return to work feeling refreshed, recharged, and ready to take on the remainder of the day.
5. Make the Best Use of Your Free Time
While some industries are overwhelmed by the work that Coronavirus has created, other industries, such as event planning, music, and sports are seeing significant periods of stagnation. If you find that staying motivated at work is challenging due to an abundance of free time, it might be advantageous to consider using this extra time to get ahead.
Finding ways to advance your skills and propel your career is a great use of your energy. For example, you might consider applying to an MBA program to further your education and get ahead in business. While we're all home with more free time than usual, it is also the perfect time to consider an online MBA—another great option for advancing your career while offering a little more flexibility.
Whether it's figuring out a routine to manage your workload or adding additional things to your plate to compensate for free time, remember that you have options, even if they feel more limited than normal.
Want to know more about the ROI of an MBA? Learn about how getting an MBA changed the career trajectories and lives of these students.