In-person vs. Online Learning: The Pros and Cons
In-person vs. Online Learning: The Pros and Cons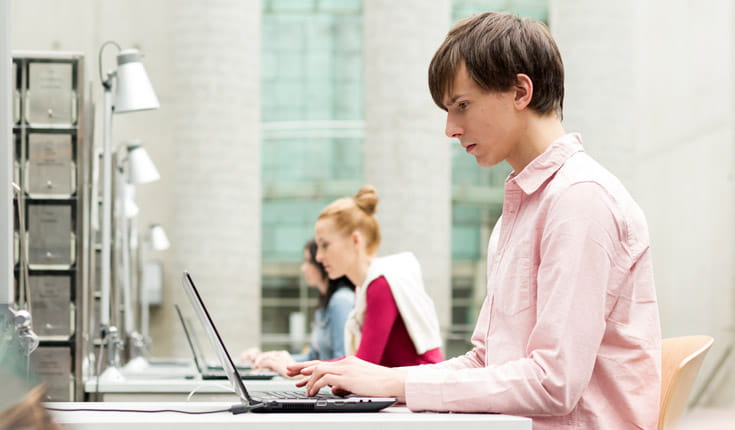 Propelled by the global pandemic, online learning has come a long way, resulting in a vast range of options of formal education for potential business school students from in person classes, hybrid learning, or a fully remote online degree.
Whereas online learning compared to a traditional classroom setting was previously considered perhaps less engaging, business schools and students are now realizing the advantages. In fact, according to a recent report by the Association of MBAs (AMBA) and the Business Graduate Association (BGA), 75% of business schools now use virtual classrooms.
Due to this rise in popularity of online classes and the learning curve of shifting to remote learning during Covid, business schools are enhancing the way they deliver online programs. 82% plan to invest more in EdTech – Educational Technology – to enhance the experience of online classes and ensure there is effective communication between faculty and students.
For example, INSEAD have invested in Virtual Reality (VR) to give students an immersive experience from their own homes. During lockdown, students were able to take part in interactive online courses that explored business cases in Singapore and Zanzibar.
These advancements mean that whether you decide to study your business degree online or in person, you'll be gaining a top-quality education that enhances your career prospects. So, how do you choose the right learning experience for you?
You'll need to think about whether the degree fits in with your lifestyle, if you want to travel to study or continue working, and if you learn more effectively from face-to-face interactions.
Here's everything to consider when deciding between in person classes vs online learning.
Which courses are on offer?
The first thing you should do is explore all the courses that are on offer from online to in person, MBA to EMBA.
More and more top business schools are introducing online learning to their offerings. For example, The Wharton School of the University of Pennsylvania this year became the first M7 school to announce the launch of an online Executive MBA program.
The 22-month EMBA is set to launch in May 2023 and graduates from the program will earn that same quality degree as their full-time, in person counterparts. European top-ranked business schools such as Warwick Business School and Imperial College London offer online MBA programs.
The Financial Times Online MBA ranking 2022 names the top 10 distance learning MBA programs, if you need a good place to start.
Do your research
Once you have found some target business schools, take a closer look at what each course offers so you can make an informed decision. Many business school higher education programs involve hands on learning initiatives such as global immersions and trips.
On both the University of California Berkeley Haas School of Business full-time MBA program and Evening and Weekend MBA, which can be completed online, students can take part in an exchange program where they can study at partner schools in Hong Kong, Spain, France, or the UK.
There is also the chance for students to explore innovative business in Amsterdam or sustainable capitalism in Copenhagen as part of the programs.
Of course, for students taking online classes, this may mean having time out of work to travel but online students benefit from the same exciting opportunities as full-time students at many business schools.
How is the program delivered?
Everyone is receptive to learning in different ways, so choosing the format of teaching that is right for you is essential for staying focused.
While all graduate management programs require a lot of self-motivation, consider whether studying online and working more to your own schedule will require a higher degree of self-discipline and if this suits you.
When you attend in person classes, you'll meet regularly with your professors and cohort in set sessions throughout the week. During many MBA and EMBA programs, you'll also engage in group work on projects, interactive challenges, and attend in person recruitment events.
So, how is an online program delivered?
Fast-forward from the early days of the pandemic when online schooling largely meant logging into online classes via Zoom or Microsoft Teams, business schools have quickly become more innovative in delivering a high-quality, interactive learning environment.
The Warwick Business School Distance Learning MBA is ranked number one in the world by the Financial Times. Through an online learning platform that removes geographical barriers, students can connect with one another and their professors in real-time no matter where in the world they are. The platform also allows students to participate in global study groups.
Virtual classrooms also no longer require all students to be present at once, meaning you can structure your own class schedule around your work and personal life.
Some business school programs also offer a mix of both online and in person learning, known as hybrid learning. Duke Fuqua offers a 22-month weekend Executive MBA which combines three-day campus residences once a month with weekend distance learning sessions.
Last year, NYU Stern also introduced a hybrid MBA program. Students complete the core curriculum, which is the first half of the program, entirely online. The second half of the program is comprised of elective modules completed through week-long intensive in person classes or regular in person classes on evenings and Saturdays.
As with fully online programs, hybrid learning gives increased flexibility. This means that students can fit their learning around their personal life whilst still experiencing in person social interaction with other students.
Work out your time commitment
Whilst all graduate management education programs are time consuming, online learning courses are generally much more flexible than attending regular in person classes. So, if you are struggling with the time commitment, then this may be the better option for you.
With an online program, you have more control over how you fit your classes around your other commitments. So, unlike when you're studying a full-time MBA or EMBA program, online courses mean you can continue working alongside your degree.
You'll be able to upskill and apply your learning in your current role, perhaps even leading to a promotion.
However, an online MBA or EMBA program will usually also take longer to complete than in person classes. At Warwick Business School, the full-time MBA lasts one year whereas the Distance Learning MBA takes students two years to complete.
Consider whether you're willing to commit to studying and achieving your goals in the long-run, or if you want a fast-track to your dream career.
At some business schools such as INSEAD, students who enroll on the full-time MBA are able to accelerate the program, completing their education in just 10 months.
What is the best fit for your goals?
Before choosing between in person learning vs online learning, ask yourself: what are your goals? Are you making a career switch or seeking a promotion? What skills and experiences do you want to get from the program?
The answers to all these questions will influence your decision and ensure a successful learning experience.
If your goal is to network and build relationships, then attending business school in the traditional way may ensure stronger connections with your fellow students and faculty as you work on projects together and attend in person classes.
However, in response to the AMBA survey, 70% of business school leaders said international collaboration and being able to work more easily with international groups was a key benefit of online education. This is testament to the advancements in technology that have made online classes more cutting-edge and similar to learning in a physical classroom.
What's more, with a digital skills gap, exposure to new technologies through online education could help students develop the tech savvy skills needed in the new digital business landscape.
Your future career goals will also play into your decision. If you're making a big career switch, taking time out of work to immerse yourself in in person learning is probably the right path for you. You'll enhance your skillset and business acumen, as well as working closely with the careers team to tailor your experience towards a new career.
Whereas if you're seeking a big promotion or want to upskill at your current company, studying an online course will allow you to work at your own pace and manage your workload outside of your working hours.
At Washington University's Olin Business School, the online MBA program timeline is 30 months, but students can choose to take up to five years if they need to.
For every student, the choice between online learning and traditional learning will be entirely unique to your circumstances, career goals, and learning preferences. Yet, with any higher education program at top business schools, you'll be learning from successful academic leaders and gaining skills that will propel your career to new heights.