Promote Financial Inclusion with a Masters Degree
Promote Financial Inclusion with a Masters Degree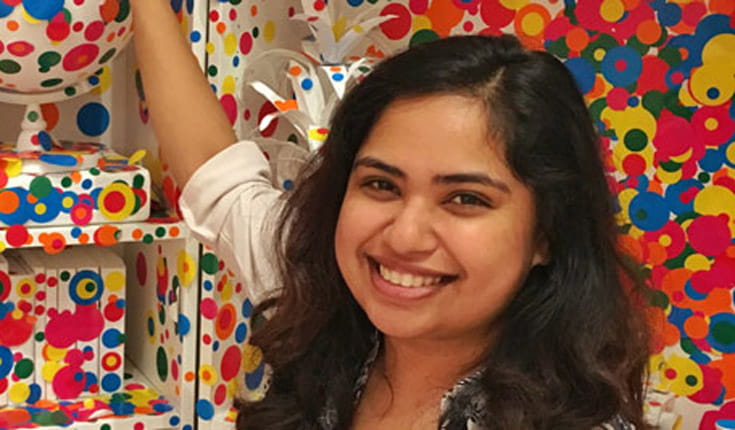 "Going to business school gave me the tools to be able to view a situation with different lenses."
General information:
Name: Francesca Lopez
Home Country: United States of America
Current Job Location: Across USA, including New York and Washington, DC
Job Function: Senior Business Architect for Digital Enterprise Transformation & Innovation
Industry of Work: Financial Services Consulting
Name of Company: Ernst & Young
Hobbies: Provide pro bono consulting services to financial services startups in Mexico and Africa as a Globalizer Consultant for Ashoka, travel, and photography
Degrees:

MSc International Business and Management from Alliance Manchester Business School in 2012
BA (Hons) International Business, Finance and Economics from Alliance Manchester Business School in 2011
Why did you decide to pursue a Master/MBA degree? What was the "light bulb" moment you knew business school was in your future?
I knew in high school that I wanted to pursue my Master's degree, and choosing a university that had both a strong undergrad and postgrad degree was a very important aspect.
Please describe your current job and the skills you need.
I'm currently a Senior Business Architect Consultant in the Digital Enterprise Transformation and Innovation at Ernst & Young. The most important key skill I've developed over the years is to seek out and apply knowledge simultaneously. Whether it be the latest trends in microfinance, how to write business requirements, or run a last minute client meeting with the Chief Technology Officer, you never know where life can take you, and having the enthusiasm to learn and take criticism will turn difficult situations into growth opportunities.
What did you learn or gain from business school that has allowed you to get where you are today (skills, internships, network, etc.)?
Going to business school gave me the tools to be able to view a situation with different lenses, whether it be by looking at a firm's financial statements, industry trends, and even the ecosystems the firms create within themselves. I first applied these skills at my internship at my internship at Hilton, during which I rotated through the Finance, Marketing, Event Management, and Front Desk departments.
What was your inspiration for pursuing your current job/career—why did you get into this particular line of work?
Both my parents worked for the World Bank, and I grew up with the desire to contribute towards the eradication of poverty. When I was in my second year of undergrad at Manchester Business School, I took a class about the Digital Divide, which included a lecture on microfinance. I immediately knew I found my calling, and decided to pursue a career in financial services. For my postgraduate dissertation, I developed a framework that measured how governments, firms, and regulators, used mobile-banking to promote financial inclusion in the Philippines and India. This work led me to volunteer as an Ashoka Globalizer consultant, and advise start-ups who are at the forefront of the financial services industry. I hope to use my experiences in digital transformation at EY and as an Ashoka Globalizer to help both traditional and new financial services firms make lives easier for the poor.
Your greatest takeaway from business school?
My greatest takeaway from my time at Manchester Business School was developing the ability to work with people from over 150 countries. Understanding the person behind the work title, their drives, ambitions, etc. makes a world of difference in growing as a team and as friends.
Is the job/industry how you expected it to be? If not, what's the biggest difference?
I'm currently in my fourth year in the Financial Services Consulting industry, and it has been a great adventure. In terms of differences, I've found the consulting industry to be very fast paced. You need the ability to conduct quick and accurate analysis, as well as be able to explain how you derived your results at a high level and in depth level, depending on your audience. While Manchester Business School gave me the foundation to analyze the past and present, consulting in financial services has allowed me to shape the industry's future.
If applicable, what concerns did you have about going to business school and how did you overcome them?
Coming from the U.S. educational system, a lot of my peers had the opportunity during their pre-university years to take foundational business school courses in finance, accounting, marketing, etc. I came from an AP background, and did not have the opportunity to study those courses prior to entering business school. Therefore, I made it a point to do the extra readings that the professors set out, as well as stay informed on industry trends and topics. My recommendation for students now would be to read about the topics they want to study, as well as take a few online courses in your spare time to make sure this is really what you want to do.
Things you wish you had known when first starting to think about business school and a career in business.
I wished that I had known the importance of balancing exams with practical experience. Exams in the UK are worth the majority of your marks, and that was very daunting to me in my first year. I had come from a U.S. educational background where your final mark was based on an accumulation of your weekly assignments, essays, tests, and a final exam. It would've really helped to know that yes, the exams were important, but doing well in an internship carried weight as well. The internships give you the opportunity to try a new area, as well as put what you learned in lectures into practice. Once I completed my first internship, I was much better equipped for the next year's exams.
Where do you see your career taking you 10 years from now?
I am thoroughly enjoying my career in financial services, as well as my volunteer work with Ashoka. In ten years, I would like to use the lessons learned from both industries to drive improvements for my clients, as well as start-ups that are aiming to reduce poverty.