From Physics to International Finance with an MiM
From Physics to International Finance with a Master's in Management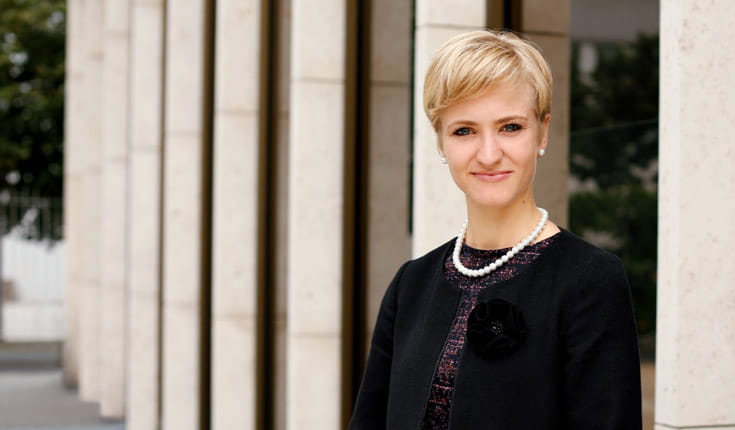 "In addition to technical skills and knowledge, I truly feel part of a global network of academics and professionals."
General information:
Name: Ayla Haddenhorst
Home Country: Germany/ UK
Current Job Location: Based in Munich with projects across the EMEIA region
Job Function: Consultant
Industry of Work: Transaction advisory services in the financial services industry
Name of Company: Ernst & Young
Hobbies: Yoga, fitness, travel and learning new things
Degrees:

BA (Hons.) Natural Sciences, University of Cambridge
MA (Cantab), University of Cambridge
MSc (Hons.) Master's in Management, ESMT Berlin
What did you do between undergrad and Master's/MBA?
In the two years before starting my master's in management, I worked for a PR and marketing agency in London developing social media and business development strategies for companies across various industries. I later joined a start-up in Cambridge specializing in electronic medical health records systems, where I worked as a business development consultant designing the company website and online media and developing an overall communication strategy.
Why did you decide to pursue a Master's/MBA degree? What was the "light bulb" moment you knew business school was in your future?
I wanted to further solidify the knowledge I gained in my first jobs by pursuing formal business education. When it came to my choice of business school, it was important to me to have a broad curriculum with an analytical focus in combination with further hands-on practical training. When I came across the master's program at ESMT which included a 6-month internship, language courses, soft-skills workshops and a social impact project, I was convinced that it would be the best place to take my career to the next level.
Please describe your current job and the skills you need.
I am a consultant at EY within the transaction advisory services practice. I specialize in financial due diligence and market analysis with a focus on the insurance and banking sectors. The three most important skills I use on a daily basis are analytical and critical thinking skills, communication skills and the ability to assimilate key information quickly.
What did you learn or gain from business school that has allowed you to get where you are today (skills, internships, network, etc.)?
In addition to technical skills and knowledge in finance, risk management and economics, I truly feel part of a global network of academics and professionals. The friendships and connections I made during my time at ESMT are for me perhaps the most valuable asset.
What was your inspiration for pursuing your current job/career – why did you get into this particular line of work?
Quite honestly, I never expected to be a consultant. Having started out as a scientist with a focus on physics, I never would have imagined pursuing a career in business – much less in financial services. However, after my master's in management and my internship experience, it was a logical choice for me. As a consultant I get to leverage my full skill set to solve challenging analytical problems that have a real impact and create value.
Your greatest takeaway from business school?
My greatest takeaway from business school was learning to work in multinational, diverse teams and to create a positive and productive working environment, where everyone is free to exchange ideas and pursue a common goal.
If applicable, describe any internships or other professional experiences you had while in business school and what you learned.
While at business school I worked at Allianz within the business division for insurance in German-speaking countries supporting senior country managers and an Allianz SE board member. During this time I gained an insight into the global strategy-making process of a global corporation and observed first-hand how senior management makes decisions. Not only did this experience provide me with a great network, but also valuable insights into the insurance industry. Witnessing the fundamental shifts arising due to mega trends such as digitalization and the current low interest rate environment, led me to pursue my current career path as I want to contribute to solving the challenges arising as a result.
Chat with a Current Student at ESMT Berlin