GMAT™ Examinee Spotlight: Charlie Rosas
GMAT™ Examinee Spotlight: Charlie Rosas
Making the most of the resources available to you and finding the right mentors can make all the difference in your GMAT exam journey.
mba.com is teaming up with Access, a free comprehensive admissions support resource for under-resourced underrepresented minorities and women, to highlight the stories of GMAT examinees from underrepresented backgrounds.
Meet Charlie Rosas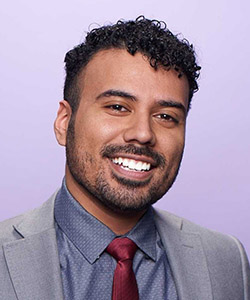 Charlie Rosas is an Access Fellow and the son of El Salvadoran immigrants from Washington, DC.
Read on to hear about Charlie's GMAT journey and his advice to prospective applicants beginning their own journey to business school.
What's your background?
I'm a first-generation college graduate originally from the DC metropolitan area, raised by my parents who are immigrants from El Salvador. I obtained my undergraduate degree from Stanford in Science, Technology, and Society in 2015, and spent the past few years working in the tech and travel industries in a variety of different roles.
How did your GMAT journey begin?
My last standardized test prior to beginning the MBA application process was a GRE in 2015, so I had an idea of what graduate admissions testing would be like, but knew that it had been quite a while and the content would be different on the GMAT. In advance of applying to Access Fellows, I took a GMAT practice exam cold, but my real preparation began once I was admitted as a fellow. My scores at that time were averaging in the low to mid-600s, so I knew I had quite a lot of work to do if I wanted to hit scores high enough for my target schools, which were 710 at a minimum. Many of the quant concepts, geometry in particular, were ones I hadn't really worked with in over a decade, so it felt like relearning them from scratch.
What additional resources did you tap into on your journey?
Thanks to Access, I was given access to GMAT Practice Exams 3 & 4, on top of the free access to Practice Exams 1 & 2 from GMAC. The practice exams were immensely helpful in understanding exactly what taking the actual exam would be like, from pacing to question types to the structure of the exam and its sections. The fellowship required bi-monthly score reporting, which kept me accountable and pushed me to continue working toward my target score. I am lucky to be naturally talented at verbal concepts, so most of my studying was focused on improving my quant capabilities, which I worked on through online flashcards and practice questions. I ended up taking the GMAT a total of four times, jumping from 640 to 690 between my first and second tries.
On my third attempt, I had convinced myself it would be my final try as Round 2 application deadlines were a month away and I wanted to be done with that portion of the process. Test anxiety got the best of me and I ended up scoring lower than my second try, which was extremely disappointing. I canceled my score that evening and immediately scheduled a fourth test, this one just 10 days or so prior to application deadlines. I retook the GMAC practice exams in the month between tests to identify exactly which concepts I needed to review, and the morning of the final exam I resigned myself to do my very best and accept whatever score I got as it wouldn't be possible to retake it again before the deadline. This sense of calm worked in my favor and I ended up scoring my goal of 720. I was over the moon!
What were your admissions outcomes?
I applied to four schools total, three M7 and one Top 15. My top priority was to stay in New York, and as fate would have it, it was the two New York schools where I ended up receiving offers of admission. I'm elated to have accepted my offer to Columbia Business School.
What advice would you give to others?
If there's one piece of advice I would give others, it would be to afford themselves as much time as they need to prepare for the exam. Test prep can be a lot more time-consuming than anticipated, and can become quite challenging to balance when also committing time to full-time work obligations and other components of the application, especially essay-writing and editing towards the end. For me, having a group of folks also going through the process with me and encouraging each other as we went through our exam attempts was a great help, and it was heartening to feel that we would all succeed in our application efforts as underrepresented minorities.
Leverage error logs as much as possible in refining test prep strategy, and know when it's time to move on from a question on the exam – I believe that was a huge part of why I underperformed on my third attempt. Finally, please know that top business schools want you and are interested in your story and what you have to offer. The test is not insurmountable, and with hard work and determination you will absolutely be competitive for admission.
Get your personalized GMAT prep plan
One size does not fit all when it comes to GMAT™ exam prep. In less than a minute, find out which GMAT™ Official Prep fits your personal study style and exam score goals by taking our quiz.