Found Your Own Startup with a Masters Degree
Found Your Own Startup with a Masters Degree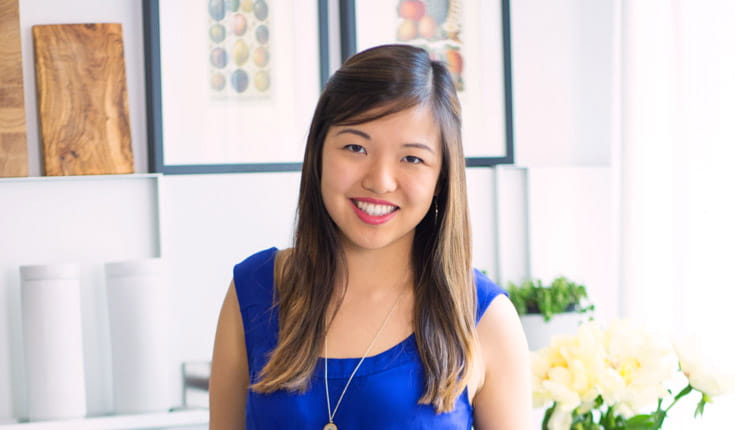 "As a founder and managing director of a startup, the skillset I need every day is widely diverse."
General information:
Name: Mengting Gao
Home Country: Germany, born in China
Current Job Location: Berlin
Job Function: Founder and Managing Director
Industry of Work: Technology
Name of Company: AJNS New Media GmbH / Kitchen Stories
Hobbies: Spending quality time with friends; Kickboxing; Good Food & Wine
Degrees:

Bachelor of Science, WHU – Otto Beisheim School of Management
Master of Science, WHU – Otto Beisheim School of Management
What did you do between undergrad and MBA?
By the end of my Bachelor's degree I already knew that I would want to spend some time with startups to figure out whether I could found my own company one day. Therefore, I interned for about 3 months with a startup in Berlin.
Why did you decide to pursue a Master/MBA degree? What was the "light bulb" moment you knew business school was in your future?
By the end of the internship, I was offered a possibility to found a daughter company with my own team and own funding. It was very tempting, however, I knew that it wasn't the right setting just yet, nor did I have the perfect idea. Returning to business school and finishing the Master's degree appeared to be the best solution at the time. It gave me the possibility to spend some more time on finding the right idea with like-minded people and at the same time obtaining a safety net for a potential different career path in the classic industries.
Please describe your current job and the skills you need.
As a founder and managing director of a startup that today has a team of more than 30 people, the skillset I need every day is widely diverse. Within our team I am in charge of product, technical development and content. My co-founder Verena is in charge of sales, finance and HR. Everyday we are faced with new challenges that draw upon skills that we have obtained through university and on the job.
What did you learn or gain from business school that has allowed you to get where you are today (skills, internships, network, etc.)?
The most important and critical factor I have obtained from business school is my co-founder and the alumni network. It is definitely key to what I am doing today.
In addition, the early touch points with other entrepreneurs gave me the initial idea of starting an own business.
Furthermore, I was able to work with 2 early stage startups during my studies that have confirmed that this was exactly what I wanted to do in the future. Likewise, other internship experiences (e.g. M&A, Consulting) allowed me to properly evaluate possibilities across the board.
What was your inspiration for pursuing your current job/career—why did you get into this particular line of work?
What inspired me most were the entrepreneurs that I got to know during the studies as well as the people that I worked with during my internships.
Your greatest takeaway from business school?
Everything is possible.
Is the job/industry how you expected it to be? If not, what's the biggest difference?
I don't think that it is possible to imagine how running your own business will be until it is actually happening. It is definitely meeting expectations regarding excitement, ownership, and the creativity that I was hoping for. But it also comes with so much more effort, persistence and ups and downs than I would have probably been able to expect.
Describe any internships or other professional experiences you had while in business school and what you learned.
Investment Banking: how to work really long hours as highly concentrated as possible + amazing pitch deck skills
Consulting: how to sell yourself and your skill properly + how to adapt to a new team and work environment (Israel) super quickly + how hierarchy works + amazing strategic challenges of large corporations
Startup 1 (team of 30): how funding processes work + how pitches should be structured + how business plans can be set up
Startup 2 (3rd employee): how to really start a company with all it's perks and problems + how to hire your own team and how crucial the first individuals are
If applicable, what concerns did you have about going to business school and how did you overcome them?
Returning for the Master's degree was a tough decision. I was very eager to already start my own business, that going back to pure studying did not seem to be enough. However, I found my way back quite quickly since the fellow students around me were amazing and we simply had a great time. Today, I am glad that I took that extra time to find a great team and idea.
Did you take the GMAT™ exam and if yes, when do you think is the best time to take the exam (e.g. during the Bachelor or after practical experience etc.)?
I took my GMAT exam during my Bachelor studies. To be honest, I did not have a good plan at all. I simply heard that some have taken it already so I thought that it would be a good idea to just simply get it done as soon as possible so it was out of the way =)
Things you wish you had known when first starting to think about business school and a career in business?
The great importance of practical experience, also overseas, which really I only realized after quite some time.
Where do you see your career taking you 10 years from now?
Hopefully, I will continue to feel challenged and lucky in what I do – best case scenario, running an amazing company.
Video: What can candidates do with an early career general master's degree like the MiM?
Full Video Transcript
I view the MiM as still a management qualification, but because you don't have the industry experience to bring into the assessment, to bring into the classroom, what tends to happen is that the University sets up industry to come into the classroom to give you that context. But you learn the theoretical components of a broad management Business Degree. So if you did have the work experience, you would go and do MBA but MiM is for the freshers, perhaps for the career changers who don't have the necessary experience to bring it to the classroom, which helps them start a career in business.