The Subjects Most MBA Candidates Agree Are Must-Haves in Their Ideal Program
The Subjects Most MBA Candidates Agree Are Must-Haves in Their Ideal Program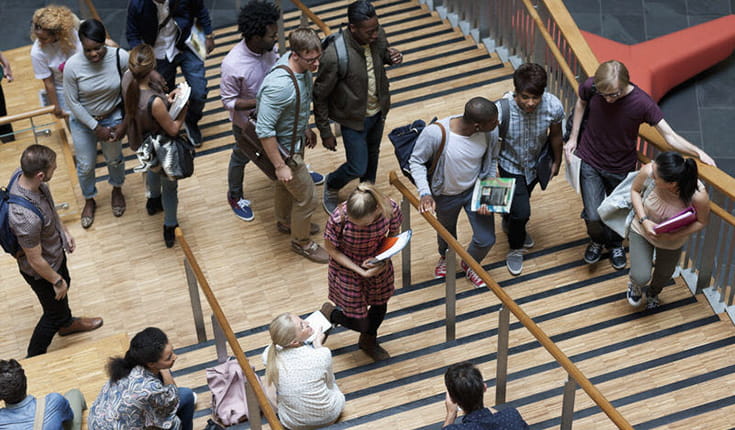 A big part of the value of an MBA is that it provides foundational knowledge in business fundamentals that are essential to your growth as a business leader and are applicable to careers in a wide array of industries and functional areas.
The subjects and courses covered in MBA program curriculums cover the spectrum of topics relevant to modern business leadership, providing you with a solid footing in the principal concepts that will underpin your career development for decades into the future.
MBA program curriculums typically require you complete a set of core courses and provide you with a level of flexibility and customization in selecting elective courses. Electives give you the opportunity to explore more specialized or industry-specific subjects that align with your career goals, help you develop a new or existing skill, or simply give you the chance to learn more about a subject you're interested in.
What subjects do MBA candidates say are a "must-have" in their ideal program curriculum? The Graduate Management Admission Council™ (GMAC™) Research team posed this question to nearly 4,000 mba.com registrants who plan to pursue a full-time MBA. Not surprisingly, their responses demonstrate their interest in a wide variety of topics. From a list of 23 subject areas, more than half of MBA candidates agree seven subjects are essential to their ideal curriculum:
Strategy (70 percent of candidates)
Leadership/Change management (61 percent)
Entrepreneurship/Innovation (55 percent)
International management/Business (55 percent)
Data analytics (54 percent)
Corporate finance (53 percent)
General management (52 percent)
Additionally, candidates say that economics (49 percent), project management (49 percent), consulting (48 percent), marketing and communications (46 percent), and operations management (40 percent) are also must-haves in their ideal curriculum.
MBA "Must-Haves"
Percentage of full-time MBA candidates who indicate a subject is a "must-have" in their ideal program curriculum: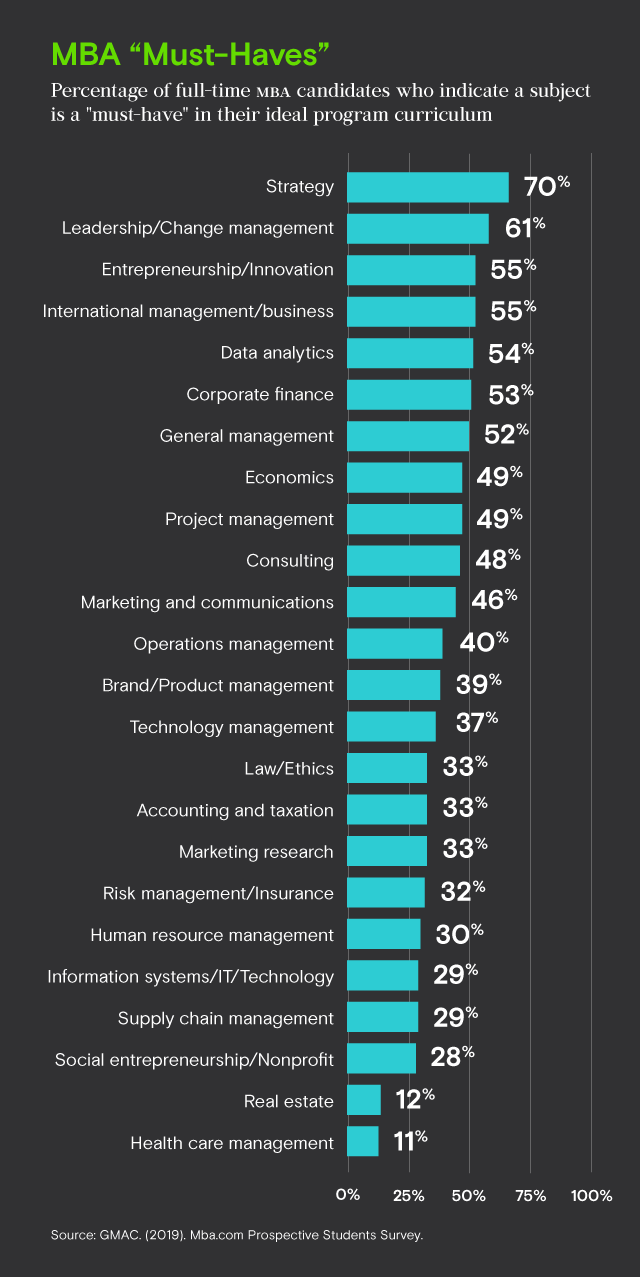 Source: GMAC. (2019). mba.com Prospective Students Survey.
What subjects do you consider to be essential to your MBA learning experience? What are your must-haves? Explore MBA programs using School Search and learn more about the specific courses they offer to ensure they align with your educational, professional, and personal goals. For more on the value of an MBA, read "What is the ROI of an MBA?"