MBA Salary Premium Endures Under COVID-19 Pressure
MBA Salary Premium Endures Under COVID-19 Pressure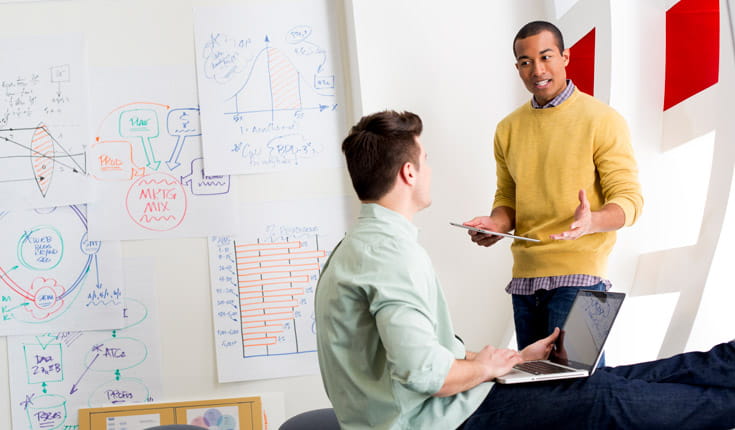 Earning an MBA brings several advantages, not the least of which is enhanced earning potential. For decades, MBA graduates have successfully converted the skillsets and networks they developed as a part of their business school experience into higher starting salaries. New findings from the Graduate Management Admission Council's™ (GMAC™) annual Corporate Recruiters Survey show that despite the economic uncertainty wrought by COVID-19, this year's MBA graduates will continue to command a salary premium relative to other new hires.
MBA starting salaries remain high amid COVID-19
Initial data collection for this year's survey was nearing conclusion in March, just as COVID-19 escalated into a global pandemic. Given the significant disruption to recruitment and hiring, GMAC conducted an additional wave of data collection with a focus on the impact of COVID-19.
Over the two waves of the survey, the compensation premium commanded by business management graduates held steady. At $115,000, the median salary of MBA degree-holders is 75 percent more than those with a bachelor's degree in pre-COVID sampling. That figure decreased slightly to $105,000 in post-COVID surveying.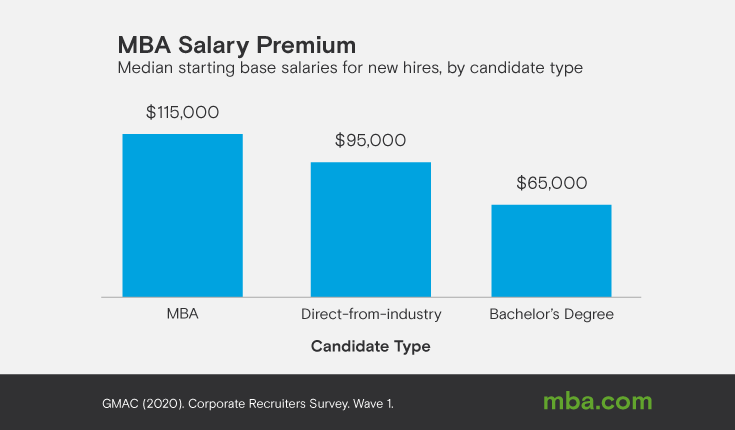 The compensation premium is even more apparent for Fortune 100 companies and the big-three industries of hire for MBA graduates—consulting, finance, and technology. For example, at $145,000, the median salary of MBAs in the consulting industry is twice that of bachelor's degree holders as indicated in data collected prior to March 17.
Read more: Employers Explain Why MBA Salaries Are So High
Companies express high confidence in MBA new hires ability to add value
Current prospective business school applicants should take heart that companies largely did not abandon their pre-COVID salary commitments to the MBA graduating class of 2020. Among wave 2 survey respondents, 86 percent of employers say they have not reduced salaries, benefits, or bonuses for the 2020 MBA hires as a result of COVID-19. Overall, just 7 percent say they've reduced base salaries, 5 percent reduced benefits packages, and 3 percent reduced or eliminated signing bonuses.
In the face of such historic uncertainty, why are companies staying so true to their word to MBA graduates? It likely has a lot to do with the confidence they have in their ability to be successful at their organizations and add value right away.
Before COVID-19, 90 percent of respondents indicated they were highly confident or confident about the ability of business schools to prepare students for success in their organization. That figure held steady at 87 percent in surveying performed this summer, highlighting the attractiveness of MBA degree holders and their ability to perform in times of transition and change.
Recruiters cited strategic thinking, communication skills, and versatility as the skills they're most confident in when it comes to a business school's ability to prepare graduates for success in the workforce. One of the more noteworthy shifts when examining skills demand is the ability to navigate the challenges of technological disruption, which was identified by more than two-thirds of employers who responded as becoming more important as a result of COVID-19, followed by strong communication skills.
Read more: Business Skills Employers Will Want in a Post-COVID World
How much could you earn with an MBA?
Salaries for MBA and business master's graduates can vary significantly by industry and job level. We made it easy for you to take these factors into account to estimate your post-business school salary with our interactive salary calculator tool. See for yourself how much you could earn!