Consulting Salaries for MBA and Business Master's Graduates
Consulting Salaries for MBA and Business Master's Graduates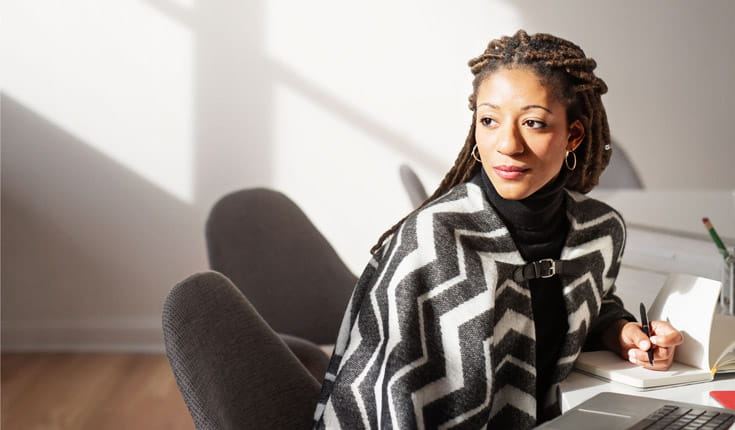 From the Big Three management consulting firms—Bain, BCG, and McKinsey—to the likes of Deloitte, EY, and KPMG, consulting companies are among the biggest recruiters of MBA and business master's graduates, offering impressive six-figure salaries.
While other industries suffer the impact of COVID-19, thousands of business school grads will land high-paying jobs in consulting this year. Although consulting salaries have been impacted by the pandemic, consulting remains one of the world's best-paid professions.
McKinsey & Company, which plans to hire its biggest ever class of incoming MBAs in 2021, offers base salaries of around US$165,000 per year and bonuses of over US$30,000 to MBA graduates.
While pursuing an MBA or master's program comes at a significant cost, if you're considering a consulting career after business school you'll likely make a swift return on your investment.
MBA consulting salaries 2021 – The Big Three
Here, we roundup the headline stats for consulting salaries for MBA and business master's graduates at some of the world's biggest consulting firms, from ManagementConsulted's 2021 Consulting Salary Report.
Bain & Company
Bain consultant salary prospects are very promising for MBA graduates. The Big Three, also known as MBB, all offer base consultant salaries of US$165,000 with Bain offering performance bonuses of over US$40,000 and a signing bonus of US$30,000.
✔ Read more: Bain, BCG, McKinsey: How To Get Hired By The Big Three Consulting Firms
Master's degree graduates can expect to earn around US$90,000 with performance bonuses of over US$22,000. Signing bonuses for Bain master's-level recruits are US$5,000.
Bain is ranked the world's best consulting firm to work for based on its strong compensation as well as other benefits like work-life balance.
Boston Consulting Group (BCG)
BCG consultant salaries and bonuses are almost identical to those at Bain. BCG consultant salary prospects are US$165,000 for MBA graduates and US$90,000 for master's graduates.
✔ Read more: Bain, BCG, McKinsey Announce 2021 MBA Hiring Plans
BCG offers less PTO (vacation) than Bain and McKinsey, offering 15 days per year compared with 20 and 19 days respectively. Master's grads at BCG earn up to US$18,000 in performance bonuses.
McKinsey & Company
McKinsey MBA consultants earn US$165,000 in base salary with performance bonuses of up to US$35,000. McKinsey also offers 50 percent off MBA tuition for returning interns.
A McKinsey consultant salary for master's graduates comes in at US$90,000 with performance bonuses of up to US$30,000.
Like any consulting firm, salaries at McKinsey increase as consultants go up the ranks from junior associate to associate to partner.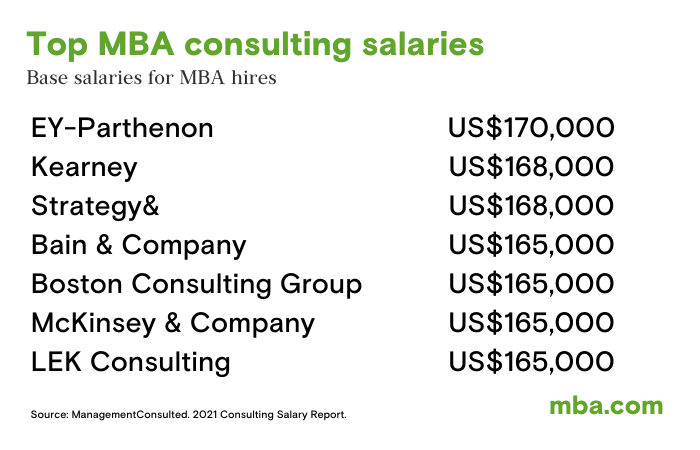 MBA accounting salaries 2021 – The Big Four
Deloitte
MBA salaries for the Big Four accounting and professional services firms are increasingly competitive and Deloitte consultant salary prospects are no different.
Deloitte Consulting offers MBA graduates base salaries of up to US$135,000; Deloitte Federal US$125,000; Deloitte Government & Public Services US$117,000. MBA consultants at Deloitte Human Capital and Deloitte Tech earn US$160,000.
Performance bonuses for MBAs vary across the organization but Deloitte Human Capital consultants can expect to supplement their salary with bonuses of up to US$32,000.
Master's level consultants earn base salaries of up to US$80,000 at Deloitte Consulting and around US$26,000 in performance bonuses.
Ernst & Young (EY)
EY plans to hire up to 300 MBA graduates globally before July 2021 and offers the best consultant salaries among the Big Four firms, aside from at Deloitte Tech and Deloitte Human Capital.
MBA consultants at EY can expect base consulting salaries of US$155,000. EY-Parthenon, which is focused on strategy consulting, offers MBA hires US$170,000 in base salary, the highest salary figure on the market.
The EY consultant salary for master's level graduates is US$72,500 while master's grads can earn US$90,000 at EY-Parthenon, which also tends to recruit mostly from top-ranked business schools.
KPMG
KPMG offers MBA consultants US$145,000 in base salary and performance bonuses of up to US$17,400 as well as a signing bonus of up to US$35,000.
Master's-level graduates earn US$77,000 per year and can expect a 10 percent signing bonus.
PricewaterhouseCoopers (PwC)
PwC MBA consultants earn base salaries of US$150,000 on joining the firm and up to US$35,000 in performance bonuses. MBA consultants hired by Strategy&, the global strategy consulting team at PwC, get paid an impressive US$168,000 base salary.
ManagementConsulted only provides data for PwC master's-level base salary in Canada which comes in at C$65,000; around US$50,000.
💰 Visit ManagementConsulted for extended salary data
More top consulting salaries
While the Big Three and Big Four firms tend to offer the most attractive salaries for new MBA and master's-level hires, there are many other consulting firms with attractive compensation packages.
The highest-paying boutique consulting firms tend to offer MBA salaries ranging from US$100,000 to US$150,000.
MBA consultant salaries at firms like Accenture Strategy, LEK Consulting, and Oliver Wyman rival the Big Three, with base salaries ranging from US$155-to-US$165,000. Kearney offers MBA grads US$168,000 in base salary.
Consulting salaries for master's graduates at these firms are also high with base salaries ranging from US$80-to-US$87,000.
Other boutique consulting firms, including big-names like Infosys and Tata Consultancy Services, are also increasingly popular.
Getting a job in consulting is no easy feat. Going to business school can provide you with the knowledge, network, and connections with top employers that you need to send you on the right path.
Expert advice for your MBA applications
The MBA admissions process is a unique challenge for any applicant – regardless of how qualified they are. Having a little insider advice from experts can go a long way toward you submitting your best possible MBA application and getting that acceptance letter you've been dreaming about.
In the mba.com Full-Time MBA Application Guide, we provide you with the information and guidance you need to craft MBA applications that elevate your story and help you stand out from the pool of other qualified applicants.
---
This article was originally published on BusinessBecause.

Whether you're considering an MBA, EMBA, or Master's program, read more content like this and get practical resources to help your business school application on BusinessBecause.