An MBA Opens Doors to a Variety of Careers
An MBA Opens Doors to a Variety of Careers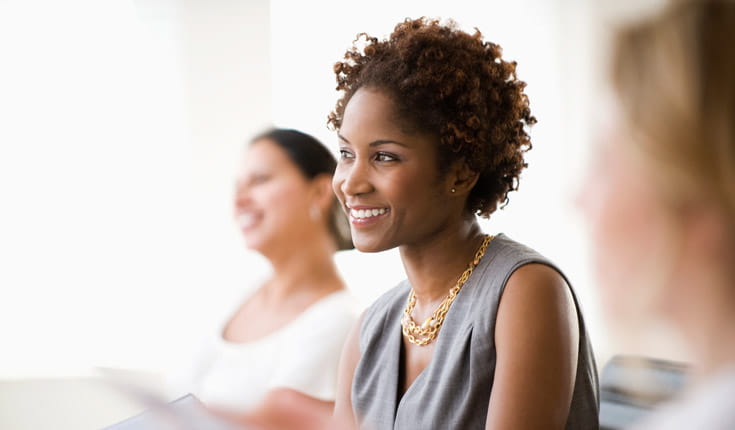 There's no limit to what one can accomplish with an MBA
There is a misperception among some people that an MBA is only for a certain type of person, looking for a certain type of job and career path. The reality is that earning an MBA appeals to a wide array of candidates—running the spectrum between the analytical and the creative, the extroverted and the introverted, and those with business and nonbusiness backgrounds.
But why does an MBA appeal to such a diverse candidate base? Much of the allure has to do with the transferable skills candidates receive from an MBA program. Equipped with a solid grounding in the fundamentals of business and management, the skills to be an effective leader, and the support of a robust alumni network, MBA graduates go on to have successful careers across a wide array of industries and job functions.
An MBA opens up diverse career paths for alumni
The Graduate Management Admission Council™ (GMAC™) surveyed nearly 6,000 alumni of full-time MBA programs and found that they are employed across eight different industries, with no more than about 1 in 5 currently working in any one particular sector. Additionally, the job functions of these MBA alumni also vary widely—ranging from general management to finance, accounting, marketing, sales, consulting, operations, logistics, IT, human resources, and more.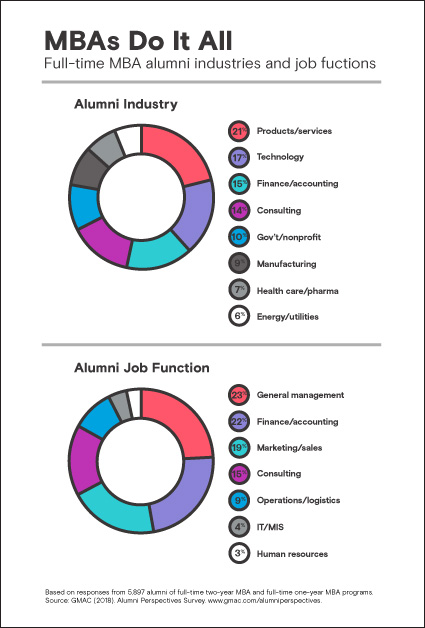 This career path diversity speaks to how an MBA can expand career options for MBA alumni. It's also proof of the employment applicability of the MBA curriculum to all types of businesses and the desirability of the MBA skill set among employers seeking new management talent. A GMAC survey of corporate recruiters found that across all industries, nearly 9 in 10 employers agree that hiring recent business school graduates creates value for their companies (86%).
Through their MBA programs and the professional guidance provided by their business school's career services office, MBA students are able to identify the employment opportunities that appeal to their interests and are a great match for their individual talent and aspirations. Across all industries and job functions, 93% of full-time two-year MBA alumni say their degree has been professionally rewarding, and 90% say the skills they developed in business school advanced their career.
How does an MBA advance careers? Find out what one recruiting and admissions director has to say.
An MBA advances career paths and makes career change easier
Over the last 10 years, the number of candidates who seek to enhance their current career path has grown to 41%. Overall, managing people and projects are candidates' top career goals (42% and 40%, respectively). Those considering an MBA because they want to take their career in a new direction, however, are hardly alone. Approximately 1 in 3 prospective MBA students plans to use their MBA to make a career change by pursuing employment opportunities in new industries (27%) or job functions they have not worked in before (36%). And given the connections, transferable skills, and hands-on experience that an MBA provides, graduates will be better positioned to make these career changes and alter their career paths.
Thinking of making a career change? Find out what the "career switchers" have to say about making the transition.
An MBA paves the way for an entrepreneurial career path
Those driven by the desire to be their own boss are also in good company since 1 in 4 MBA candidates has entrepreneurial aspirations (25%). Furthermore, the rate of entrepreneurship among MBA alumni increases with years removed from graduation, and it's seen as the best avenue for propelling business school graduates' ideas, goods, and/or services. B-school alumni who are entrepreneurs most often found their own companies (85%), and combined, over half establish businesses within the consulting (36%) or products/services industries (26%).
An MBA helps graduates quickly adapt to changing marketplace conditions
The business world changes rapidly, and organizational change experts predict the rate of change in business will only accelerate in the future. That means the ability to adapt to a changing marketplace will be critical to a professional's long-term career success.
Because an MBA is so greatly valued across different industries and disciplines, it can help MBA degree holders adapt to uncertain times and changing circumstances in the economy and job market. For example, COVID-19 is impacting many industries and job functions. Having an MBA—not to mention the MBA network that comes along with it—will enhance a graduate's ability to deftly pivot their career path in a direction that will enable continued professional development.
Curious which skills will be in high demand post-COVID? New survey data reveals what is more important than ever.
What are the job opportunities after an MBA degree?
There's no limit to what one can accomplish with an MBA. Having an MBA opens many doors for individuals from both business and non-business backgrounds by giving them the skills they need to pursue and succeed across a variety of industries, job functions, and career paths. It opens job opportunities and paves the way for not only a promising career path, but also a flexible one.
Considering an MBA? This mba.com interactive tool will help you discover what job opportunities await on the other side of an MBA.