Give Your Career a Boost with an MBA
Give Your Career a Boost with a Graduate Business Degree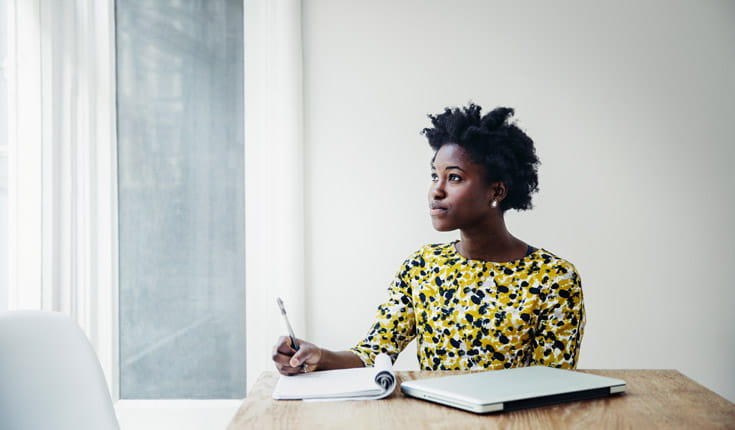 Are you eager for a successful and satisfying career?
Every year, GMAC Research surveys thousands of business school alumni and hundreds of employers from around the world to quantify the positive impact of a graduate management education on alumni careers and the value alumni bring to companies. Here are five reasons why a graduate business degree may be a good idea for you and your career.

1. Accelerate Your Career Progression
Earning an MBA or business master's degree can put you on the fast track to higher level positions. Among business school alumni, more than 8 in 10 agree that their career has progressed faster than their peers who didn't go to graduate business school because of the skills they developed in the classroom (86%) and the credential itself (84%).

For the majority of recent MBA graduates, earning their degree has meant landing job opportunities they otherwise would not have been qualified for. Seven in 10 full-time MBA graduates from the classes of 2016 and 2017 (70%) say they could not have obtained their current job without the skills, knowledge, and abilities attained through their graduate management education.

"Before pursuing my MBA, my career had stalled. My employer was aware of my studies, which resulted in me being promoted three times in the past three years. My salary has almost doubled since beginning the MBA program. My level of responsibility within the company has also increased tremendously."

2. Break into a New Industry or Job Function
Are you looking to shake things up in your career? You'd be in good company at business school. Among 2017 mba.com registrants, 42 percent say changing career paths is among their personal motivations and more than half of alumni are currently employed in an industry or job function they did not have prior to entering business school. In fact, 2 in 5 alumni (39%) currently work in an industry they never considered prior to business school. Business school can expose you to career opportunities you didn't even know were open to you.

Another good reason a graduate management education is a good option for career switchers is because alumni enjoy careers across a wide array of industries and job functions. In fact, no more than 1 in 5 alumni work in any one industry or job function.

3. Become a Part of a Powerful Professional Network
Being a part of a business school network can be an incredible resource as you navigate job opportunities in the future. Because they know firsthand the value of the education they received, business school alumni are eager to hire recent graduates of their business school to their companies. An overwhelming 95 percent of business school alumni said they would recruit an alumnus of their program for a job.

Overall, 75 percent of alumni agree that their graduate management education developed their professional network. Interestingly, an even higher percentage of 2016 and 2017 graduates say the same (83%), an indication of the increasing emphasis business schools have placed on network development in recent years.

4. Earn More Money
The vast majority of alumni agree that their degree increased their earnings power (82%) and that their business school experience was financially rewarding (73%).

A GMAC Research survey of corporate recruiters in 2017 found that the median starting base salary they planned to offer recent MBA graduates in the United States was US$110,000. This represents an 83 percent premium over recent bachelor's degree hires, who corporate recruiters planned to offer a median starting base salary of US$60,000.

What salary can you expect if you get an MBA or another graduate business degree? That depends on a number of factors unique to your situation, including your industry and job level. Use the mba.com salary estimator to see how much you could earn with your degree.

5. Stay Flexible
The business world changes rapidly, and organizational change experts predict the rate of change in business will only accelerate in the future. That means your ability to adapt to a changing marketplace will be critical to your long-term career success.

Because an graduate management education is so greatly valued across different industries and disciplines, it can help you adapt to changing circumstances in the economy. For example, if shifts in the market negatively impact your career trajectory in a given industry or job function, having your graduate business degree—not to mention your business school network—will enhance your ability to deftly pivot your career path in a direction that will enable your continued professional development.

Are you ready to give your career a boost with a graduate management education? Start your journey to business school today by using the Program Finder tool to search for programs by location, degree type, program length, and format to find the programs that are the best fit for you and your goals.
See which five questions you should ask yourself to see if you're ready to begin your business school journey.