Parents
It's an exciting time. Your student is thinking about going to graduate business school. Because business is everywhere—from nonprofits to Wall Street—pursuing a graduate business degree will reap many personal and professional rewards for your student's future. According to a survey of MBA alumni from the Class of 2017: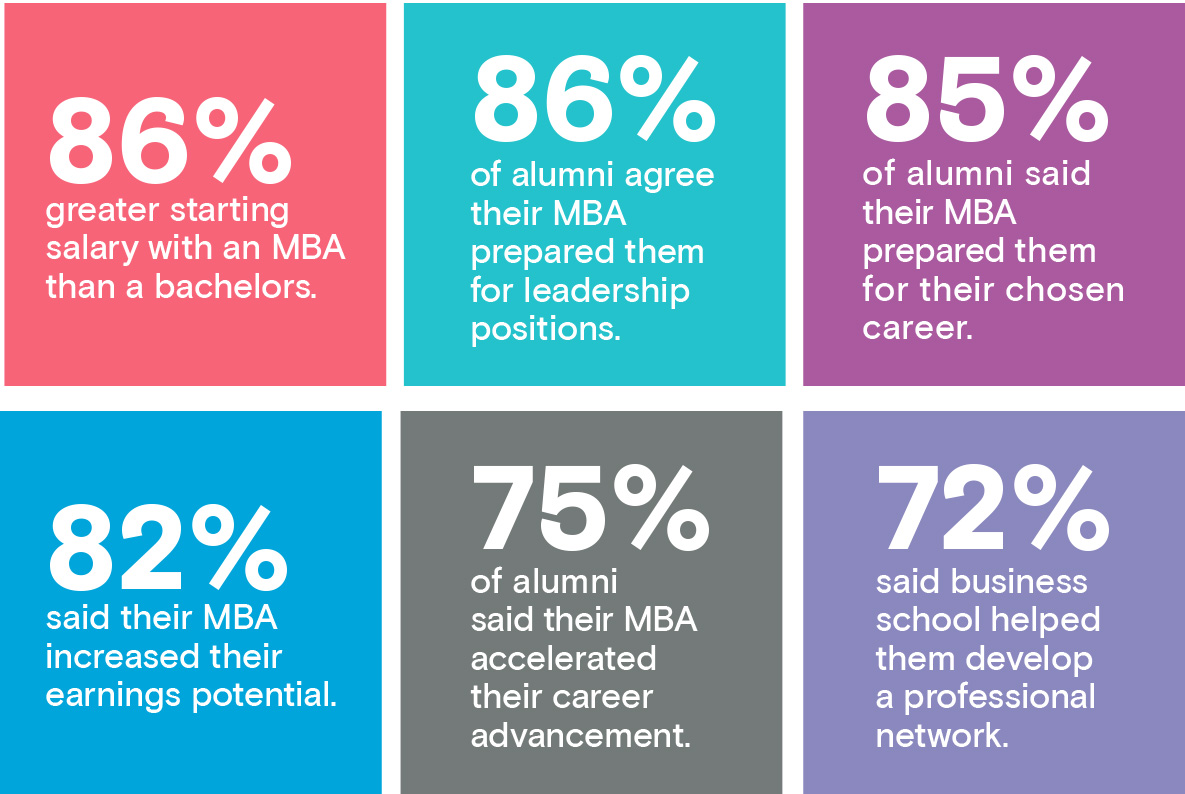 Think these statistics are compelling? Eighty percent of employers surveyed in 2014 said they planned to hire MBA graduates this year. So the results are in and irrefutable. A graduate business education will open many doors for your student and accelerate their path to a rewarding career.
Top Tips for Parents
Not sure how to best support your student on taking the GMAT™ exam or applying to business school? Keep these helpful tips in mind:
Take an interest—A graduate business degree is versatile. To show your support, take some time to learn what your student is trying to accomplish via business school. Does he or she want to follow a more traditional business path like finance or accounting? Does your student want to work with (or start!) a non-profit? Does he or she have an entrepreneurial idea that's waiting to be discovered? Does your student want to help companies "green" their operations? Whatever their aspirations, you can be a thoughtful and balanced sounding board for your student as they continue to define their long-term goals.

Support, don't lead—As a caring parent, you'll want to help your student in any and every way that you can. Just make sure to let him or her be in the driver's seat in the business school application and admissions process. All communications, whether for requesting information or checking the status of applications, should come from your student. By taking the lead, they show admissions officers that they have the maturity and the motivation to succeed in business school, and importantly in the business world beyond. As a parent, you can provide invaluable support by talking through important decisions, giving feedback on application essays, or sharing relevant personal experiences.

Encourage dialogue with campus mentors—As your student starts thinking about business school and their career aspirations, encourage him or her to seek guidance from faculty, current grad students, and/or advisors. Depending on the school your student attends, consulting an advisor may mean going to someone in an academic advising office, to a grad school advisor in a career services office, or both. By connecting with campus mentors, your student will be better equipped to think through grad school and career decisions. Students can often be shy about speaking to faculty and staff, so encourage them to go for it—they won't be disappointed!

Share your network—Know someone who recently took the GMAT exam? Work with someone who got their MBA? Is your friend's son or daughter currently in business school? Connect your student with people in your life who can share important and relevant insights.

Be your student's best champion—One of your most important jobs at this time is to provide emotional support. Send your student a care package when they're prepping for the GMAT entrance exam, get excited when they have good grad school interviews or when they get accepted into school, and be an encouraging voice if they get rejected.
Parent Resources
Because you're invested in your student's success, we want to make sure you have all of the information you need to be his or her best advocate. Here are some resources to help get you started:
Undergrad GMAT Plan—Take a look at this three-step plan we've developed to help your student put his or her best foot forward on test day. This plan provides tips on how to approach the exam and includes a downloadable GMAT™ handbook, information on accommodations for test takers with disabilities, and a link to free GMAT Official Practice.
GMAT prep tools—See all of the prep tools that are available to help your student perform their best on the GMAT exam.
Roadmap to Grad B-School—This guide offers tips for getting your student on the right track for business school. Whether he or she is a first-year or a senior, there's something here for them. And even if they choose to another path, this guide is full of helpful hints to ensure they make the most of their collegiate pursuit.
Business School Self-Assessment Checklist—Refer to this checklist to help your student assess his or her readiness for business school.
Want more information?
Please send me the latest information about management education, tests, events, products, and other offers from GMAC and its subsidiaries.