Exclusive for Test Takers in India: The GMAT™ Official Guide 2021 eBook
Exclusive for Test Takers in India: The GMAT™ Official Guide 2021 eBook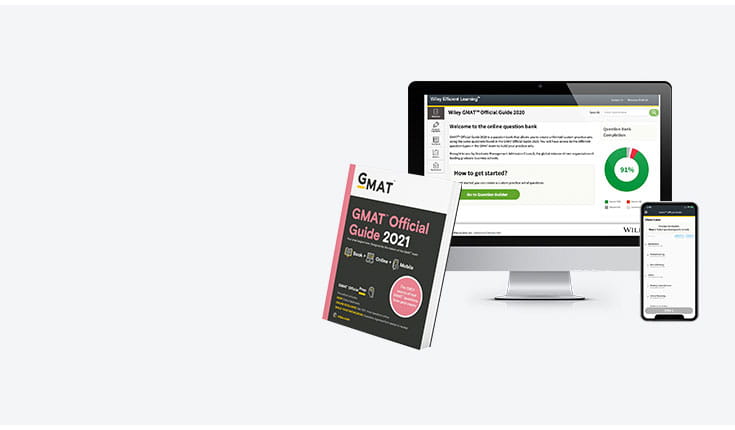 To help test takers in India in their preparation for the GMAT™ Exam, we have launched the GMAT™ Official Guide 2021 eBook exclusively at an INR pricing.
The GMAT™ Official Guide 2021 eBook has everything you need to get started and prepare for the GMAT™ exam. The guide is a comprehensive study resource with a total of over 1,150 practice questions from past GMAT exams.
In addition, you'll also receive an overview of the GMAT exam structure, timing and format so that you are prepared on test day.
This is available for test takers in India at INR 2,299
Real questions. Real insight into the exam. Real preparation.
The GMAT™ Official Guide 2021 eBook prepares you to:
New! Master key concepts with online flashcards
Gain Comprehensive Practice – Prepare with over 950 questions in the eBook across Quantitative and Verbal Reasoning sections
Study Answer Explanations – Learn the methods behind the answers with detailed explanations
Build Upon Your Knowledge – Practice with questions organized from easiest to hardest
And More: Included with your purchase is an Online Question Bank.
Create your own practice sets with the same questions from the eBook plus over 150 questions not included in the eBook. Customize your studying and filter questions by fundamental skills and difficulty level. Practice in exam mode and track your performance through online metrics.
The Online Question Bank is also accessible on a mobile app. With the app, you can download your practice questions and practice offline.
The GMAT Official Guide 2021 eBook is your comprehensive prep resource to help you make your GMAT exam goals real and achieve the success you are driving toward.
Note – This is applicable to only candidates who are accessing the eBook from Indian IP
Detailed Description
What's included with your purchase:
eBook:
998 questions from past GMAT exams
An overview of the exam to help you get familiar with the content and format
Detailed answer explanations that explain how the test maker thinks about a question
Actual essay topics, sample responses, and scoring information
Comprehensive math review
Questions organized in order of difficulty from easiest to hardest
Question index that outlines the practice questions by subject area and difficulty levels
Online Question Bank:
150+ extra questions (only available in the Online Question Bank) in addition to questions from the book
Mobile App to practice on the go
Work offline – once the content has been downloaded to your device
Switch seamlessly between devices
Options to create custom practice sets, based on question types, difficulty level, fundamental skills, and other filters
Ability to review and reattempt practice sets to improve performance including practice exam mode
Key performance metrics to help you assess weak areas as well as track your improvement
New to this edition: Online Flashcards to master key concepts. Also accessible on the mobile app.
The Online Question Bank is available through Wiley's Efficient Learning website and mobile app. After purchase, you will receive an email with instructions on how to download your ebook and your login credentials to access the Online Question Bank using the web and/or mobile app.
Frequently Asked Questions about the Official Guides
To access the online question bank, you must have the latest version of one of the following browsers: Firefox 20+, Chrome 20+, Internet Explorer IE10+, Mac Safari 6.0+. Supported OS: Mac, Windows 7+. Use Chrome 20+ for the best online experience.
Please note: The online component will expire one (1) year from the date of activation.