Five Things to Know Before Applying to B-School
Five Things to Know Before Applying to B-School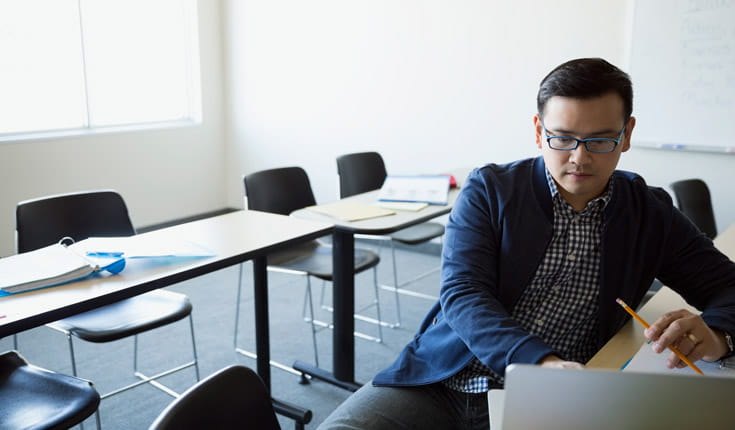 If you're considering b-school, here are five things you should definitely be thinking about.
If you're considering b-school, odds are good you're not planning to rush into something without researching your options. Take time to understand your motivations, and why a graduate business degree is the best next step. Below are a few things to keep in mind as you work your way through that process.
Be clear about who you are and what you want
If there's ever been a time to lay out and define your goals and career path, this is it. You should be clear about what motivates you, what you're passionate about, and how you want that to translate to your work. Every school is different and even online programs have a culture. You'll want to make sure that your values align with the school, and likewise, the school will take time during the admissions process to ensure you're a good fit for their program.
Create a system for your research
Establish a process that you can use to learn about each school you're considering. Think about the process as "layers" that you'll peel back as you become more interested in a school. For example, maybe the first layer you look at is the data on current students and recent graduates. Do you match the student profile? Are grads getting good jobs quickly? Yes to both? Peel that layer back and dive deeper into admissions requirements, course offerings, teaching styles, tuition, and so on.
Visit the schools you like
Today, colleges say that by the time prospective students contact them, the students know more about the school than ever before thanks to the wealth of information available online. But the truth is, what you learn by talking to an admissions rep or visiting a campus is irreplaceable. Schedule school visits to meet your would-be professors and have conversations with current students. Take notes on more than what you're told, and notice how you feel when you're talking to people. Bottom line, can you picture yourself there?
Top tier doesn't always mean perfect fit
The most important part of starting a b-school program, whether it's an MBA, Master in Management, or specialized business master's degree, is finding the right program. Don't make the mistake of applying only to the most prestigious and well-known schools. You wouldn't be the first to assume that by simply attending one of these schools you receive a magic key that unlocks a future in which all your dreams come true. Do your research and find a program that fits your unique needs and goals.
Don't put off the GMAT exam
At the beginning of your business school journey, you'll likely focus on researching schools, programs, careers, and more, but don't forget that you'll eventually need to take the GMAT exam. Your GMAT scores aren't the only, or even the most important, qualifier when you look at different business schools, but they're an important component of your b-school application. Do yourself a favor and block out other distractions for 3 to 6 months so you can prepare for the GMAT exam. Track your progress on practice tests and set a goal of exceeding the average scores of the schools you're most interested in. Take advantage of mba.com's free practice resources so you can do your best on test day.
Are you ready to get started? Create a profile on mba.com, and find your personal path to b-school.